In contributing to the development of youth-led climate actions in Nigeria, the Climate Innovation Hub for the North Central zone recently held in Lafia, Nasarawa State from August 25 to 26, 2019, bringing together 60 participants from the North-Central states of Kogi, Plateau, Nasarawa, Niger, Benue and Kwara as well as the Federal Capital Territory (Abuja).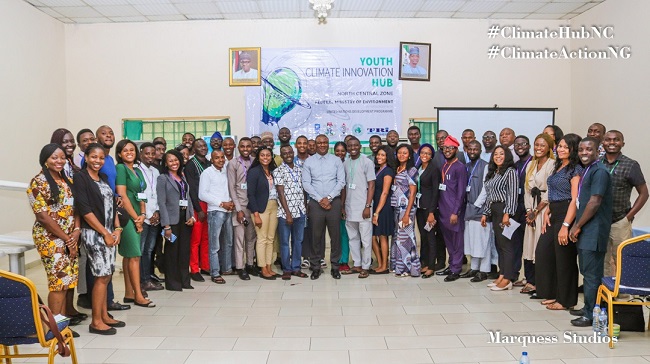 The meeting held few days after the debut in the South South Zone which held in Port Harcourt, Rivers State.
In an opening presentation, Mr. Ayodeji Falemu, a Senior Scientific Officer from the Department of Climate Change in the Federal Ministry of Environment, expressed the government's willingness to work with young people who are focused on bringing solutions to the effect of climate change.
"This event will help us to harvest and collate climate-focused innovations and ideas that can be showcased at the UN Climate Action Summit as part of Nigeria's contribution to address climate change. The Climate Action Summit would showcase ideas from youths who are actively taking climate action and leading innovative ideas in the area of climate change across Nigeria and beyond,'' Falemu said.
Coordinating the event for the International Climate Change Development Initiative (ICCDI), Seyifunmi Adebote, said: "It is encouraging to know that UNDP Nigeria and the Department of Climate Change have now realised the indispensability of young people when it comes to addressing climate change.
"This is equally important because more young climate actors in Nigeria now have a direct connection with the Federal Government through the Department of Climate Change. This will make their projects more visible by other relevant stakeholders interested in scaling up some of these innovative ideas."
Joining in for the closing remark, Muyiwa Odele of UNDP Nigeria stressed the willingness of the UN to institutionalise the project in other to ensure the sustainability, as well as encourage more young people to continually integrate entrepreneurship with climate action.