Members of the Carrington Youth Fellowship Initiative (CYFI) Environment Team have launched the Green Club in secondary schools in Lagos State in commemorating this year's World Environment Day.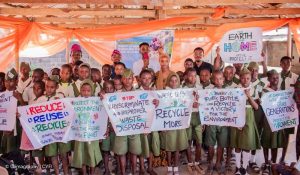 In his opening remarks during the official launching at CYFI Save the Environment Project (STEP) 2023 closing ceremony in Orile Agege Community Junior High School, Agege Lagos State on Wednesday, June 14, 2023, Leader of the CYFI Environment Team, Lawrence Akpoterai, disclosed that in the last eight weeks the CYFI team has created awareness of environmental protection among the students and have trained the students in plastic waste (PET bottles) collection as well as recycling of the PET bottles.
"The students have committed to gathering PET bottles from their community and putting the bottles into a 6ft bin provided within the school premises while CYFI recycle partners, Ecobata, have been evacuating the plastics from the school premises on weekly basis and have been converting them into a more valuable use.
"Our target is to collect over 10,000 PET bottles to be recycled before today being the closing ceremony day, to this end the students have collected over 6,000 PET bottles already," he noted.
The CYFI Environment Team Leader who commended the effort put in place by his team comprising of Nelson Mfon, Oluwatosin Ogunlana, Temidayo Enatanya and Baliqees Salaudeen, disclosed: "In the last couple of weeks we have been able to train selected number of students. These students we have trained so far, we are not just leaving them the way we met them, we want to be sure that what we are leaving them with is sustained even in our absence. We are launching a club that will promote environmental sustainability within their schools and also extensively in their various environments. I would like to encourage members of staff to give them all the necessary support so that these wonderful students will be championing the cause of environment in their various capacities."
Speaking further Akpoterai urged Lagosians to be self-disciplined when it comes to waste disposals and stop the habit of littering their surroundings with wastes.
"I remember during the tenure of Mr. Babatunde Fashola as governor of Lagos State. When you drink water from the so-called 'pure water' you dare not drop the nylon on the floor, you have to put it in your pocket till you get to a place where you know that you can easily dispose it and it really helps the environment. But after with less enforcement rate in the state, people are back to their old ways of indiscriminate dumping of plastic waste in the state."
Baliqees Salaudeen, a fellow of CYFI Environment Team, appealed to members of the newly launched Green Club in Eko Junior College and Orile Agege Community Junior High School to be actively involved in the activities of the club by putting all they have learnt with CYFI team into good use.
"We want the Green Club in these schools to be super active so that when I walk into the school anytime, I want to see that we have the presence of Green Club in the schools," she stated.
Guest speaker, Olumide Idowu, co-founder of International Climate Change Development Initiative (ICDDI), in his speech talked mostly on Goal 13 of the Sustainable Development Goals (SDGs) which focuses on climate action. He urged participants to always inculcate the idea of climate conversation among the younger generation.
"Few days ago, the sun was so hard on us but people didn't see it as an opportunity to discuss climate change but when they see erosion during the rain, people start shouting climate change because that is the problem all of us are facing especially in a place like Lagos," he opined.
Idowu also urged the participants to see plastic waste as an opportunity to make money instead of following the band wagon by littering the environment with plastic wastes.
"For a couple of years now, we have been talking about waste management, but we still have more wastes in our community. But there is nothing like waste anymore, what we have is resources for people that can identify it," he concluded.
Mrs. Toyin Oguntola, Assistant Director, Ministry of Environment and Water Resources, applauded the organisers of the event and urged them to extend the programme to all schools in Lagos, saying government alone cannot do everything.
Mrs. Oguntola, who represented Permanent Secretary and Commissioner of the Ministry, noted that "plastic pollution is caused by single use plastics and it is an environmental menace that we all need to tackle".
She however warned that, henceforth, it is now an offence for any Lagos resident to
"Recently, a plastic waste management policy has been enacted waiting for the ratification of Governor Babajide Sanwo-Olu. Once it is signed into law nobody would be permitted to use single use plastic anymore in the state, we won't have to dispose it indiscriminately and also the major polluters which is the company that produces products in plastics would be forced to think of another means of producing their products and at the end of it all, our environment will be better for it," she disclosed.
Highlights of the event was the unveiling of Green Clubs "Team Eko Junior College" and "Team Orile Agege Community Junior High School" while creative work from Okon Goodluck, a JSS I student of Eko Junior College attracted N15,000 support fund from Baliqees Salaudeen, a fellow of CYFI Environment Team, while the guest speaker, Olumide Idowu, also supported the two participating teams with N25,000 each for their impressive performances.
Mrs. Oluwakemi Oyegbile, Co-Curricular Science and Technology of Education District One; Mrs. Risqat Mumuni, Principal of Orílẹ̀ Agege Community Junior High School and her counterpart in Eko Junior College, Mrs. M.M Rasheed, and other dignitaries were on ground to grace the occasion.
The Carrington Youth Fellowship Initiative (CYFI) is a United States Consulate-General's programme in Lagos to imbibe a service and impact-oriented leadership culture in young Nigerian leaders.
By Ajibola Adedoye