Lagos State in south-west Nigeria has succeeded in making blood donation compulsory for husbands as a condition for registering their pregnant wives for anti-natal care at General Hospitals across the state, but indications are that the policy could aggravate the woes of many women of child bearing age.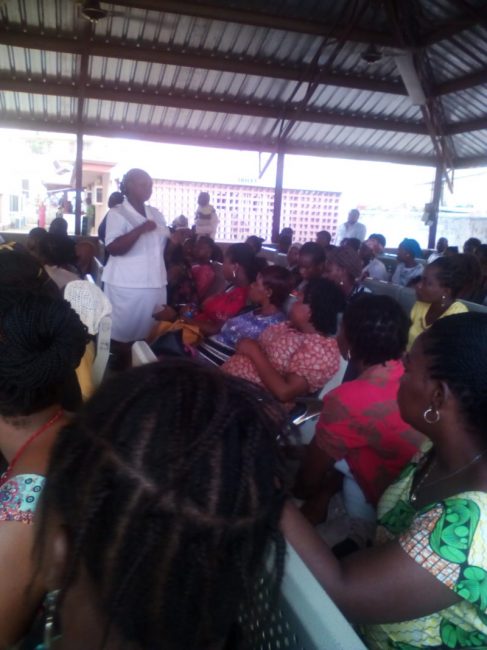 These are women who have no one to donate for them, because their family members are either medically unfit to donate blood or they just do not want to fill that void for reasons best known to them.
It was gathered that such hapless pregnant women either fall back to private hospitals, traditional birth attendants, prayer houses, or they just stay at home without any care, and waiting what fate holds for them, alive or dead.
Mrs. Obiaju Philips in Ikorodu area of Lagos said she passed through a pregnancy experience she would love to forget because her husband failed to donate blood as required at the hospital in her neighbourhood.
Her words: "I passed through hell but I think God was with me, for I would have been dead many years ago that I wedded. I lost my two first babies, so when I became pregnant for the third issue, the management of the primary health centre that I attended refused to admit me. They said they only admit women carrying their first pregnancy. So they referred me to the General Hospital here in Ikorodu.
"On getting to the hospital, the nurses and midwives incharge said I must bring my husband to donate blood, otherwise I would not be admitted. My husband said his faith did not accept blood donation. No plea on earth made him change his mind. I cried all day and was devastated. No where to run to. So all the dizziness, feet swelling, persistent head ache and other pregnancy challenges, I bore at home without any care."
Mrs Phillips, who now has four children and has stopped procreation, said when the pregnancy challenges became unbearable, she enrolled for anti-natal at a small private hospital close to her residence at Agar Community in Ikorodu.
However, she noted that her condition was made worse because her babies were usually breached at birth.
"I registered at the private hospital when my pregnancy was already seven months. When I was due for delivery, I didn't deliver for nearly two weeks of labour. They said my baby was coming out with her legs instead of head. If it was in general hospital, I would have been operated upon easily at a reasonable cost. But since there was no money for CS at the private hospital, we resorted to prayers and God saved me and my baby. I passed through a similar horrible experience in all my four babies because they all came out with the leg," she concluded.
During trips to the general hospital between February and March this year, many heavily pregnant women were seen in pain because of an apparent inability of their husbands to donate blood.
On February 2, this reporter was at the blood donation section of Ikorodu General Hospital, where about 20 young men had been waiting since 6am for the officials to take samples of their blood for a lab test to ascertain if they were fit to donate.
Only about 20 men out of husbands of up to 500 pregnant women that attended a pre-anti-natal care registration seminar were seen on the day of blood donation.
One of the men said there was nothing wrong about compelling them to donate blood, pointing out that he had previously donated twice for his two children.
"I have donated twice, and this would be my third time. It is the only way the hospital gets blood to feed its blood bank since people are yet to embrace voluntary blood donation. You know during labour women need blood, where would the blood come from if no one is donating blood? So it is a good idea."
Another man who claimed he was in his early 30s said he would have preferred to buy blood instead of donating.
"This is about the most difficult decisions that I would take as a man. I have no choice because it is a matter of life and death. I lost my first child during delivery at a private hospital. I can't stand a repeat; that is why I am here."
After samples of their blood were extracted, the husbands were asked to come back in two hours' time.
When they returned, it was a moment of mixed feelings as those who passed the test to donate put up smiling faces while the unfit ones wore long faces as they vacated the hospital environment with annoyance.
"I am sad. They said I can't donate because I have low body weight. I was not the only one. Some were screened out because of insufficient blood and others had diseases which disqualified them," explained one of the men found unworthy to donate.
Our investigation revealed that some workers of the hospital take advantage of the situation to make brisk business by helping the pregnant women to get someone to donate in place of their husbands, charging them up to N10,000 per person.
We saw as one of the secret blood dealers collected the amount from a desperate pregnant woman whose pregnancy was then in its 16th week.
Bringing out some blue hospital cards, he told the woman: "See these cards, they belong to people in your shoes whose husbands could not donate. So many things can disqualify someone, so don't be too hard on you. It is a matter of money. If you can pay N15,000, I will help you to get someone to donate for you," said the young man.
We followed up the lady, and discovered that she was initially rejected by the Primary Health Centre at Ipakodo, Ikorodu which referred her to the General Hospital because, having had a difficult pregnancy in the past, only secondary health institutions are qualified to handle her case.
On February 14th, we came back to the hospital, where those whose husbands donated on February 2nd were to be registered for anti-natal services.
Up to 500 women with various stages of pregnancies were seen.
After a seminar, the Chief Matron who said she had been practicing since 1983, asked all those whose husbands could not donate to leave.
"Whether your husband lives abroad or anywhere, better call him to come back home and donate, or find a family member from 13 years upward to come and donate on your behalf. As you can see, we are only with the cards of successful women. So if your card is still with you, that means you are not admitted. We will only attend to you when we collect your cards indicating your husbands or his relatives have donated."
Another nurse, Mrs. Ade Emmanuel, addressed the crowd, saying: "Blood donation is very important. Without it we might not be able to register you. So feed your husbands well, encourage them, be there for them so that they will accept to come and donate a pint of blood for us. A particular woman was transfused 12 pints of blood. Others were given different pints. Where do you expect us to get the blood if they dont donate? You may be lucky not to need transfusion, but others are not that fortunate and we would not allow them to die. Your husbands must contribute in saving lives by donating."
The unfortunate women left with some shedding tears.
One of the women sent home was seven months pregnant.
The woman who had paid N10,000 to a blood dealer was among those sent away.
"She did not even care to hear our side of the story. I thought she would allow us to be coming for anti-natal while our husbands feed themselves well and come another day to try if they are fit to donate.
"But she just didn't want to listen to any excuse. My husband and I are devastated," she lamented as tears rolled down her cheeks.
When asked what happened to the one that she paid for the last time, she explained, "He told me he brought two different people to donate for me but were both declared unfit. Where will I find someone to bail me out? My two siblings who I am sure must be fit are in the village."
We ran into a husband of one of the pregnant women.
The young man named Jude Anang from Cross River State said his refusal to donate was because he was afraid his blood could be used on another woman rather than his wife, among other beliefs.
His words, "What if my wife does not need transfusion, what happens with my blood? Give it to another person? I can't take that. Besides, we are in a terrible time. Some one could use my blood for ritual."
We gathered that some men absconded because they were afraid lab test could declare them HIV positive, thus subjecting them to stigmatisation.
The issue of compulsory blood donation by husbands of women who want to use public health institutions at the secondary level of health care remains the concern of many people in Lagos.
A health journalist, Martina Ogbonna, explained, "I support blood donation for husbands. Even if their wives do not need the blood, others will need it. That is the only way to get blood to save women during delivery. Bleeding is the leading cause of death of pregnant women.
"However, I advise that since the hospital authority makes huge money from the sale of the blood, it should be lenient to women whose husbands could not donate for obvious reasons."
To a medical doctor who wants to remain anonymous, there is need for massive awareness campaign on the need for the masses to embrace voluntary blood donation as it is done in many societies, hoping that it would effectively check the high number of Nigerian women and children who die during pregnancy, mostly because of blood shortage and bleeding.
"What you find in most instances is that we get blood from husbands of patients who had gone to register at the hospitals. They put down a pint of blood so that if there is a need for a woman to require blood in labour it can be used. But I think taking it further to actually reduce the chances of shortages in blood banks, it is important that voluntary blood donation is what should be promoted."
Director Children Health and Nutrition, Lagos state Ministry of Health, Dr. Folashade Oludara, believes that the issue of blood scarcity would be addressed as the government has embarked on voluntary blood donation drive.
"Government is in blood donation drive. Not that government needs blood but because the people in the state need blood. A lot of people appear at health facilities on emergency cases and when they require blood there is no blood to give. Government does not provide blood. It is when we come out to donate that we see blood to save lives. And blood will not affect the health of anybody in any way contrary to the general belief or myth that when you donate your blood, you have donated your life. That is very untrue."
By Innocent Onoh