Jackson Hole WILD, the CITES Secretariat and UNDP announced on Friday, March 1, 2019 the winners of the World Wildlife Day 2019 Living Oceans Showcase. Captivating stories about marine species will now hit the big screen and your mobile devices as the world celebrates World Wildlife Day 2019 under the theme "Life below water: for people and planet".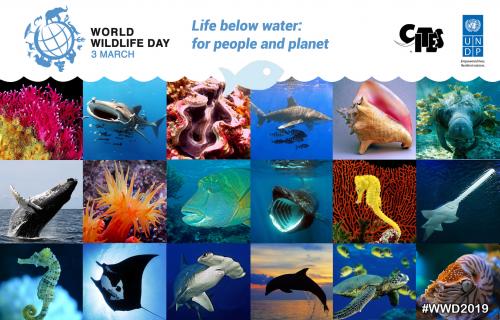 Ocean and marine wildlife have captured the imagination of humans almost since the beginning of civilisation – and the rich bounty the ocean provides has sustained human development throughout the ages. Despite their importance for sustainable development, marine species are facing many threats and need our immediate attention if we want to ensure that they can continue to fulfill their important and multiple roles during our lifetimes and for future generations.
To emphasise the importance of this issue, Jackson Hole Wild, the CITES Secretariat and UNDP have come together once again to organise a film showcase for World Wildlife Day. This year, they put the world's marine species under the spotlight to highlight the problems we are facing and the ideas we can use to tackle them.
These stories went beyond simply being visually mesmerising and engaging. They show the challenges facing these iconic species, including destructive fishing practices, climate change and pollution, and they feature the front-line heroes and the solutions that are necessary if we are going to be able to reduce the threats to the species and the oceans where they live.
The film showcase attracted more than 235 entries, and they were reviewed by 65 preliminary judges to determine the 25 finalists. The short list then was passed on to the final judging panel, which selected the winners from among the 25 finalists.
CITES Secretary-General Ivonne Higuero said: "We are immensely grateful to all the filmmakers for submitting their wonderful works of cinematography. By using the power of media, we can catalyse deeper understanding of the importance of life below water and the chances to ensure the sustainable use of marine species.
"CITES provides a safety net for our threatened marine life and it has a long history of regulating international trade in marine species to ensure that this trade does not threaten their survival. On this World Wildlife Day, let's recognise the positive contributions that life below water makes to our everyday lives and – no matter who we are or where we are – make conscious decisions to ensure that it can continue to do so for generations to come."
Jackson Hole WILD Executive Director Lisa Samford said: "It is not enough to just care about nature. Our aim is to inspire action necessary to restore and protect the planet's essential resources. These films do precisely that."
Andrew Hudson, Head of UNDP Water and Ocean Governance Programme, said: "Global efforts to increase awareness and catalyse new investments in marine conservation depend on powerful, evidence-based advocacy campaigns. This year's winners of the Living Oceans Film Showcase demonstrate the power of film to touch our hearts and minds and move us to greater action."