An appeal has been made to the government of Ghana not to tamper with the Atewa Range Forest Reserve because of its ecological significance as a major contributor to water availability in the country. Atewa is the watershed for some of the country's major rivers like the Densu, which serves as the main source of water for majority of people in Accra West as well as for catchment communities along its course.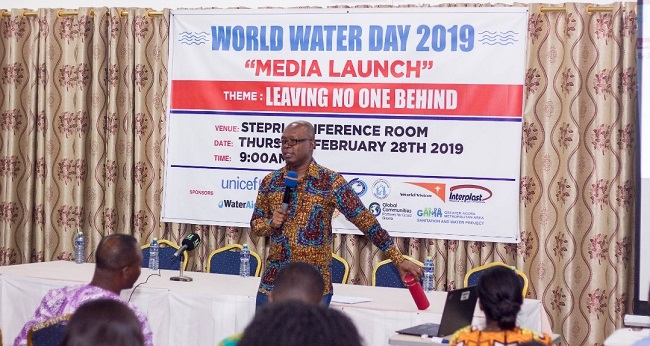 Mining of the Reserve's rich bauxite deposit is still high on the government's agenda under its Master Project Support Agreement (MSPA) with Sinohydro Corporation of China.
A sanitation engineer, Harrold Esseku, made the appeal in Accra on Thursday, February 28, 2019, when he moderated a media launch of this year's national celebration of World Water Day. The Day is celebrated by the international community on March 22 each year to draw attention to the importance of freshwater and advocate for the sustainable management of freshwater resources. Each annual event focuses on a specific aspect of freshwater.
This year's theme: "Leaving no one behind" highlights access to water as a basic human right and provides an opportunity for reflection on why people have been left behind and what can be done to remedy the situation.
In an interview, Esseku explained that mining Atewa would create problems with water access for residents in Accra West and the catchment communities. This is because mining will destroy the vegetation in the watershed, pollute the water and thereby reduce the volume of water that flows downstream into the Weija dam built on the Densu River.
He said when that happens, it will affect both the quantity and quality of water for treatment and for distribution, and further increase the cost. "Besides, this will result in severe water stress that will become a major challenge for the country," Esseku added.
"That is why I agree with the Safe Atewa Campaign from an ecological point of view. Therefore, we should not touch Atewa," he said, adding: "This applies to all watersheds across the nation, we need to stop destroying them and strive to protect them."
To further drive home his point, Esseku cited the case of the Abesim Water Treatment Plant that serves Sunyani and its environs. Sometime in 2015, the Plant was shut down for a period due to extreme reduction of the volume of water for treatment, following intensified human settlements around the headwaters of the Tano. This led to severe water scarcity in the area. He cited the springing up of unplanned human settlements as a major contributing factor that has led to the destruction of some rivers in the country.
Esseku stressed that "to ensure that no one is left behind in water access, we need to seriously protect our watersheds and headwaters, provide sanitation and pursue sustainable water management."
Earlier, Esseku delivered the main paper for the launch of WWD 2019, highlighting the national state of disparities in water access. He noted that "while the national total access to basic water stands at 79 percent, there are serious inequalities that must be quickly addressed, especially as only half of the poorest are getting water, which is likely to be highly contaminated, with the burden of water collection more on women and girls."
Subsequently, a panel of four experts in water related issues discussed the paper and offered their perspectives on how to further the attainment of the Sustainable Development Goal of water for all by 2020.
The Country Director of WaterAid Ghana, Mohammed Abdul-Nashiru, noted that while, the National Water Policy recognizes water as a finite resource that requires proper management to ensure sustainability, Ghana's Constitution does not make provision for this basic human right. He advocated the explicit inclusion of water rights in the Constitution, so that government could be taken on for non-delivery.
Mrs. Vida Duti, Country Director of International Resource Centre (IRC), observed that as a country, Ghana lacks universal access to water such that most of the nation's schools, institutions, health facilities, work places and public places like markets lack access to water. She expressed concern about this situation, saying: "These are the areas where people are very likely to pick water related infections."
Mrs. Duti called for long term planning and investment "…that will ensure provision of water to pocket areas without water access including inaccessible 'overseas,' communities, else, we are likely to suffer regression in the gains made in the water sector." She urged "all who can afford to pay for safe and reliable water access to do so, so that they will not have to spend extra time and money searching for water," adding, "it is only then, can we establish safety nets for the poor."
The Chief Manager for Water Assurance at the Ghana Water Company Limited (GWCL) in Accra, Mrs. Margaret Maculey, talked about the Water Safety Plan approach that the company is implementing. She explained that "this approach prevents the contamination of water from the source to treatment and distribution and is being implemented in recognition that sources of water are prone to contamination sometimes based on where they are sited."
The Director of Environmental Quality at the Water Resources Commission (WRC), Ms. Adwoa Paintsil, launched the 2019 World Water Day. She urged journalists around the country to, at this time, focus their water related reportage on the existing disparities as a way of prompting action for bridging the gap.
For the past one year, conservation activists led by A ROCHA Ghana, have been campaigning for Atewa to be excluded from mining and left as a protected area. They took their "Safe Atewa" campaign to another level by organising the first ever exhibition on an ecological area, to raise the conservation profile of Atewa. The four-day event took place in Accra from Wednesday January 30 to Saturday, February 2, 2019.
The organisers believed that the existence of Atewa as a reserve holds the promise of prosperity and security for Ghanaians, not in mining its bauxite deposits, as the government intends to, but rather in conserving its exceedingly rich biodiversity resources.
The Atewa Range Forest Reserve is largely still one of the remaining blocks of pristine forests in Ghana, virtually undisturbed. It is one of Ghana's 34 Globally Significant Biodiversity Areas and among the nation's 36 Important Bird Life Areas (IBLA).
By Ama Kudom-Agyemang