In commemoration of World Water Day 2023, civil society, labour, and community activists leading the Our Water, Our Right Africa Coalition (OWORAC) have called on local, national, and regional leaders to heed the lessons of history by once and for all abandoning water privatisation, which has been described as a "false solution", under any guise.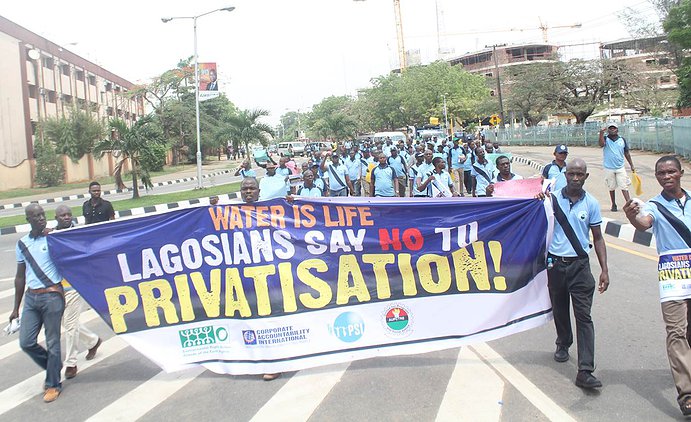 The OWORAC – comprised of activists and trade unionists in Cameroon, Gabon, Ghana, Kenya, Mozambique, Nigeria, Senegal, and Uganda amongst other African countries – condemns the seemingly alarming rise of neocolonial efforts to turn over control of essential services to multinational corporations which seek to exploit our need for water to profit.
The theme for this year's World Water Day is "Accelerating Change."
"It is abundantly clear, from the decades of failed experiments with water privatisation, that we must accelerate change away from this exploitative model and towards public ownership and control. We must also accelerate public investments and ensure accountability of public officials who hold an obligation to serve the interests of the masses, not the privileged few," said the group.
It added that as governments, civil society, and the corporate sector convene in New York City this week for the United Nations Water Conference, the daily realities of the water crisis are felt by hundreds of millions throughout the African continent.
"The continued role of water privatising corporations and their representatives in shaping the agenda and priorities of the UN Water Conference and UN Water more broadly undermine the legitimacy of these spaces. The involvement of AquaFed, the organisation representing this abusive industry on the world stage, in coordinating World Water Day is entirely inappropriate and must end. Preventing corporate capture is essential if the continent is to meet the Strategic Development Goal 6 which advocates for availability and sustainable management of water and sanitation for all by year 2030.
"Like other countries in Africa, Nigeria is under threat of water privatisation at state and federal levels. Activists have been battling plans by the Nigerian government to privatise water via an unpopular and widely criticised National Water Resources Bill."
The OWORAC, which launched in October 2021 in response to the deepening global water crisis and capitalism which the pandemic reportedly opened the floodgates to, detailed the real world impacts of water privatisation on communities in its report "Africa Must Rise & Resist Water Privatisation".
It added that disturbing accounts of the abuses of multinational corporations such as Veolia and Suez, both members of AquaFed, have led communities across the continent to reject water privatisation in its many forms, including so-called "public-private partnerships."
Akinbode Oluwafemi, Executive Director of Corporate Accountability & Public Participation Africa (CAPPA), speaking on behalf of the OWORAC, said: "The theme of this year's World Water Day commemoration reinforces the need for governments to look unto proven solutions to the water crisis on the continent within the realm of democratic community controlled and publicly funded options. Water privatisation is a failed option which only puts profits above people."
Sani Baba, Regional Secretary for Africa & Arab Countries at global union federation Public Services International (PSI), said: "Water privatisation robs communities of their right to life and wellbeing in the same way it also robs workers of their right to decent work. African governments must refuse to pander to the dictates of the World Bank and other institutions that want to colonise our water resources."