The Nigeria Institute of Soil Science (NISS) has warned against unsustainable soil management practices like misuse of agro-chemicals, soil sealing, pollution and increased fire frequency.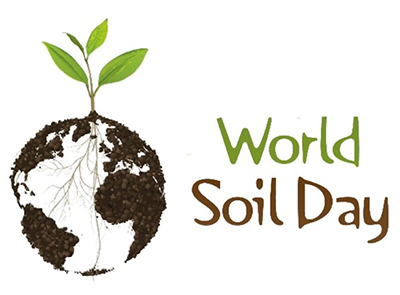 NISS's Registrar, Prof. Victor Chude, gave the warning on Friday, December 4, 2020 in Abuja in a statement to commemorate the 2020 World Soil Day (WSD).
The WSD, a UN observance day, is commemorated every Dec. 5, to celebrate healthy soils for food-secured future.
The theme for 2020 WSD is "Keep soil alive, Protect soil biodiversity".
Soil biodiversity is the variety of life that exists within the soil, including bacteria, fungi, earthworms and termites.
A teaspoon of topsoil typically contains a vast range of different species and up to six billion microorganisms.
Chude expressed concern that soil biodiversity was under threat.
He emphasised that some unsustainable farming practices including tillage, use of agro-chemicals, effects of climate change and soil pollution among others could have adverse consequences for the health and biodiversity of soils.
"Land use change, unsustainable practices, soil sealing, pollution and increased fire frequency can damage soil biodiversity and its function beyond repair.
"Some ecosystems may never recover, hence the need to preserve our soils before it reaches this stage.
"This year, by addressing the increasing challenges of soil management in line with 2020 theme, the institute aim is to raise awareness of the importance of sustaining healthy ecosystems and human well-being.
"NISS encourages people around the world to engage in proactively improving soil health, sensitise the public on the scope of bio-diversity and its benefits to life as well as fight soil biodiversity loss.
"If we do not act soon, the fertility of soil will continue to be adversely affected at an alarming rate, threatening global and national food supplies, food and nutrition security," Chude said.
He urged everyone to play a quality role in protecting soil biodiversity education and managing soil resources sustainably.
According to him, we all should also play quality role in protecting soil biodiversity by supporting soil biodiversity and sustainability research as well as investing in innovation and refusing, reducing, reusing and recycling materials before sending them to a landfill.
The registrar explained the WSD, an international day to celebrate soil was recommended by the International Union of Soil Sciences (IUSS) in 2002.
He noted: "Under the leadership of the Kingdom of Thailand and within the framework of the Global Soil Partnership, FAO has supported the formal establishment of WSD as a global awareness raising platform.
"The FAO conference unanimously endorsed World Soil Day in June 2013 and requested its official adoption at the 68th UN General Assembly.
"In December 2013, the UN General Assembly responded by designating Dec. 5, 2014 as the official WSD."
Chude explained that the WSD Dec. 5 corresponded with the official birthday of late H.M King Bhumibol Adulyadej, King of Thailand, who was one of the main proponents of the initiative.
Speaking on the theme, he noted that plants nurture the whole creatures in the soil that in return feed and protect the plants, adding that ''this diverse community of living organisms keeps the soil healthy and fertile.''
This vast world, according to him, constitutes soil biodiversity and determines the main biogeochemical processes that make life possible on earth.
"It is worthy of note that beneath our feet, lies an outstanding diverse community of plants, animals and microbes that make up our soils.
"Soils are more than just 'dirt'-soil biodiversity helps us breathe and fight climate change, strong support for agriculture and food security, major reservoir of global biodiversity among others," he said.
By Felicia Imohimi