The International Ocean Institute in partnership with Nigerian Institute for Oceanography and Marine Research (NIOMR) embarked on a clean-up exercise at Marwa Beach in Lagos to mark the 2022 World Oceans Day.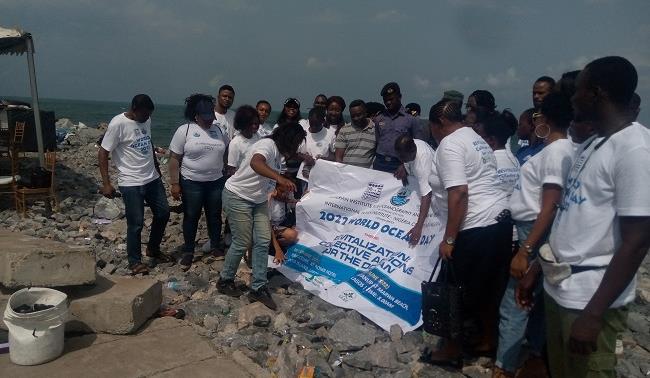 Themed "Revitalisation: Collective Action for the Ocean", the World Oceans Day organised by the International Ocean Institute held on June 8 and 9, featured a public lecture and a beach clean-up exercise.
The World Ocean Day is observed globally to enlighten the public on the impact of human actions on the ocean and to establish a worldwide movement of citizens for the oceans.
Speaking at the event, Dr Akanbi Williams of NIOMR highlighted the need to start channelling human activities towards revitalising the damages done to the ocean.
"Our ocean is impacted through human activities and there is need to start doing things to revitalise most of the damages that have been done to the ocean the focus of this year's theme is to create the awareness that we have impacted the ocean, now we have to start doing things in order to restore l it back to normalcy," Dr Williams said.
The director further called for the need to better implement maritime laws that have been enacted by the government. According to him the available laws were enough to address maritime crimes if properly enacted.
On his part, Prince David Omaghomi, a trustee of Eco Restoration Foundation, called for collective action to reduce marine pollution.
"Marine pollution is a great problem; the ocean sustains life and my advice for Nigerians is for us to take the theme of this year's world ocean day as a push to ensure that we are able to work collective to reduce marine pollution. Collective action is required to reduce the amount of pollution going into our seas and the ocean like we know sustains lives on earth," Mr Omaghomi said.
Acknowledging that industrialisation must continue, Mr Omaghomi charged organisations observe sustainable practices in their operations.
"Industrialisation must continue however sustainable practices are what id advised. The pollution coming from oil spills petroleum mining from shipping activities, sewage and industrial activities from land-based sources is an issue however we need to create a balance, policy from government is most important as that is the main thing that is lacking in Nigeria," he said.
He also called for the need for the creation of special court to address maritime crimes, re-echoing the need for full enforcement of laws put in place to address maritime offenses.
During the beach clean-up, organisers brought in upscaling experts to teach Marwa Beach residents how to convert waste into economically useful items in order to reduce ocean pollution.
Residents of Marwa Beach who joined the ocean clean-up exercise were encouraged to engage in upscaling activities to help reduce the amount of waste that is disposed into the ocean.
By Ayomide Emeka Joseph