Wild Africa Fund, a not-for-profit dedicated to raising awareness and promoting efforts that preserve Africa's natural beauty and wildlife, is urging the public to protect Nigeria's unique Cross River gorillas by supporting ongoing efforts to safeguard their populations and habitat as well as reducing demand for commercial bushmeat that threatens them.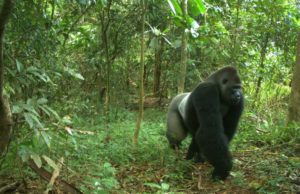 The group made the submission in a statement made available to EnviroNews on Sunday, September 24, 2023, to commemorate the World Gorilla Day, which celebrates gorillas, regarded as one of the most endangered species in the world.
The Cross River gorilla lives in the mountainous region between Nigeria and Cameroon and is said to be Africa's most endangered ape species. It is estimated that fewer than 300 individuals of these gorillas remain in the wild, with 100 of them living in Nigeria's Cross River state and the rest in Cameroon. In Nigeria, they are found in the Afi Mountain Wildlife Sanctuary, the Mbe Mountains, and the Okwangwo division of the Cross River National Park.
The Cross River gorilla, one of Nigeria's most iconic and cherished wildlife species, faces numerous threats, including hunting and habitat loss due to agricultural expansion, commercial logging and the encroachment of human settlements into its habitat, according to Wild Fund Africa.
It noted that, while the hunting of gorillas has reduced over the last few years, wire snares set for other animals in the bushmeat trade can also entrap gorillas, leading to injuries and, in some cases, death.
"We can't afford to lose even one of our 100 Cross River gorillas at this critical stage. Let us all come together to protect the Cross River gorilla and ensure that this remarkable species continues to thrive in our country for generations to come," said Festus Iyorah, the Nigeria Representative at Wild Africa Fund.
Nigeria has taken significant steps to address these challenges and protect the Cross River gorilla. The National Park Service and Cross River State Government in collaboration with local and international conservation organisations have been working to safeguard the gorilla's habitat, enforce anti-poaching laws, and promote community-based conservation initiatives. These efforts are said to be crucial not only for the survival of the Cross River Gorilla but also for the preservation of our rich biodiversity and the sustainable development of our communities.
"There are several benefits to protecting these great apes. Gorilla-based tourism is an invaluable asset to some African countries like Rwanda and Uganda, offering a win-win scenario for both conservation and economic development. Tourists from around the globe are drawn to the magic of gorilla encounters, making gorilla-based tourism a source of foreign currency and funding for community development projects such as schools and healthcare centres," according to Wild Fund Africa.
Gorilla trekking accounted for 14 percent of the $498 million Rwanda earned from tourism in 2018, when the government doubled the cost of gorilla-trekking permits to $1,500 per person. In 2018–19, tourism brought in $1.6 billion for Uganda, contributing 7.7 percent of the country's gross domestic product (GDP) and employing at least 667,000 people.
"If wildlife can be successfully protected in Nigeria it can become a major driver of increased tourism and jobs," said Peter Knights, OBE, co-founder and CEO of Wild Africa Fund.
Wild Africa Fund has launched a month-long public awareness campaign using radio, TV, newspapers, billboards, and social media to inform people about the threats facing the Cross Rivers gorillas and to amplify wildlife laws and anti-poaching measures that protect them.
The campaign will feature messages from top celebrity ambassadors, including Davido, Laycon, Emanuella, and Alex Iwobi, and short documentaries highlighting ongoing efforts to protect gorillas and their habitat.