The Nigerian Conservation Foundation (NCF) teamed up with First City Monument Bank Plc (FCMB) in the provision of practical solutions to the menace caused by plastic pollution as the duo commemorated the 2023 World Environment Day (WED).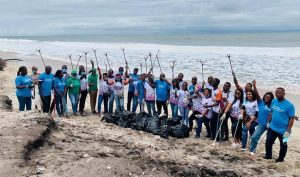 The approaches NCF and FCMB jointly provided were recycling, upcycling and beach clean-up. The activities took place from Thursday, June 1 to Friday, June 2, in Lagos.
The programme commenced with the distribution of giant recycle bins to five selected schools and was concluded on Friday, June 2, with a beach clean-up exercise at Okun-Ajah Beach, Okun-Ajah, Lagos.
The beneficiary schools are Community Senior High School, Surulere; Itolo Girls Senior Secondary School, Surulere; Lagos Progressive Senior Secondary School, Surulere; Resettlement Junior Secondary School, Ilaje; and Ikota Primary School, Ikota.
Each school received giant bins for collecting plastic waste. The recycling initiative will help inspire passion in children and can help reinforce the message of conservation to children. Activities such as recycling will help to drastically reduce the volume of plastics in their community, while also building environmentally concerned generation. School recycling will inspire students to care about the planet.
A beach clean-up exercise was carried out at Okun-Ajah beach to advocate actions that promote solutions to plastic pollution to the members of the Okun-Ajah community, Eti-Osa Local Government Area. The event involved school children, community members, as well as officials of NCF and FCMB.
While making a remark at the beach clean-up, the Director General of NCF, represented by Acting Director of Technical Programme, Mr Adedayo Memudu, said: "The enormous task we all have is to surmount the challenges of plastic pollution, apply simple but effective approach to tackle it. As we all gather here today, we foster togetherness in fighting our common enemy of plastic pollution, and take the fight further, beyond the territory of our beach, community, and immediate environment."
Recycling of plastic waste, being the focus of the solution requires requisite actions. These include waste sorting, collection, and evacuation. NCF and FCMB provided collection facility to five public schools with the provision of recycle bins.
In his address, the Head of Corporate Social Responsibility and Reporting, FCMB, Mr. Omoniyi Iyanda, stated that "FCMB is committed to sponsoring programmes that create balanced opportunities in reducing plastic pollution and other climate risks and increasing awareness on innovative ways to recycle and upcycle these items. FCMB is happy to build and grow communities and businesses that appreciate the importance of keeping our environment clean and free from all pollution."
Each of the beneficiary school has a minimum population of 600 students, hence over 3,000 students/families have been taught about recycling and its benefits.
Through publicity of the recycling initiative on social media platforms, print and news, thousands of people have become aware of the menace of plastic pollution and how to live sustainably with the natural environment.