No fewer than 10 secondary schools in Abuja, the Federal Capital Territory (FCT), were beneficiaries of a recent initiative designed to uplift the school environment.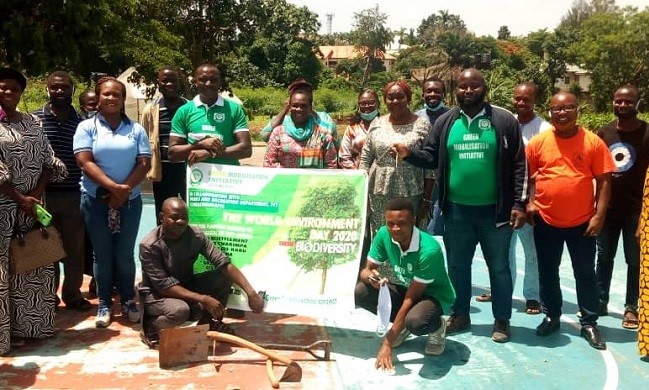 The Green Nigeria Schools Project, an initiative of Green Mobilisation Initiative (GMI) in collaboration with Parks and Recreation Department of the FCT Administration and FCT Secondary Education Board, organised a tree planting exercise in 10 secondary schools in Abuja from June 5 to 10, 2020.
The exercise was organised to commemorate the year's edition of the World Environment Day (WED) that has "Biodiversity: Time for Nature" as its theme. Observed yearly on June 5, WED is a United Nations event aimed at encouraging awareness and action for the protection of the environment.
Flagged-off on Friday, June 5 at Government Secondary School (GSS), Apo Resettlement, the event was graced by the Director, Parks and Trees Maintenance Division, Hajia Riskat Abdulazeez; Representative of the Chairman, FCT Secondary Education Board, Hajia Rahmatu Nusa Kamar; HOD, Science, Technology and Mathematics; Principal and staff of GSS, Apo Resettlement; and members of GMI led by the Coordinator, Mr Gabriel Aborele.
A total of 150 tree seedlings comprising 20 Mangifera indica (mangos), 20 Terminalia catappa (almond trees), 10 Citrus specie, 50 Terminalia mentalis and 50 Syzygium guineense species were planted during the four-day exercise. Each school got 15 tree seedlings each.
The school's management officials present were enlightened on proper watering regime and to take responsibility for the survival of the seedlings, it was gathered.
The principals of the various schools promised to take adequate care to ensure that the trees survive to provide adequate shade, fruits and protection for students, teachers, and visitors to the schools.
Mr Aborele said: "The reception from contacts was warming and interactive, knowledge was exchanged and the both parties satisfied. It was a good experience and the project was successful. We look forward to more collaborative efforts to cover for the remaining 67 secondary schools contained in the approval by the FCT Secondary Education Board for the Green Nigeria Schools Projects."
He stressed that, apart from raising awareness on tree planting and highlighting positive uses of trees as nature-based solution for the preservation of biodiversity and climate change mitigation, the exercise was likewise aimed at exploring the role every individual could play to protect the ecosystem.
Aborele stated that the event was also aimed at beautifying and creating a serene environment conducive for learning, as well as inspiring the youth to be conscious of their environment.
He listed the benefiting schools to include Government Secondary School (GSS), Apo Resettlement; GSS, Gwarimpa Estate; GSS, Jabi; GSS, Mpape; GSS, Mabushi; GSS, Karu; GSS, Nyanya; Model Secondary School, Maitama; Government Model Secondary School, Dangbana, Jikwoyi; and Government Day Secondary School, Karu.