The Environmental Rights Action/Friends of the Earth Nigeria (ERA/FoEN) has joined the global community to commemorate the 2021 World Environment Day (WED) with the theme "Ecosystem Restoration".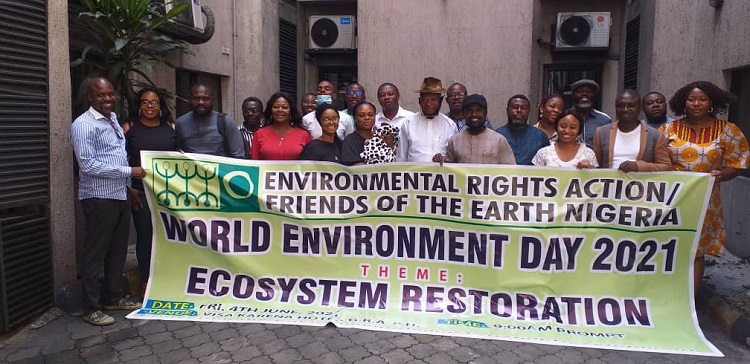 The United Nations set aside June 5 of every year as a day of shared global reflection and action towards protecting the environment. This year's WED theme is significant because it calls on mankind to do its part in protecting the ecosystems in these uncertain times.
In a statement issued during the ERA/FoEN event to mark the WED in Port Harcourt, Rivers State, Mike Karikpo, the organisation's Programmes Director and Administration, explained that ecosystems are dynamic communities of plants, animals and microorganisms interacting with the physical environment, landscapes, lakes, and oceans.
He stated however that, owing to human activities especially since the advent of the industrial revolution and a neoliberal economic ideology that prioritises profit over sustainability, ecosystems are being degraded at astronomical rates across the world and many ecosystems may have been destroyed irreversibly.
"Ecosystems across the world support life on earth and considering the multiple crises we face such as the climate crisis, the corona virus pandemic, financial and economic crisis, time is of the essence. We need to act now to save our planet and save lives as we know it."
He added that the United Nations has therefore set aside 2021-2030 as the UN Decade on Ecosystem Restoration, stating that degraded and destroyed ecosystems already cost the global economy 10% of its annual output.
"Without concerted global actions to preserve, restore and enhance the viability of our ecosystems, our capacity to make progress in critical areas such as education, health and employment will be greatly compromised."
According to the United Nations Decade on Ecosystem restoration 2021 -2030, "the restoration of 350 million hectares of degraded terrestrial and aquatic ecosystems could generate $9 trillion in ecosystem services. Restoration could also remove 13 to 26 gigatons of greenhouse gases from the atmosphere. The economic benefits of such interventions exceed nine times the cost of investment, whereas inaction is at least three times more costly than ecosystem restoration."
But Dr Godwin Ojo, Executive Director, ERA/FoEN stated: "Restoring the ecosystem will enhance biodiversity, clean polluted rivers and contaminated soil and improve local livelihoods of our people."
He stated further that "ecosystem restoration will enhance capacity of our soils and forests to store greenhouse gases rather than the false solutions of carbon capture and storage facilities that do not cut emissions at source and poses grave danger to ecosystems.
"The crucial challenge requires a post petroleum economy through deep transformation in global production and consumption patterns. Therefore, ecosystem restoration requires concerted actions at local, national and international levels focusing on a pragmatic shift towards a sustainable decarbonized development pathway before it is too late."
Chief Saint Emma Pii, member, Bodo Council of Chiefs, and Chairman, Board of Trustees, ERA/FoEN stated: "Our surest way of escaping the looming danger is to live in harmony with nature. Our survival as a species, the survival of other organisms and the future of our planet can be restored if communities are allowed to manage their resources and involved in environmental protection and conservation."
He stated further that "the clean-up of the polluted Ogoniland will hopefully restore the degraded ecosystems."
ERA/FoEN, civil society groups and its allies are urging:
The Nigerian state (local, state, and national) to put in place clear policies and regulations that would ensure the sustainability of our ecosystems in line with the United Nations policies on ecosystem restoration by setting achievable targets for implementation.
Urgent restoration of the polluted Ogoniland ecosystems and the entire Niger Delta region ecosystem within the UN Decade on Ecosystem Restoration 2021-2030.
Ecosystem restoration work should focus on addressing the actual sources of environmental degradation, so that the removal mechanism does not become business as usual in the continuation of carbon emissions released into the atmosphere.
End gas flaring now to restore Niger Delta ecosystems.
Commit to energy transition from fossil fuels to renewable energy sources to reduce the rate of environmental degradation and ecosystem disturbance.
Put in place proper land governance legislation that would enhance proper land use and planning. This will require radical reform or wholesale abrogation of the current Land Use Act which has led to dispossession and caused untold hardship to our communities.
Put in place rules that address land grabbing, solid waste management and grant easy access to justice for people and communities impacted by the deleterious actions of corporations.
Set up Community Resource Centres that would train communities to manage ecosystem resources and share local best practices on living in harmony with nature and community-based forests management systems that ensures environmental sustainability.
To conclude, the UN Decade on Ecosystem Restoration will be a mirage unless concerted and genuine effort is made to provide finance and set targets to reduce the rate of deforestation and ecosystems disturbance by the number and scope of ecosystems restored, improved biodiversity, and ecosystem resilience for the health of Mother Earth and wellbeing of people.