Delta State Government says it is partnering the Fight Against Desert Encroachment (FADE) Africa, a non-governmental organisation (NGO), in her fight against desertification in the state.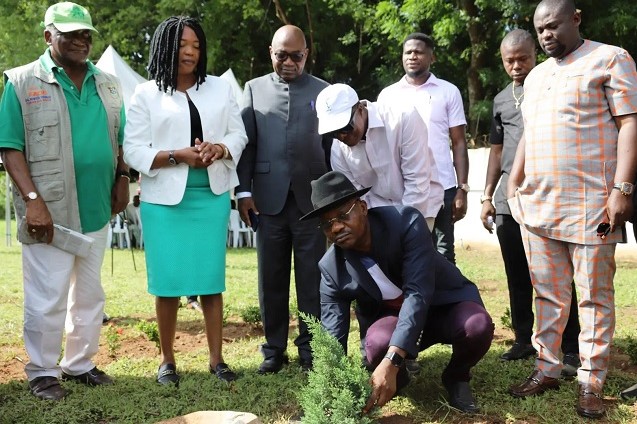 Gov. Ifeanyi Okowa disclosed this on Thursday, June 17, 2021 while flagging off a Public Garden to mark the 2021 World Desertification and Drought Day in Asaba, the state capital.
Okowa, represented by his Chief of Staff, Mr Ovie Agas, said that his administration was committed to addressing issues of desertification as a component of the "SMART" Agenda for the development of the state.
While commending FADE for its 22 years effort and commitment to the fight against desertification, he said that such gardens would be replicated in all the 25 local government areas of the state to enable people live in greener and natural environment.
"Today is a day fixed by the United Nations to mark the World Desertification and Drought Day, it is significant to us and we are collaborating with FADE Africa and Delta State Capital Territory Development Agency to fight desertification across the state.
"The 'T' element of the SMART agenda of this administration stands for, 'to transform the environment through urban renewal', this is to ensure a sustainable and a green environment, so we are here to flag off a little garden with hope that it will translate to a little forest soonest.
"With this symbolic picture today, we expect our people to key into this programme by planting little gardens to build a sustainable environment, we cannot continue to fell our trees without replanting.
"The reality is that the climate change is here and its effects are grave. Delta government will not relent but collaborate with all well meaning Nigerians to build a greener and sustainable environment across the state," he said.
The governor said that while the state awaits the Federal Government policies and programmes on afforestation for the state, the state government would key into it whenever it is ready.
"As a state, we will not wait for the federal government indefinitely and as a responsible and proactive state, we have started today and sooner, we will take the campaign to other LGAs of the state," Okowa said.
Earlier, Chairman FADE, Dr Newton Jibunor, the Desert Warrior, blamed the current global warming on desertification and felling of trees, adding that, to combat it, states and countries must start to plant trees now.
He revealed that over 30 per cent of African countries have been taken by deserts, adding that it would take 40 years to reclaim the deserts if the afforestation process begins now.
Jibunor pledged to partner with the state government to ensure a greener and safer environment while promising to take the campaign  to all the 25 LGAs of the state to ensure greener gardens all over Delta.
He said that the current herders/famers clashes was an impact of desertification while challenging all levels of government to step up programmes and deliberate policies to rebuild the forests through little gardens.
"This garden that we are starting today will grow to a beautiful garden and a little forest.
"Every dignitary is expected to plant a tree, give it a name and nurture it to maturity. Our plan is to grow gardens in all the LGAs in Delta," Jibunor said.
On her part, Mrs Joan Mrakpor, Director General, Delta State Capital Territory Development Agency, said the essence of the event was to make the people buy into building of greener and safer environment.
While appreciating the 84-year-old Desert Warrior, Mrakpor, said that the people needed a reorientation to ensure that they replant felled trees and build green gardens to check the impact of climate change on the people.
Former Commissioner for Information, Mr Charles Aniagwu, and other dignitaries graced the occasion and took turns to plant a tree in the garden at the Summit Road/Direct Labour Agency Road junction, Asaba.
By Ifeanyi Olannye