To one schooled in natural resources management, it is simply unthinkable why a farmer would cultivate crops on river banks or even farm in river beds. If you belong to the scholastic group, you understand that this kind of farming practice is unsustainable, and undermines livelihood and development.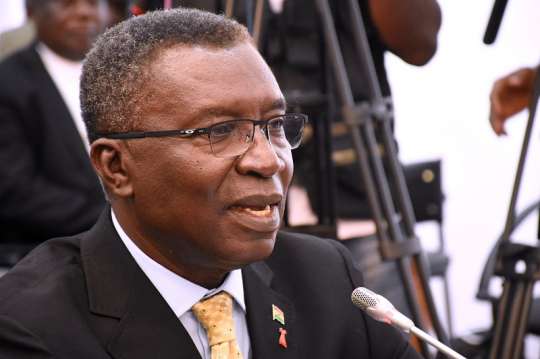 But, for the farmer, it is an issue of livelihood survival, in a situation of irregular rainfall and degraded farm lands unable to support productivity. Consequently, most African farmers in desperation are farming on river banks and in river beds, a practice that is resulting in further degradation of the land.
Soil scientists define land degradation as the reduction or complete loss of the biological and ecological productivity of land. The process begins with the loss of vegetative cover and ends with the destruction of the soil's fertility.
It involves the weakening of the resilience of the land: that is reducing the land's ability to recover after a disturbance. The scientists say the disturbance might be climatic, such as a drought or a pro-longed period of absence of rain, clearing of vegetation and crop growing.
Experts also agree that land degradation eventually leads to desertification, a process by which fertile land becomes dry or scorched land through unsustainable farming practices like slash and burn in land clearing; incorrect irrigation; water erosion; and overgrazing, which removes grass cover and erodes topsoil; as well as climate change.
When a land gets to this stage, there could be absence of rainfall or little rainfall, so that the land is able to support only sparse and widely spaced vegetation or no vegetation at all. The land has become a desert in which only few forms of life can exist.
It is worthy of note that there are natural dry lands that have and support its own form of endemic vegetation. This is different from degraded lands resulting from destructive human activities.
According to the United Nations (UN) Convention to Combat Desertification (UNCCD), more than half of agricultural land is affected by soil degradation, while 12 million hectares of arable land, enough to grow 20 tonnes of grain, are lost to drought and desertification annually, with 1.5 billion people affected in over 100 countries – therefore, the urgent need to halt land degradation as a global action.
Africa is seen to be particularly vulnerable to desertification, because two thirds of the continent is either desert or drylands, and 73% of the continent's agricultural drylands are already degraded. More than two thirds of the population is made up of subsistence farmers and, therefore, the impact of land degradation is immediate and devastating.
The UN Food and Agriculture Organisation (FAO) has stated that unless the spread of desertification manifesting in the "spread of arid desert like areas of land is stopped," Africa will lose two-thirds of its arable land by 2030, just 13 years from now.
While, the economic costs of desertification and land degradation for Africa stands at $490 billion per year, the UNCCD is optimistic that sustainable land management can help generate up to $1.4 trillion of economic benefits.
It is from this perspective, that the UN System has, for 23 years now, been reminding the international community that "desertification can be effectively tackled, that solutions are possible, and that key tools to this aim lay in strengthened community participation and co-operation at all levels."
In 1994, the United Nations (UN) General Assembly, adopted the Convention to Combat Desertification in countries experiencing serious drought and or desertification, particularly in Africa. It further instituted June 17th as the International Day to promote public awareness on issues of desertification and drought, and the need to combat them.
This year's World Day to Combat Desertification, which fell on last Saturday June 17th, was on the theme: "The land is our home, our future," focusing on the relationship between land degradation and migration, and how local communities can build resilience to several development challenges through sustainable management practices.
The UN puts the figure of international migrants from 222 million in 2010 to 244 million in 2015. According to the UNCCD, the underlying element is the linkage "between migration and development challenges, in particular, the consequences of environmental degradation, political instability, food insecurity and poverty."
In a statement released earlier to commemorate the Day, UNCCD Executive Secretary, Monique Barbut, said, "Migration is high on the political agenda all over the world as some rural communities feel left behind and others flee their lands."
She stressed that "the problem of migration signals a growing sense of hopelessness due to the lack of choice or loss of livelihoods," noting that "productive land is a timeless tool for creating wealth."
Ms. Barbut called for "… a campaign to re-invest in rural lands and unleash their massive job-creating potential, from Burkina Faso, Chile and China, to Italy, Mexico, Ukraine and St. Lucia."
She said more than 100 of the 169 countries affected by desertification or drought are setting national targets to curb runaway land degradation by the year 2030.
As a signatory to the UNCCD, Ghana has in place a National Action Plan (NAP) that acknowledges the need to maintain the integrity of ecosystems and ensure proper management of natural resources, in order to sustain high agricultural production and ensure food security and enhanced livelihoods; whilst combating desertification.
The NAP, which has been in place since 2002, was prepared under the leadership of the Environmental Protection Agency (EPA), in collaboration with other environmentally related institutions.
Some of the key action plans include the need to re-look the approach to the nation's land use planning system. Specific actions include reviewing the Land Planning and Soil conservation (Amendment) Act of 1957; supporting a study of the structure and functions of existing land management agencies and planning of land use in Ghana; monitoring and reclamation of degraded lands; and promoting land zoning, mapping and production of land resources management plans at the national, regional and district levels.
Another key action plan is soil and water conservation under which specific actions include sustained promotion of the use of simple agronomic soil and water conservation measures such as  agro-forestry,  crop rotation, tied ridging, and mulching;  promoting the central role of traditional rulers, landlords and earth priests (Tindanas) in mobilizing communities for Integrated Water Management  activities; and assisting farmers to form common Interest Groups for the implementation of integrated water resources management.
The Plan also identifies mining as a key area for engagement with specific actions such as reclamation of degraded mined sites; institutional support for the Environmental Protection Agency (EPA) and the law enforcement agencies to enable them function effectively;  sustained dialogue between EPA on one hand and traditional authorities, the miners and DAs on issues relating to sustainable mining activities and ecological stability; and sustained environmental education for all stakeholders in the mining industry.
Management of vegetative cover is also highlighted as key action area, with specific actions including assessing the degree and nature of disturbance within the various vegetative formations to aid the planning of management strategies.
Meanwhile, the national celebration of World Day to Combat Desertification in Ghana was observed with a forum organised on the theme and slogan: "Improving Land Management: Sustainable Livelihoods" – "Set the Pace: Productive Use of Dryland."
This was the 8th National Desertification Forum organised by the EPA in Wa, Upper West region to share ideas on challenges, opportunities, and adaptation strategies to help reverse desertification in the region.
In a statement read on his behalf, the Minister of Environment, Science, Technology and Innovation (MESTI), Prof. Kwabena Frimpong-Boateng, said 65% of Ghana's land area is prone to soil erosion and desertification, and that "It is scientifically proven that what has accounted for this present situation is the mismanagement of the ecological systems."
The statement described the problem of land degradation in the Upper East, Upper West and Northern regions as becoming more pronounced with serious implications on the livelihoods of the people, such as continuous mass migration of people to the southern parts of the country or urban areas in to work.
Prof.  Frimpong-Boateng's statement called for the "national adoption of very innovative ways to improve the social, economic, environmental and cultural well-being for the country's drylands."
By Ama Kudom-Agyemang, Accra