The Nigerian Institute for Oil Palm Research (NIFOR) says achieving sustainable coconut production in the country requires a comprehensive approach that addresses environmental, social and economic aspects.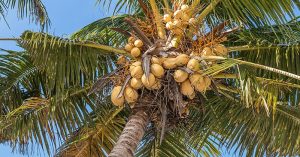 NIFOR Executive Director, Dr Celestin Ikuenobe, said this at the commemoration of World Coconut Day on Friday, September 22, 2023, in Abuja.
The theme for 2023 World Coconut Day is: "Sustaining the Coconut Sector for the Present and Future Generation through Coconut Sufficiency in Nigeria (COSIN)".
The day was organised by the National Coconut Producers, Processors and Marketers Association of Nigeria (NCOPPMAN).
Ikuenobe was represented by Dr Victor Adaigbe, Director/Head Coconut Department of NIFOR.
He identified some of the strategies for sustainable coconut production as crop management and agronomy, pest and disease management, soil health and fertility.
Others are water management, biodiversity conservation, research and innovation, social and economic aspects, value addition and market access.
The executive secretary said that sustainable coconut production required collaborative efforts involving farmers, government agencies, non-governmental organisations and the private sector.
The executive secretary identified coconut as a valuable crop that sustainability measures could help preserve the ecosystem, support livelihoods and ensure long-term profitability.
"By implementing these strategies Nigeria can ensure that its coconut industry thrives while safeguarding the environment and supporting the livelihoods of its people.
"Sustaining coconut production for future generations necessitate a holistic approach that encompasses ecological and social dimensions," he said.
He said that stakeholders can ensure the longevity of coconut farming while safeguarding the environment and improving farmers' livelihoods.
"Policy makers, researchers and communities must collaborate to address challenges and create an enabling environment for sustainable coconut production, 'he said.
The World Coconut Day is commemorated annually on Sept. 2.
Dr Nma Okorojie, National President, NCOPPMAN, said the day serves as a platform to promote awareness, innovation and sustainable development in the coconut industry worldwide.
"The event aims to raise awareness among stakeholders and the general public about the critical significance of the coconut sector for both present and future generations.
"It is a day when countries, communities and organisations unite to recognise the multiple dimensions of coconut's contribution – from nutrition and health to livelihoods and environmental preservation."
She said that coconut legacy must be preserved for posterity.
Okorojie said coconut has become a sought-after food commodity with a lot of health benefits, and economic values contributing to the nation's non-oil sector and Gross Domestic Products (GDP).
By Felicia Imohimi