Sterling One Foundation on Saturday, September 25, 2021 adopted the cleaning of Lafiaji and Iwerekun beaches in Lagos, as part of the activities to mark the 2021 World Cleanup Day.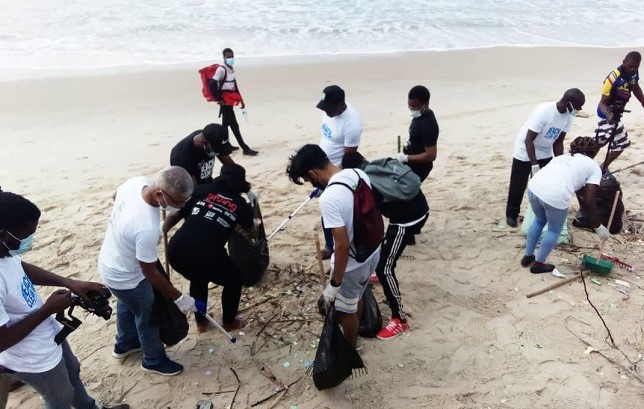 Mrs Olapeju Ibekwe, Chief Executive Officer (CEO), Sterling One Foundation, expressed delight in welcoming many volunteers who turned out to identify with the cleanup exercise of the beaches.
Ibekwe said that the beach adoption and cleanup, which began with Eleko and Alpha beaches in Lagos, were part of the programmes designed by the foundation to rid Nigeria's beaches of waste and make them a better environment for tourists.
She expressed gratitude to the foundation partners and volunteers for making the exercise a reality.
She noted that the foundation was passionate about creating an environment that would be safe and healthy for all to live in.
Also speaking, Mr Emmanuel Etomi, General Manager, Corporate Services, First E & P, expressed delight in partnering with Sterling One Foundation to ensure that the adopted beaches were cleaned up weekly and sustainably.
Etomy said that mankind has just one planet to live in and as such, everyone should play critical roles in making it a haven for human habitation.
Mr Alexander Akhigbe, Chief Executive Officer, African Clean up Initiative (ACI), said the cleanup should be undertaken by all, for the common good of the environment.
Akhigbe said that the beaches would be cleaned weekly for one year.
He called for collaborative efforts of all in ensuring that the environment was rid of wastes.
Mr Kush Rajurkar, an Indian studying at the American International School, Lagos, who volunteered for the cleanup, expressed gratitude for the opportunity to participate in the exercise.
Rajurkar said the COVID-19 restrictions had prevented him from taking part in the previous exercise of caring for the environment.
Rajurkar said that as the effects of the pandemic subside, he would continue to make himself available for the exercise when the need arises.
Sterling One Foundation began its beach adoption and cleanup exercise earlier this year, with the adoption of Eleko and Apha beaches.
The adoption of Lafiaji and Iwerekun beaches increased the number of adopted beaches to four.
By Fabian Ekeruche