To raise awareness about the importance of bees as pollinators, the threats they face and their contribution to sustainable development, the UN designated May 20 as World Bee Day.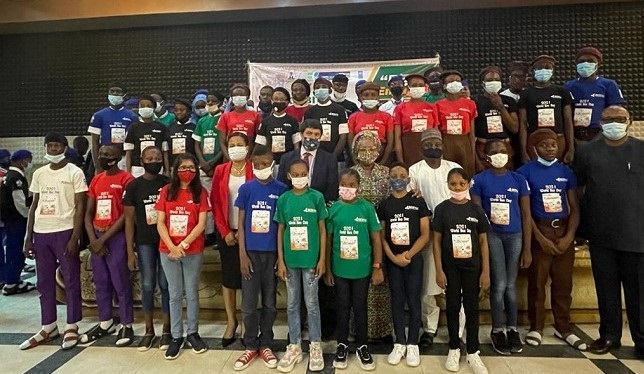 As part of activities to commemorate the Day in Nigeria, the National Trialogue to Promote Pollinators, Biodiversity and Ecosystem Service under the Federal Ministry of Environment, together with the United Nations Development Programme (UNDP) hosted a series of events to educate the public and raise awareness about beekeeping, as well as carry out some exhibitions of bee-derived products in Nigeria.
Speaking during the World Bee Day's Art Exhibition/Competition organised for primary and secondary schools in the Federal Capital Territory (FCT) Abuja on Thursday, May 20, 2021, Sharon Ikeazor, the Minister of State for the Environment, called on the nation to rethink how it relates with nature and pollinators, as well as take action to support them and the livelihoods they support.
In her keynote address, the Minister emphasised: "We all need to appreciate bees and other pollinators for the essential service to nature, and participate in global solidarity efforts wherever possible, because protecting these creatures ensures our wellbeing.
"In this time of crisis for the planet, the need to join forces to conserve pollinators cannot be overstated. The alarming decline in population of bees and pollinators in many regions can be attributed to several factors including improper use of pesticides, habitat degradation, unsustainable agricultural practices, pests and pathogen, and climate change. These factors do not only threaten bee populations, but also threaten their abilities to deliver crucial ecosystem services and bee products."
Also speaking at the event, Dr. Jemilat Ibrahim from the National Institute for Pharmaceutical Research and Development described as important the need to engage the younger generation in preservation of pollinators like bees.
Giving her remarks, Dr. Ibrahim said: "It is pertinent to note that our younger generations could promote pollinators and their activities through several activities such as planting of diverse native plants that flowers at different times, this will ensure the survivor of pollinators, establishment of beekeepers club in schools with the aim of owning beehives, protection of wild bee colonies and production of bee-derived products like raw honey and wax."
Sean Melbourne, Head of Climate Change and Energy, West Africa, British High Commission, and Alhaji Bayero, a representative from the Nigeria Conservation Foundation (NCF) also gave goodwill remarks.
The participants also took a tour of the art exhibition and the bee-products displayed.
Three winners, students representing different schools, also emerged from the essay writing competition, going home with gifts which included laptops and sketching pads.
Also present at the event were members of the youth advocacy group and bee farmers from different parts of the country.
By Seyifunmi Adebote