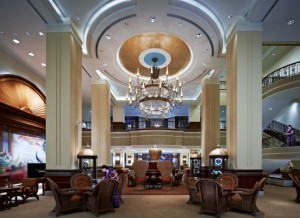 The IFC, a member of the World Bank Group, has announced a $9.5 million investment in Jabi Lake Mall to support demand for modern business infrastructure and retail space in Abuja, Nigeria. The project will help create about 350 construction jobs and 900 long-term, retail-sector jobs.
The $120 million Jabi Lake Shopping Mall is being built on five hectares of land on the Jabi Lake waterfront at Jabi, Federal Capital Territory, Abuja. Once complete, it will be Nigeria's largest shopping mall with over 30,000 square meters of shopping space. The project's primary sponsor is the Actis Africa Real Estate Fund 2. Dual Properties is the joint venture partner alongside Actis.
Ms. Amanda Jean Baptiste, Director, Actis Africa Real Estate Fund 2, said, "Investing in the Jabs Lake Mall demonstrates Actis's commitment to developing world-class retail destinations and adding to the domestic infrastructure in Nigeria, as well as our support for the growing demands of a rapidly changing economy. Our partnership with IFC will help us draw on their expertise in international best practice in the environmental and social aspects of the project that affect property development."
Solomon Adegbie-Quaynor, IFC Country Manager for Nigeria, said, "Our investment is part of IFC's strategy to help strengthen business infrastructure, contribute to economic growth, and increase job opportunities in Nigeria. Actis is a strong partner in this regard, that can also transfer best modern retail practices".
Jabs Lake Mall will be the largest retail development of international standard in Abuja and create links to the local economy throughout its construction and operation. It will create new sales channels for Nigerian retailers, including local small and medium enterprises. Its construction will provide business opportunities for local suppliers of food, construction materials and services, and will serve as a catalyst for urban development in the area around the mall.
Construction began on the project in late 2013 and is expected to be completed in 2015.
The IFC is the largest global development institution focused exclusively on the private sector. Working with private enterprises in more than 100 countries, IFC uses its capital, expertise, and influence to help eliminate extreme poverty and promote shared prosperity. In FY13, its investments climbed to an all-time high of nearly $25 billion, leveraging the power of the private sector to create jobs and tackle the world's most pressing development challenges.