What we all want is a liveable world, a future that will exist for generations unborn. Everyone wants a long, healthy and beautiful life, hence we do whatever it takes to make our world "perfect", one fit for rock stars and celebrities, a world that's suitable for the bourgeoisie, a life that's likened to a dream. We just want it all. Science and technology turned the world of man into wonder, the things we have created are not even up to the limits of our imagination, yet it leaves us all in awe.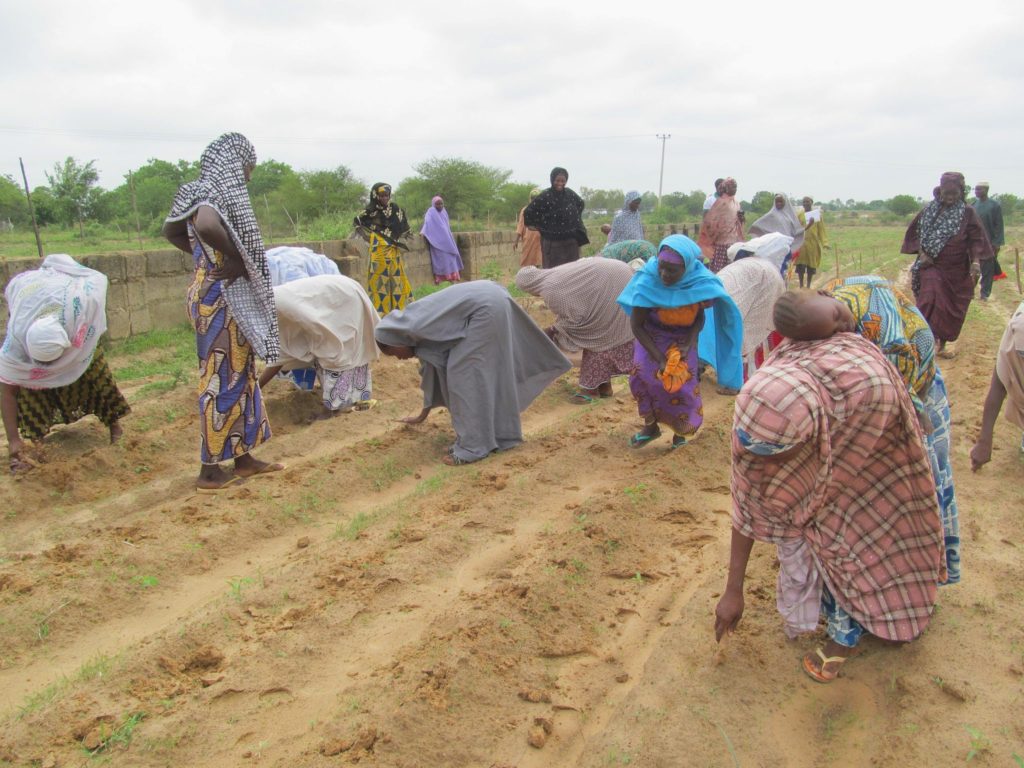 Climate change is no news to us, we all know that the planet is warming up and we are no strangers to the monumental consequences of global warming the world over. A lot is being said about taking action and finding lasting solutions to the climate emergency and people are rising up to the occasion. Big polluters keep pledging to cut emission to the barest minimum and environment-oriented organisations are on their tails to make sure they do what they ought to. We all know it in our guts and feel it in our bones that their response is nowhere close to adequate.
What have held women back around the world has always been limited or a total lack of education, discrimination, poverty, violence and now ultimately climate change. Two thirds of farmers around the world are women. In Most developing countries, women fend for their families and carry the burden of their households. Reports say that in some parts of Africa women make up to 90% of the farmers. In South Asia, men are said to consume twice as many calories compared to women, and in India, girls are four times likely to be malnourished than boys.
Women are usually in charge of managing energy in many households. Girls stay at home to gather firewood. Many women in least developed countries have less time to go to school, earn money, join politics or follow their dreams, if they are allowed to have one in the first place. Climate change leads to biodiversity loss which is a major driver of deforestation, women and girls are forced to go farther to farm and in search of firewood. Women and girls are in the fore of the fight against climate change, yet we are highly under represented when it comes to the decision making process.
According to the United Nations Framework Convention on Climate Change (UNFCCC), less than 30% of climate negotiators are women. Climate change, just like society, discriminates against us women. According to the United Nations Development Programme (UNDP), women and children are 14 times more likely to die during a disaster. And the UN has said that 80% of people displaced by climate change are women. Women feel inequality more, they are the ones that are most likely to be the poorest and more vulnerable to the extremes of weather.
Eularia Recardo, a survivor of Cyclone Idai in Mozambique, had said in an interview that during the cyclone, men and boys were able to quickly run and hang on trees and mountains, but the women had to carry their small children to tie on trees and others on their backs. According to her, some women and children fell in the water and drowned. 60% of the Mynmar Cyclone disasters were women.
Over 70% of water collectors, according to reports, are women and girls, spending up to six hours a day fetching water. Women comprise of 43% of the agricultural labour force globally but are less than 13% agricultural landowners.
Women are very passionate people, and we are thriving in leadership positions globally, well that's just a cat in the bag compared to what we will be able to achieve with the environment if women are empowered. When girls have access to education, they make very informed decisions about how they intend to plan their families.
Giving women opportunity to own farmlands, they achieve much more than their male counterparts. This is due to information sharing about what the best practices are instead of competing with each other. Women produce 60-80% of food in lower income countries often farming on lands less than five acres. If women are empowered with land rights and given the right resources for farming, they will have a boost of 20-30% yield more than men from the same field.
Educating girls and empowering them with the right information is a game changer for climate change. Education means better health, financial security, better agency at home and in the society. Educating women means options, adaptability and strength for women and all these will translate to lower emissions.
Women are lords of the kitchen and they are the people who do the cooking in many households. An informed and educated woman will manage her kitchen waste and make compost out of the ones that cannot be reused.
Educated women make informed decision about marriage and understand the right to their bodies, thereby spacing children and having less, it automatically leads to small households. What happens at the individual level adds up across the World. Family planning gives access to high quality reproductive healthcare.
People decide to have children by choice rather than chance. Population reduction is a side effect, a potent one. It will lead to a reduction in the demand for food, transportation, electricity etcetera which will lead to reduced emissions.
Women, especially those in lower income countries use firewood for cooking and long term use of firewood does not just lead to blindness but death. If women are taught to make briquettes for cooking, there will be a ripple effect. Trees will no longer be cut down for cooking, and there carbon dioxide produced from burning wood will be non-existent. Women are solving climate change, yet we are always pushed aside, silenced and passed over when plans are discussed, or investments made.
According to a report, just 0.2% philanthropic funds specifically goes to women and environment. Well, little wonder the climate crisis grew into an emergency. Women can reshape every society, we function like an eco-system, and we are educators, farmers, healers, creators, campaigners, wisdom keepers. Women are girls are a fierce force of possibilities and empowering more will certainly help solve the climate crisis.
By Halima Imam (Founder, Climate Action Team; sadee_eemam)