In his remarks in Hanoi on Friday, October 21, 2022, to mark the 45th Anniversary of Viet Nam's membership of the United Nations, United Nations Secretary-General, António Guterres, described the Just Energy Transition Partnerships as "a crucial new tool to unlock emissions cuts our world needs in the 2020s". He added that the world failing to cut emissions by 45 per cent by 2030 would amount to a climate nightmare for billions of people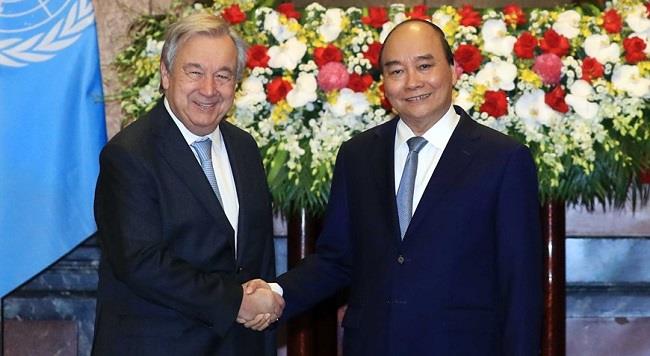 "We are already witnessing horrific climate impacts at just 1.2 degrees of warming.
Viet Nam – with over 3000km of coastline and many low-lying cities and delta regions – is on the frontlines against climate catastrophe.
Nearly a quarter of your citizens live in the Mekong Delta. It is your agricultural and industrial heartland.
And it is one of the most vulnerable places in the world – exposed to rising sea levels, saltwater intrusion, flooding and changing rainfall intensity.
Without much more concerted global climate action, over one million Vietnamese could be pushed into poverty in this decade alone.
And the already staggering economic costs of climate damage in Viet Nam could rise fifty-fold by 2050.
The G20 economies together account for 80 per cent of global greenhouse gas emissions and 80 per cent of global GDP.
They must lead. They must reduce their emissions this decade — in line with keeping global warming to 1.5 degrees — and fully pivot to renewable energy.
Wealthier countries must keep their promise to provide $100 billion to support developing countries to build resilience.
At least half of all international climate finance must go to adaptation, in support of populations affected already by climate change.
And we must urgently address the impacts of climate change that are beyond countries' abilities to adapt.
Action on loss and damage is a moral imperative that must be front and centre at the upcoming UN Climate Conference – COP27 – in Egypt.
All this is essential to rebuild trust between developed countries and the global south. But every country has a role to play.
Because even if all developed countries were to reach net-zero by 2030, we would still not be able to keep to 1.5 degrees of global warming without further action by the rest of the world.
This means we cannot wait until after 2030 to move away from fossil fuels – particularly coal – or to peak global emissions.
If the world does not cut emissions by 45 per cent by 2030, then achieving net-zero by 2050 will be a pipe dream. That will mean a climate nightmare for billions of people.
We need all hands-on deck now to realise an energy transition that is global, sustainable, just, inclusive and equitable.
Viet Nam is stepping up with your bold decision to accelerate your phaseout of coal, jumpstart the renewables revolution, and achieve net-zero by 2050.
But to do so, Viet Nam needs the support to speed this transition and accelerate the greening of your economy, and that support is needed now.
Last year in Glasgow, I put forward a proposal for stepped up and targeted solidarity to help make it happen.
Specifically, to build coalitions of support to help key emerging economies unlock major emissions cuts needed now – coalitions that should include developed countries, financial institutions, and those with the technical know-how.
We call these coalitions the Just Energy Transition Partnerships. And Viet Nam is leading the way.
You are pioneering a new framework of collaboration to deliver a fair, inclusive energy transition towards renewables.
Through these Partnerships, you are creating a crucial new tool to unlock emissions cuts our world needs in the 2020s.
And you are blazing a path for the entire region to transform from an epicentre of coal emissions to a global green economic powerhouse.
Your leadership through the Just Energy Transition Partnerships has already set in motion unprecedented levels of coordination both within the Vietnamese government and with partners.
By embracing the Just Energy Transition Partnership, you are helping to set a new development example to the world.
You are its owner, its shaper, and its driving force. And success will require international solidarity. Developed countries must fully engage in these partnerships.
But success will also require a whole-of-society approach – with youth, civil society, and the private sector working side-by-side with government and the National Assembly in open and honest dialogue.
And you can count on my personal engagement to push your partners to deliver the investments, the technical support, and the finance that is needed at speed, at scale, and at concessional levels."