The National Environmental Standards and Regulations Enforcement Agency (NESREA), on Monday, October 16, 2023, destroyed substantial quantity of seized wildlife products, including pangolin scales, leopard, python and crocodile skins.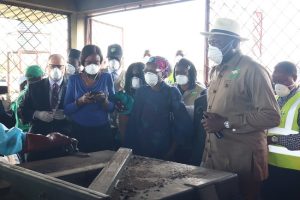 The action, it was gathered, was informed by the need to discourage would-be wildlife traffickers, as well as boost efforts at protecting endangered species and eradicate contraband activities.
Pangolins are among the most trafficked mammals in the world, partly because their scales are in great demand for use in traditional medicine in Asia.
The destruction of the wildlife stockpiles which was through incineration (controlled burning) was carried out by NESREA and her partner, Elephant Protection Initiative (EPI), at the University of Abuja Teaching Hospital in Gwagwalada.
Speaking at the event, the Minister of State, Environment, Dr Iziaq Salako, said the destruction of the items is a powerful statement of the agency's resolve to protect the environment and conserve the country's wildlife.
"We are here to bear witness to a critical moment in the battle to protect our planet's precious biodiversity.
"We gather to send a clear message: Our wildlife is not for sale, and we will protect it at all costs.
"These seized items represent the past we leave behind, but the destruction signifies the future we are determined to build for our planet.
"The destruction of these seized items is a powerful statement of our resolve to protect our environment, conserve our wildlife, and combat the illegal trade that drives species to the brink of extinction.
"We pledge to strengthen our enforcement efforts, enhance our conservation programmes, and raise public awareness about wildlife trafficking.
"Wildlife trafficking has no place in our nation," he said.
"We won't stand by as our natural heritage is auctioned to the highest bidder. Nigeria is a fortress for our fauna and flora, and we will defend it fiercely.
"By destroying these pangolin scales and skins, we're not just eradicating contraband; we're crushing the illegal trade that preys on our wildlife.
"Our commitment is unwavering, and we will not compromise on the protection of our endangered species," he said.
Earlier, the Director-General of NESREA, Prof. Aliyu Jauro, said that the illegal wildlife trade was a serious threat to the country natural heritage and global biodiversity.
"Nigeria is committed to playing its part in addressing this crisis, by destroying these pangolin scales alongside leopard, python and crocodile skins.
"We send a strong message that illegal wildlife trafficking will not be tolerated, and we will take every measure to protect our unique ecosystems and endangered species," he said.
On his part, Dr Mark Ofua, veterinarian/conservationist and West African representative of Wild Africa Fund, said that Nigeria is a transit route for the trafficking of the wildlife products.
He said the destruction of the scales was meant to send signals to illegal traffickers and international communities that it won't be business as usual.
Peter Knights, Founder and CEO of Wild Africa Fund, said: "Credit to Nigeria for taking this step towards upping its game by publicly destroying these seized products. Now Nigeria urgently needs to update its outdated wildlife laws by introducing and passing the new wildlife legislation introduced last session but delayed due to the elections. This would be the next step in a comprehensive response to reduce wildlife crime."
By Doris Esa