Executive Director, Pan African Climate Justice Alliance (PACJA), Mithika Mwenda, winner of the 2019 International Earth Care Award, said in an acceptance speech in California, USA, on Saturday, September 14, 2019 that he is unable to celebrate the prize because, among other unsavoury developments, the Paris Agreement is already being dismantled even before its implementation begins in 2020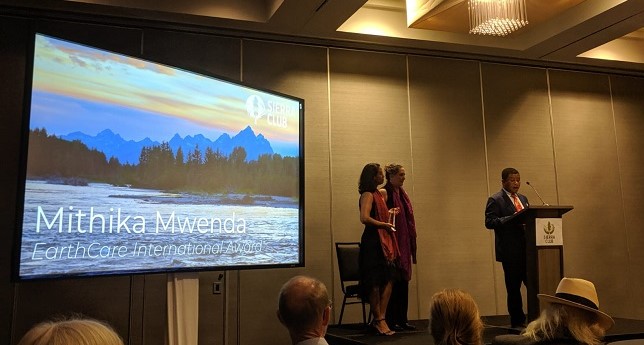 This Award reminds me and the rest of us that our cause is just. It reassures me and those at the frontline of climate crisis, those struggling day-after-day to make their voice be heard in the competing global geopolitical interests that our efforts are not in vain. It signals the victory coming very soon despite the obstacles and huge boulders erected by climate Deniers – that the quest for people-centred, fair, ecologically just and gender-responsive climate action is at our midst, and unstoppable.
I represent a consortium of more than 1,000 diverse civil society organisations throughout Africa – drawn from the smallest community-based organisations, established NGOs, Networks, FBOs, formidable Sectoral-thematic networks and National Platforms. Without being slowed by resource constraints among other challenges facing the civil society across the world, we, as members of the Pan African Climate Justice Alliance, work tirelessly across the continent to ensure that we win the battle against climate change. A highly motivated, dedicated, yet constrained staff is also behind the strides we have made in this journey. And, without a family that is willing to make huge sacrifices, it would be impossible for me to be here today.
I can therefore not take full credit for this recognition. What you see, is the product of collective effort underpinned by trust, passion and selfless dedication.
You'll bear me witness that despite the efforts of many, and which am celebrating with you today, the clamour for just and equitable climate action is far from won.
Close to three decades, ever since climate change took centre-stage in global political, economic and diplomatic interactions, the region which I come from, Africa, faces the daunting task of adequately building resilience of its people, societies and economies. We remain incapable of dealing with a fate imposed on us by others who, despite scientific warnings, have deliberately chosen to prevaricate and procrastinate action to preserve their profligate lifestyles backed by toxic mode of production and consumption.
The warning bells are ringing, and ringing loud and clear – and if they don't hear the cries of our motherland and its people and change – change will change them when it is too late.
Unfortunately, the mother nature is revenging, and the trails of destruction to humanity are hitting hard on those least responsible for its destruction. The devastating impacts of recent floods in Sudan; the ravaging force with which Cyclone Idai swept through Mozambique, Zimbabwe, and Malawi earlier this year, the ravaging Bahama cyclone; and the slow-burn effects of erratic rains on agricultural production as well as disappearing rivers even at the village I come from are only signs of what is yet to come and the threats that Africa faces.
Forgive me, therefore, to say: while I accept this Award, I am unable to celebrate. We are now beginning to witness the dismantling of the Paris Agreement even before its implementation begins in 2020. A number of nations are still standing on the way of urgent and decisive emission reductions and provision of resources to help those impacted by their actions to build resilience.
How are we supposed to react to the news that some European countries have blocked an EU pledge to "cut carbon emission to zero" by 2050? Why Czech Republic, Hungary, Poland and Estonia pull such theatrics? Who, then, would African countries, whose citizens have borne the brunt of the climate crisis more than anyone else, turn to in their quest to transition to low-carbon, climate-resilient development pathways?
May I use this address to express Africa's grave concern about leaders who know the truth about the potential threats of climate change but have persistently coined lies to serve their short-term business interests. Having declared your country's determined withdrawal from the Paris Agreement, President Donald Trump has become the embodiment of the obstructive forces in international climate dialogue processes! Early this year at a G20 summit in Japan, he absurdly declared the air and water in the US cleanest and insisted that there was no need to mitigate or adapt to climate change.
We still have work to do, we need to build a movement to defeat Trump and his allies. We are inspired that, you, Sierra Club and thousands of American people, have shown Trump that the Power belongs to the People. Out there in Africa, we are hearing of your victories, the voices of change at community levels, and in States. This inspires us. You have scared the fossil fuel industry, and soon, they will have nowhere to hide. Not even in Trump's Whitehouse!
We will block the fossil industry from transferring their toxic investments after you run them out of town. Examples abound, and communities in Africa are saying No to such investments. In my country, Kenya, the fate of a controversial Lamu coal-fueled power project hangs in the balance following a rejection by a local community which staged an amazing resistance – ultimately receiving affirmation by the National Environment Tribunal which cancelled its license. In Africa, and in communities, we will forge solidarity with you to reject any transfer of obsolete technologies and stranded assets that have been uprooted in your countries.
We have obligation to hold nations, private companies and leaders accountable for climate inaction; for politicking with the lives of millions of people; and for turning a blind eye to the lords of impunity that kill the poor with their greed.
But we cannot accomplish it all alone. Our best effort as PACJA cannot end the climate crisis in Africa. Even Africa cannot defeat the challenges posed by climate crisis – we need solidarity and partnerships of unprecedented magnitude.
We at PACJA extend the hand of solidarity to all global citizens – governments, civil society, young people, all – to change the narrative. Alone, as Mithika Mwenda, I cannot, single-handedly, do the work needed to complete the journey towards zero carbon emission. But whatever little we do will be a stepping stone for those coming after us. We do not want to bequeath future generations a catastrophic ecosystem which will annihilate them. We were born to live. We must not let the ecosystem fall.
May this Award be a reminder to me that I must give this fight for climate justice my all, the best of me, so that in the end, generations remember that I did not just watch as a climate disaster unfolded, but that did all I could to ensure humanity live in interdependence with nature.