Stakeholders have expressed somewhat disappointing sentiments to the outcome of the inaugural Africa Climate Summit, which ended in Nairobi, Kenya, on Wednesday, September 6, 2023.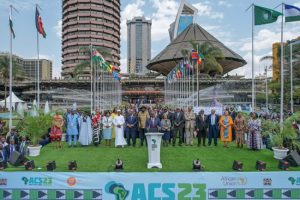 The "Nairobi Declaration" was released at the close of the three-day conference, which was jointly organised by the Kenyan Government and the African Union.
"We had hoped the inaugural Africa Climate Summit would front and rally behind a radical development and climate action vision for Africa. The final declaration was disappointingly similar to previous summits that have produced hopelessly inadequate results. We wanted to see Africa forging a different, ambitious and progressive path, which can truly harness our unique position in history and our vast renewable energy potential," submitted Power Shift Africa, a climate and energy think-tank.
Founding Director, Power Shift Africa, Mohamed Adow, said: "We hoped this first African climate summit would see a radical, people-centred vision for Africa, but the final declaration was disappointingly similar to previous summits that produced inadequate results. Rather than providing real and public funding into African renewables and adaptation, rich countries pledged money to prop up carbon markets that have never worked, neither in Africa nor elsewhere.
"They are wasting money that should be spent on real solutions. Carbon credits are really 'pollution permits' and they help rich polluting companies from making actual cuts in their own emissions. This summit has awoken a sleeping giant in the shape of people's power and mobilisation. People are waking up to the reality of the climate crisis.  Other big summits have taken place on African soil before, but nothing has mobilised people like the reactions to the problematic way this meeting has been pushed by certain interests. There is a new consciousness about what is at stake and what needs to happen."
Ken Ofori-Atta, Ghanaian Finance Minister, and V20 Chair: "We refuse to pursue the same path while hoping for different outcomes. No more. We expect nothing less than a fit-for-climate global financial system. We need to make debt work, to normalize the integration of loss and damage funding through the MDB system, revolutionise how we manage risk, and generate new resources through guarantees and credit enhancement that can offset high capital costs for climate investments."
Malango Mughogho, Managing Director, ZeniZeni Sustainable Finance: "Climate change knows no borders, and Africa stands at the forefront of its impacts. As African and global leaders convene for the Africa Climate Summit, it is crucial that they prioritise action over rhetoric. It is imperative that leaders prioritise tangible action to address this defining challenge by increasing funding for climate action, including concessional finance, and also enhancing the absorptive capacity of such finance. Let us adopt actions that promote results-based financing, ensuring that every dollar invested yields impactful outcomes."
Nnimmo Bassey, Founder, Health of Mother Earth Foundation (HOMEF): "The Declaration of the African Climate Summit lives up to its billing as a carbon stock exchange jamboree. It is loaded with platitudes pandering to worn ideas of the carbon market and other false solutions. The declaration is laced with calls for green growth, cries for finance and veiled references to carbon trading, technology and the like, which open routes for green colonialism and render the continent nothing better than a vast carbon sink and experimental grounds for polluting nations and corporations."
Kate Hampton, CEO CIFF and member of the ACS advisory board: "Africa has not only provided a new vision for the continent but has stepped into a leadership position by providing radical but practical proposals of global significance. Having no blame in causing the climate crisis and suffering its worst effects, Africa has risen above the poisonous geopolitics hindering progress ahead of COP28 and done the hard work regionally to reinvigorate progress globally."
Aggrey Aluso, Director, Africa Region, Pandemic Action Network: "This declaration is a good step towards joint African leadership and developing a common position for Africa on climate change. The inclusion of MDB reforms, particularly on issues of debt relief and a robust proposition on fossil fuel taxation is welcome. However, it is a big concern that despite making a bold mention of "lives and livelihoods" the declaration falls short on mentioning health.
"We know how climate change is shaping world dynamics and exposing us to more health and pandemic related risks. If left unchecked, more than 100 million people will be pushed to extreme poverty by 2030, and almost a 2/3 of that will be attributable to health. By failing to mention health in this declaration, we have not paid heed to the urgency of the climate crisis and its impacts. This is critical for Africa and is a missing link in combating the climate crisis."
Laurence Tubiana, CEO, European Climate Foundation: "The Nairobi declaration sends a strong signal to the international community: Africa is providing the leadership needed to keep our chances of staying below 1.5. Europe must now listen to and support these voices and this African leadership in order to co-develop this agenda of green industrialisation and prosperity, and together break the taboos of the unfair financial system, particularly with regard to international taxation. The energy transition requires a fairer system and major investments. An agenda for peace, for Africa and the world, was discussed in Nairobi this week. Welcome to the future!"
Iskander Erzini Vernoit, Director, IMAL Initiative for Climate & Development: "Africa remains firm on the common but differentiated responsibilities of developed versus developing countries. This is rooted in the lived reality of our continent, which is the one least responsible for climate change, but the one suffering the most from its impacts.
"The Nairobi declaration sends a clear message on the failure of developed countries to mobilise the 100 billion of climate finance. Anything less would not have been supported by African governments."
Nafi Chinery, Africa Director, Natural Resource Governance Institute: "Africa holds more than 40 percent of key minerals required for clean energy technologies. Clearly, the world needs Africa's minerals to transition away from fossil fuels, but decarbonisation in the North cannot come at the cost of energy poverty, abuse and environmental degradation in Africa – the likely result if natural resources are not managed equitably.
"The Nairobi Declaration calls for Africa to process its own raw materials to fuel its own energy generation, and this must now be followed with action. African governments and the institutions that support them must set a concrete and viable path to ensure 'transition minerals' serve long-term African development needs. Africa's minerals must add value to the lives and the future of all Africans."
Joab Okanda, Pan Africa Senior Advocacy Advisor, Christian Aid: "The Nairobi Declaration rightly calls attention to the ways in which the global economy continues to structurally disadvantage Africa and exclude African voices from economic decision-making. The question is, is the Global North listening? I am worried about the lack of transformative language on issues that are critical to Africa. While I welcome the call for MDBs reform, the focus on MDB governance alone instead of IFIs governance doesn't go far enough as it effectively leaves out the IMF which is a key player in the African economy and the global Financial Architecture."
Mukayiranga Peace Eva, Training Coordinator, Loss and Damage Youth Coalition (LDYC): "On the road to COP28, this summit was much needed. The participation of multiple African leaders was a sign that Africa is ready to act on climate despite being the least responsible for climate change. With the Nairobi declaration, we put our priorities (to operationalise the loss and damage fund, the need for climate finance that doesn't push Africa into further indebtedness, more public fund..) out there. At COP28, I hope to see a difference and that the needs and priorities of vulnerable communities are at the core of decisions to be made."
Dr. Oulie Keita, Executive Director, Greenpeace Africa: "We cannot allow the richest nations and corporations to commodify nature. Nature-based offsetting projects distort economies and take land and resources away from the local communities that need it most. Nature should remain off limits to corporate control for climate offsets. On top of the damage it enables, offsetting also distracts from needed climate action and rapid phase out of coal, gas and oil."
Kerstin Opfer, Policy Advisor – Energy Policy and Civil Society – Africa and MENA, Germanwatch: "The Accelerated Partnership for Renewables (ACRA), a joint effort between Kenya, IRENA, Germany, Denmark, and the United Arab Emirates, has the potential to provide targeted financial and technical support for countries with ambitions to move to high shares of renewable energy and access to electricity for all. Through coordination, knowledge exchange, and a meaningful, inclusive country-driven process the partnership could unlock a positive movement towards renewables on the African continent. It is a good signal that Germany supports such partnerships."
Desta Lakew, Group Partnership and External Affairs Director, African Medical and Research Foundation (AMREF): "The human toll of climate change in Africa is increasing and significant, resulting in loss of lives, livelihoods and mass displacement. The absence of health as a visible takeaway in this declaration is disappointing. We are, however, confident that adaptation will receive the same focus as we have given mitigation and we are engaging the health and climate community working with COP28 to elevate the Climate-Health nexus. We look forward to having health high on the agenda in the UAE later this year."
Fadhel Kaboub, President of the Global Institute for Sustainable Prosperity: "The Nairobi Declaration missed the opportunity to harmonise our climate, energy, adaptation and development strategies. While external debt is a serious problem that limits our economic and monetary sovereignty and reduces the fiscal policy space to act on climate and to invest in national priorities, it is important to recognise that external debt is a symptom of much deeper structural deficiencies: food deficits, energy deficits, and low value-added manufacturing.
"The economic transformation that our leaders needed to rally behind cannot ignore the importance of food sovereignty (not just food security) and agroecology, renewable energy sovereignty, and pan-African high value-added industrialisation. Africa is owed a climate debt by the historic polluters. Climate reparations must be delivered in the form of debt cancellation (not debt restructuring), transfer of technology (not imported green tech), grants (not loans) for adaptation and economic resilience, and transformation of the global trade, finance and investment architecture."
Wangari Muchiri, Global Wind Energy Council, Africa Director: "The Africa Climate Summit is a pivotal moment for climate change and climate action. I am excited to see both African and Global leaders converge to discuss how Africa can lead the way in this climate crisis with solutions for Africa and the world. Renewable Energy is now talked about everywhere. Let's keep the momentum going as we head to COP28 and for the future of our planet."
David Ryfisch, Head Division International Climate Policy, Germanwatch: "An increasing number of countries in the Global South face serious debt distress. This also limits them in taking climate action. The debt swap between Germany and Kenya is a welcome step to free resources for climate action. Yet, it is by no means a comprehensive response to the debt crisis, at best it's a small step."
Professor Patrick Verkooijen, CEO, Global Centre on Adaptation: "The Africa Climate Summit has confirmed yet again that adaptation is the continent's number one climate priority. Africa stands to lose up to $6 trillion in economic benefits by 2035 without sustained scaling of adaptation finance. Our Africa Adaptation Acceleration Programme (AAAP) Compacts for country adaptation investment launched at this Summit will help deliver just the acceleration needed. I look forward to being back here in Nairobi soon to plan the setup of our landmark new nature-based regional headquarters here."