The World Health Organisation (WHO) welcomes innovations around the world, including repurposing drugs, traditional medicines and developing new therapies in the search for potential treatments for COVID-19.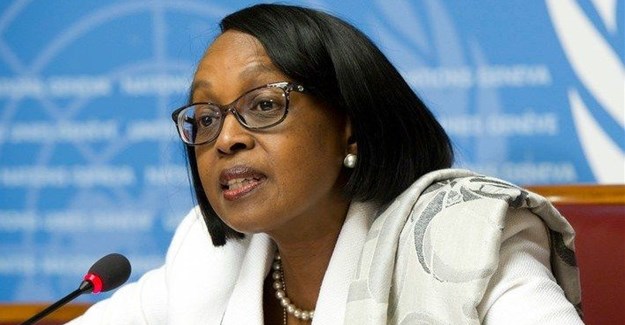 The WHO Regional Office for Africa in Brazzaville, Congo said this in a statement on Monday, May 4, 2020 .
COVID-19 is a respiratory disease caused by the new coronavirus.
The global health organisation said it recognises that traditional, complementary and alternative medicine had many benefits.
"Africa has a long history of traditional medicine and practitioners that play an important role in providing care to populations.
"Medicinal plants such as Artemisia annua are being considered as possible treatments for COVID-19 and should be tested for efficacy and adverse side effects.
"Africans deserve to use medicines tested to the same standard.
"Even if therapies are derived from traditional practice and natural, establishing their efficacy and safety through rigorous clinical trials is critical,'' it stated.
According to WHO, African governments, through their Ministers of Health, have adopted a resolution.
"The resolution urges Member States to produce evidence on the safety, efficacy and quality of traditional medicine at the 50th session of the WHO Regional Committee for Africa in 2000.
"Countries also agreed to undertake relevant research and require national medicines regulatory agencies to approve medicines in line with international standards, which include the product following a strict research protocol and undergoing tests and clinical trials.
"These studies normally involve hundreds of people under the monitoring of the national regulatory authorities and may take quite a few months in an expedited process.
"WHO is working with research institutions to select traditional medicine products that can be investigated for clinical efficacy and safety for COVID-19 treatment.''
In addition, it said the organisation would continue to support countries as they explore the role of traditional health practitioners in prevention, control and early detection of the virus as well as case referral to health facilities.
"Over the past two decades, WHO has been working with countries to ensure safe and effective traditional medicine development in Africa by providing financial resources and technical support.
"WHO has supported clinical trials, leading 14 countries to issue marketing authorisation for 89 traditional medicine products that have met international and national requirements for registration.
"Of these, 43 have been included in national essential medicines lists.
"These products are now part of the arsenal to treat patients with a wide range of diseases including malaria, opportunistic infections related to HIV, diabetes, sickle cell and hypertension.
"Almost all countries in the WHO African region have national traditional medicine policies, following support from WHO.''
WHO warns that as efforts are under way to find treatment for COVID-19, caution should be taken against misinformation, especially on social media, about the effectiveness of certain remedies.
"Many plants and substances are being proposed without the minimum requirements and evidence of quality, safety and efficacy.
"The use of products to treat COVID-19, which have not been robustly investigated can put people in danger, giving a false sense of security and distracting them from hand washing and physical distancing.
"WHO welcomes every opportunity to collaborate with countries and researchers to develop new therapies and encourages such collaboration for the development of effective and safe therapies for Africa and the world,'' it added.
In a related development, Dr Jacob Abdullahi, a virologist, has urged the Federal Government to support and approve available alternative medical (local) cure for coronavirus in Nigeria.
Abdullahi, a doctoral graduate in Health Support Services at the Columbus International University, U.K., made the appeal in on Monday in Ilorin, Kwara State.
According to him, there is  already an existing cure for the ravaging COVID-19 in Nigeria, but government is still doubting the local efficiency and production.
Abdullahi, also a Masters Degree holder in Immunology from Ambrose Alli University, Ekpoma, Edo State, claimed that Nigeria was yet to emulate other African countries countries like Ghana and Madagascar that supports locally made drugs.
"Nigeria has yet to toe that line.
"COVID-19 cure could be sourced locally just as other countries such as Madagascar and Ghana.
"The virus that can be treated with anti-viral and immune booster drugs which we already have in the country.
"We have earlier notified the government about our breakthrough, it is just that the government do not want to take us serious.
"I know that what we have is sufficient and capable of healing the COVID-19 disease, but we have yet to come under one umbrella like what we have in Madagascar and others," he said.
Abdullahi said that it would be difficult for the alternative medical practioners to be laying claim to the same thing about the potency of locally made drugs, if attention was not given to them.
"It will be difficult to come together to be repeating what we have been saying since 22 years ago of our existence in Nigeria as alternative medicine practioners, if we are not taken seriously.
"We have said it countless times that we have the resources to cure most diseases but government is yet to pay attention to the Trado- medicine," he said.
He also claimed that government still doubting the potency of the locally developned cure for HIV.
"I have drug for HIV which had been patented by NAFDAC since 2004," he said.
"We have formed an ethical committee made up of doctors, professors, scientists, pharmacists and other stakeholders to do a clinical trial which we have the result published in scientific journals all over the world.
"I dont know what else we can do because the result of that cure is about 80 per cent and I believe COVID-19 cases in the same category such as HIV," he said.
Abdullahi explained that there were two types of virus, RNA and DNA, which he claimed have same symtoms and could be treated alike.
"There are two types of virus, the RNA and DNA, they have the same genetic material component, they do attack and this is the immune system.
"All the viruses behave in the same way, all they do is to attack immune system and establish themselves, which we already have solutions to because this is what we have been doing for over 21 years.
"The drugs here do not need any more clinical trial because even the drug approved as an emergency treatment for COVID-19 is the one being used for Ebola disease.
"The drug for Ebola only have 30 per cent success rate, but for us, we have an anti-viral and immune system drug approved by NAFDAC and can go for COVID-19 treatment as well," he claimed.
By Cecilia Ologunagba and Olanrewaju Akojede