The Edo State Government says it has committed huge resources to address ecological problems confronting the state.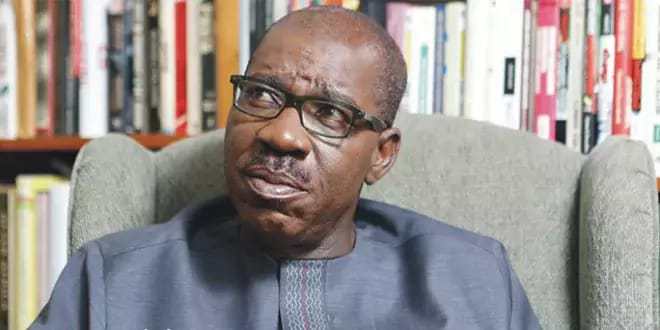 Mr Lucky Wasa, Permanent Secretary, Ministry of Environment and Sustainability, disclosed this in an interview in Benin City, the state capital, on Sunday, September 19, 2021.
He stated that the ecological challenges, which are spread in parts of the three senatorial districts in the state, were being frontally tackled by the government.
While noting that some had been completed and others at various stages of completion, he however lamented that the state did not have the capacity to fully address all the problems.
Wasa listed the state's ecological challenges to include that of Queen Ede, Edo College, Iguosa, Ekenhuan Road and Gapiona in Edo South senatorial district.
Others are AAU, Emu, Ugboha and Ibore in Edo Central and Igbe Road and Oshiobugie in Edo North Senatorial districts.
"We are presently working on some of these gully erosion sites at Gapiona, Igbe Road, Ibore, Iguosa, Ekenhuan and Emu. In Emu, the gully has practically divided the community into two.
"We are also desilting water injection schemes in parts of Benin and desilting the drainages as part of efforts to mitigate flooding.
"While other states are crying, Edo has been able to reduce, to the barest minimum, the impact of flooding.
Asked if the Nigeria Erosion and Watershed Management Project (NEWMAP) was funding the work on the gully erosion problem, Wasa said the state government was the one funding the projects, though NEWMAP was also part of it.
Meanwhile, an environmental activist and Director, Health of Mother Earth Foundation (HOMEF), Mr Nnimmo Bassey, said that the major ecological problems across the nation were hardly addressed.
"The major ecological responses we see are the ones regarding gully erosion and those are handled by NEWMAP, utilising World Bank resources
"The nation requires more conversations on the use of the well intentioned ecological funds, so that citizens have a say in what needs to be done, by whom, where and how.
"One way to handle the problem is to develop a drainage master plan for the major cities in the state, as the starting point.
"Without a comprehensive plan and an implementation of the plan, the situation will remain one of measures that may end up being counter productive.
"For example, drainage channels could be built, but they lead to the creation of more ecological problems if they empty into vulnerable landscapes."
By Igbaugba Ehigimetor