Wetlands International (WI) through her regional office in Dakar, Senegal and country office in Nigeria is assisting some Niger Delta communities in alleviating poverty and sustaining their wetland ecosystem services via an incentive system known as Bio-Rights.
Bio-Rights is a microcredit finance mechanism that combines poverty reduction and environmental improvement (restoration or/and conservation). WI provides funding to local communities to be actively involved in environmental conservation and restoration activities in return for the communities' support to refrain from unsustainable practices.
Micro-credits are converted into definitive payments upon successful delivery of conservation or/and restoration services at the end of a contracting period. The conservation actions through Bio-Rights have economic and environmental benefits – not only for local people but at the global level as well. For instance, replanting mangrove forests can increase fish stocks locally while storing carbon that helps limit climate change globally. Bio-Rights is thus able to bridge the gap between local and global interests.
On the 19th of June 2015, WI disbursed funds through Wetland Micro Finance Bank, Warri, Delta State to 25 Sustainable Livelihoods and Biodiversity Project (SLBP) beneficiaries in Obiayagha community in Ughelli South Local Government Area of Delta State.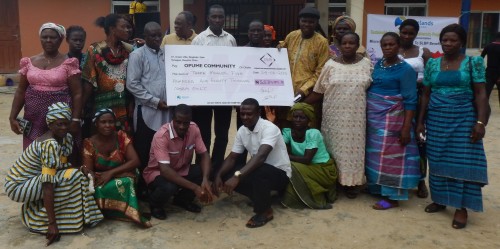 Also, on the 23rd and 24th June, 2015 WI gave out funds through Equator Micro Finance Bank, Yenagoa, Bayelsa State to 14 SLBP beneficiaries in Abobiri Community and 21 SLBP beneficiaries in Opume Community both in Ogbia Local Government of Bayelsa State respectively, to improve their livelihood and sustain the environment. The disbursement ceremony in Obiayagha community was chaired by Mr. Obi-ebi Emamezi, the Director of Forestry and Conservation, Delta State Ministry of Environment, while that of Abobiri and Opume communities was chaired by Chief Cloude Eze, the Director of Forestry and Conservation, Bayelsa State Ministry of Environment.
Bio-Right approach unites the conservation and development aspirations of NGOs, governments, private sector players and local communities alike. Projects in the field have demonstrated that Bio-Rights serve as a powerful tool that addresses the major environmental challenges of our age, including climate change and biodiversity loss. In the light of major efforts in relation to Reducing Emissions from Deforestation and Forest Degradation (REDD) and the Millennium Development Goals (MDGs) and even the Sustainable Development Goals (SDGs), Bio-rights have the potential to translate global objectives into concrete action.