A framework document that will assist the six South-West states to address the various environmental challenges confronting them is underway. The document, when completed, would be inculcated into the all-encompassing Development Agenda for Western Nigeria (DAWN).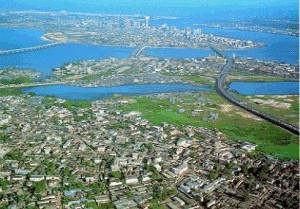 DAWN is the blueprint document put together by all the six states early this year on how to integrate, as a region, towards bringing back economic, industrial, agricultural, educational and other fortunes that the region was well known for, and led to its sterling growth in the First Republic.
This was one of the major decisions taken at the end of a two-day high-level regional meeting held in Oshogbo, capital of the State of Osun, address climate change, environmental conservation and sustainable development in South-West Nigeria.
The meeting, attended by top government officials from Ondo, Oyo, Ogun, Ekiti, Lagos and Osun (the host) states, was convened by the Federal Ministry of Environment under the Africa Adaptation Programme (AAP) managed by the United Nations Development Programme (UNDP), in collaboration with the HEDA Resource Centre.
Governor of the State of Osun, Rauf Aregbesola, while declaring the conference open, said the Yoruba race has common identities, hence should come together had address the challenges facing the region together.
He said the problem of climate is transboundary, and that no state within the region should be isolated as if they can tackle it alone.
The governor said the time had come to jointly address environmental issues that are affecting the region, saying that it could become a harbinger of ill health to the people.
He noted that a lot of people are now being affected by environmental health because of the abuse of the environment.
He said: "Greening is a task for all. It is to promote environmental health, and everybody must be concerned about it."
While urging participants to develop a framework on how to tackle the challenge, he stated that the governors are ready to implement it and ensure that all the major environmental and conservation measures are followed.
Deputy Country Representative, UNDP, Janthomas Hiemstra, said environmental challenges cut across lines between states, adding that borders are made by man. He said that, consequently, the issues have to be discussed among states as a group.
Hiemstra reiterated the UNDP's willing to partner through regional integration to address inherent challenges. He added that the concept can be replicated in other regions of the country.
The UNDP boss advised that states in the region, particularly Osun and Ekiti, should conserve the forests which can earn the states money through carbon trading.
There were also presentations from the states on their activities to address climate change. The workshop was attended by the academia, media and environment stakeholders.