The Conservative Environmental Growth and Development Centre (CEGDEC), in collaboration with a group of youths called Estate Youth Parliament (EYP) in the Low-Cost Housing Estate, Oke-Afa, Isolo in Lagos, commemorated the World Environment Day (WED) 2018 by contributing significantly to the cleaning up of the environment.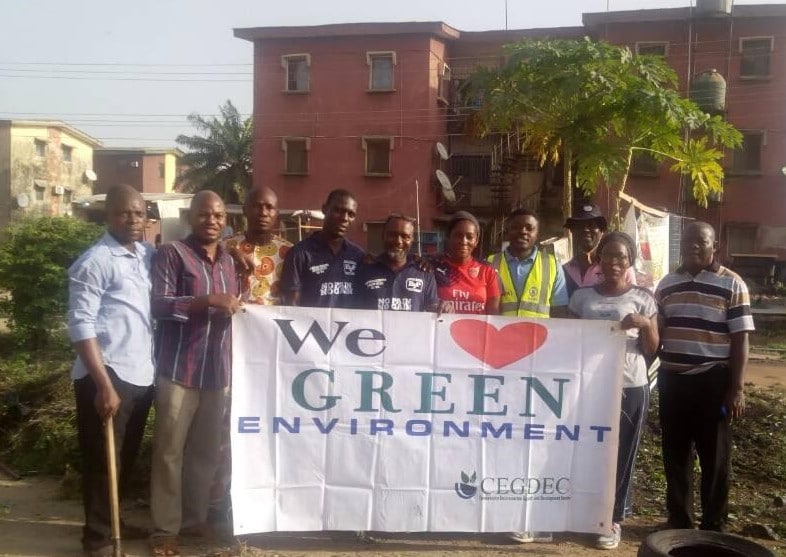 The group, led by Mr. Yusuff Adeyemi, is said to passionate about the state of the environment of the estate, which has been deteriorating. To this effect, members took the bull by the horn and joined force with CEGDEC to actualise positive change in the disorderly residential environment.
Over the years, the campaign for the 3Rs of waste management (reduce, reuse and recycle) had been ongoing in schools and amongst residents by CEGDEC. However, this year's campaign is marked with the practical demonstration of cleaning up exercise, meant to continue beyond WED 2018, according to CEGDEC officials.
The cleaning up began with the manual fixing of major potholes on the roads with rubbles, especially as the road conditions have become unmotorable. Gutters were cleaned of filth, while wastes including plastics were cleared to give way to grounds for tree planting. Indeed, the wastes were cleared for the propagation of green environment, says CEGDEC.
The host local government, Ejigbo Local Council Development Authority, has also been called upon to sustain the somewhat laudable green initiative by the amiable youths. A courtesy visit was made prior to the exercise to reiterate the need for the local council's intervention. The host community thanked the untiring hands of the groups that contributed to the cleaning up exercise, while the residents at large were urged to be responsible for the wastes they generate.
The promotion of Reuse, Reduce and Recycle is the best solution by individuals to curb the menace of plastic wastes in our society, Mrs. Maryam Olayeni, CEGDEC's representative, emphasised.
"All hand must be on deck to continue the race to beat Plastic Pollution, though the bulk control lies with the necessary authority to put in place a policy that discourages the propagation of plastics in our society. Biodegradable materials should replace plastics which are non-degradable, besides plastics disadvantages outweigh its advantages," Mrs. Olayeni closed on this note.