To save Nigeria's diverse ecosystems from further ruin, the Federal Government must go beyond mere words on the issue of transiting from fossil fuels-based economy and put in place the relevant laws to checkmate the activities of the extractive corporations, the Environmental Rights Action/Friends of the Earth Nigeria(ERA/FoEN) has said.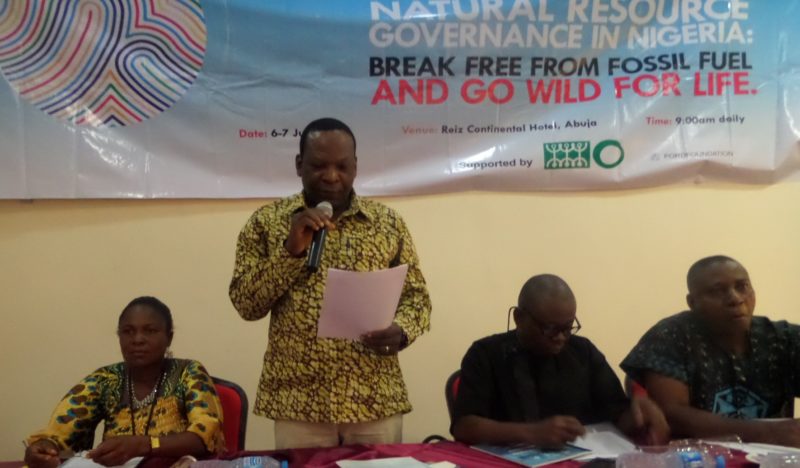 ERA/FoEN's recommendation is coming as Nigeria joined the rest of the world to mark the World Environment Day (WED) on Sunday. The WED is celebrated June 5 annually. To mark the event, ERA/FoEN organised a workshop in Abuja with the theme: "Natural Resource Governance: Bridging the Gaps versus Break Free from Fossils."
The workshop brought together community-based groups, civil society, the academia, legal experts, the media, and government representatives to brainstorm on oil-induced conflicts and disempowerment of local communities as well as recommendations on the way forward.
ERA/FoEN Executive Director, Godwin Uyi Ojo, said: "We are delivering this message straight to our government. The era of sloganeering on preserving the environment is over. This year's commemoration helps us mirror the local picture of ruined environments, livelihood losses and systematic depletion of wild life.  Our government must now go beyond mere talk, to taking concrete actions that will reverse the chaos that has been unleashed on us under a regime of fossil-fuels dependence.
"Nigeria is yet to come up with a new economic pathway that is not dependent on fossil fuels. The significant drop in oil pricing requires an alternative economic blueprint that is envisaged within a post petroleum economy for Nigeria. There is also the misdirection in policy such as opening discussions with the Russian government on building nuclear power plants here in Nigeria. This, no doubt, is very disturbing."
Ojo noted that the current administration may have demonstrated willingness to tackle some of the identified issues such as the Ogoni clean-up which was flagged off on June 2.
He added, however, that for it not to have given concrete time lines on commencement of the Ogoni clean-up and to deliver on any of the set objectives of the UNEP report is worrisome.
Re-echoing ERA/FoEN's argument that Nigeria must look away from dirty energy, he insisted that the ecological disasters caused by fossil fuels dependence makes it imperative for the current administration to declare an Environmental State of Emergency in order to address the situation.
"The Federal government must demonstrate the political will to save our environment through conscious and deliberate adoption of clean and safe renewables. The option of leave the oil in the soil means taking an alternative pathway to sustainable development that is powered by renewable energy, the protection of ecosystems and biodiversity. This is non-negotiable for a new world economic order," Ojo declared.