An international group of weather presenters on Tuesday, June 27, 2017 formally launched an organisation called "Climate Without Borders" in Brussels, Belgium. The new body is designed to connect, equip and empower other weather presenters around the world to accurately report and inform audiences about climate science and climate action.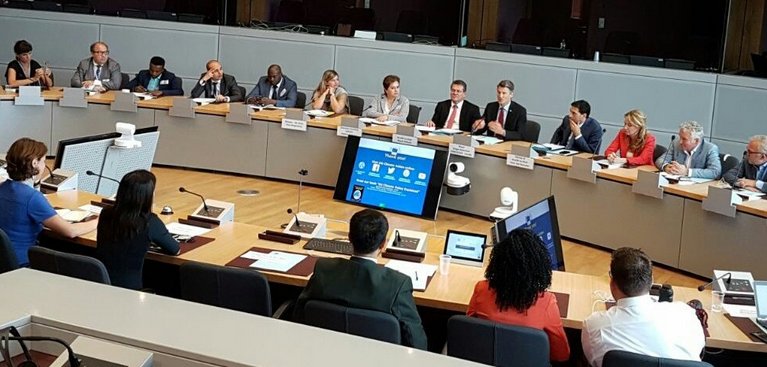 The new group is supported by the UN Framework Convention on Climate Change (UNFCCC), the World Meteorological Organisation (WMO) and the Intergovernmental Panel on Climate Change (IPCC).
"Weather forecasters can deliver information, complex data, evidence and facts about climate change in an accessible way. And they are amongst the most trusted communicators on climate change. They therefore have significant potential to influence the public opinion about climate action," said Climate Without Borders founder Jill Peeters, who works as weather presenter for the Belgian TV channel VTM.
No fewer than 25 weather presenters who collectively reach around 375 million people on traditional news and social media gathered for the launch of the new group in Brussels, which was also attended by the Executive Secretary of the UNFCCC, Patricia Espinosa. She called on the weather presenters to be strong voices in the critical era of the implementation of the Paris Climate Change Agreement.
She said: "I applaud the launch of this exciting new initiative. People need to understand how climate change affects them – they need to know the difference between limiting the global average temperature rise to less than two degrees Celsius, which is the central goal agreed in Paris in 2015, and runaway warming of four, five or six degrees Celsius.
"And they have to understand how they can be part of keeping warming to the safer level outlined in the Paris Agreement. Weather presenters have a major potential to reach people and help build up this understanding."
Ms. Espinosa also encouraged the weather presenters to report on how countries are fulfilling their national climate action plans under the Paris Agreement, the so-called "Nationally Determined Contributions" or "NDCs".
The new group intends to encourage weather presenters around the world to not only talk about the growing number of extreme weather events as impacts of climate change, but also about the many economic opportunities that arise from rapidly implementing the Paris Climate Change Agreement and the UN's Sustainable Development Goals.
This includes increased research, innovation and clean energy entrepreneurship. For example, notes Espinosa, weather presenters can set out the solar and wind energy generation potential for their respective countries and regions on any given day as part of their forecasts.
"This is already happening in countries such a Belgium and Portugal."
The idea for Climate Without Borders was born after the UN Climate Change Conference in Paris in 2015, at which the Paris Agreement was clinched. Over the last two years, more than 130 weather presenters from 110 countries, from all five continents of the world have been exchanging information in a closed online group.
The new network intends to create a public-facing weather and climate digital platform to exchange information on weather, extreme events, climate change, policy and action. It also aims to set up a wide variety of local and national educational, cultural and art projects in cooperation with schools, institutions, governments and the private sector.
Over the next years, Climate Without Borders will organise regional "boot camps" to help more weather presenters to raise climate awareness and promote the transition to a sustainable, low-carbon society. Leading weather presenters plan to attend the UN Climate Change Conferences in Bonn, Germany in November of this year (COP23) and the UN Climate Change Conference in Katowice, Poland in 2018 (COP24).