As leaders across the continent and beyond meet at the Africa Climate Summit in Nairobi, Kenya, to deliberate on the region's needs in wake of a changing climate, the Climate Clock group has said that it stands in solidarity with the Summit's theme, which is: "Driving green growth and finance solutions for Africa and the world".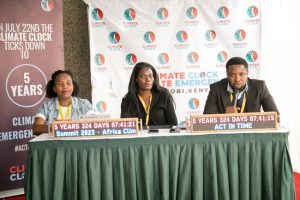 Climate Clock, a global symbol of urgency, melding art, science, tech, and grassroots mobilisation to alert people to the climate emergency and help enact hopeful, doable solutions in line with global commitments to the Paris Agreement that aims to keep global warming below 1.5°C to preserve a liveable world for all, stated that it is pivotal that the discourse reflects the happenings in frontline communities across the continent.
Pauline Owiti, East Africa Coordinator, Climate Clock, said: "Collaboratively, our endeavours are focused on securing a promising future for Africa that protects our environment. The Africa Climate Summit signifies our commitment to propel the adoption of renewable energy sources. We urge our leaders to champion measures toward ending our dependence on fossil fuels and limit warming to 1.5˚C of warming."
Gan Golan, Co-creator, Climate Clock: "Communities across Africa are joining together for the Africa Climate Summit in a synchronised moment to demand that global leaders act in time. With less than six years left on the Climate Clock, we need accelerated progress on system-wide solutions to our climate emergency like renewable energy, loss and damage financing, and fossil fuel divestment – and we need it now."
Mike David Terungwa, Adviser, Climate Clock Africa: "We stand in solidarity with the Africa Climate Summit's urgent call upon leaders to decisively end our reliance on fossil fuels and to implement their country's net zero targets.
"Africa has borne the brunt of climate injustices despite contributing the least to the crisis. Climate change exacerbates droughts and floods that affect food supplies and is a big factor in causing the instability in the horn of Africa and the Sahel region. The ticking clock of climate change spares no one, and our actions today will echo through generations. We hope the summit marks the turning point towards a greener, more just and liveable world for all and that African leaders Act in Time. #ActInTime."
Joseph Ibrahim, West Africa Coordinator, Climate Clock: "Our leaders must realise that the environment is not an inheritance from our forefathers but a loan from our children, therefore the responsibility to preserve this earth rests with us all. The science is clear, we are running out of time, which indicates that we need to move rapidly from talk to action. I am hopeful that Africa Climate week 2023 will be that catalyst for climate action across the continent. Lets #ActInTime."