With a WASH NORM 2019 report which indicates that 24.4 per cent of Nigeria's total population (47 million) still practice open defecation, an international NGO, WaterAid Nigeria, in Abuja from Wednesday, October 30 to Thursday, October 31, 2019 hosted a national dissemination workshop on context analysis study of urban sanitation in three Nigerian cities – Enugu, Kano and Warri.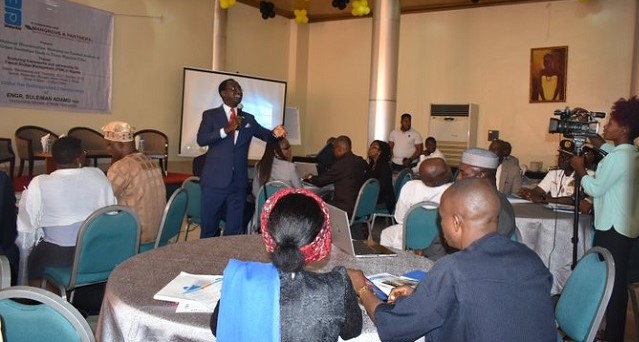 The two-day event focused on the analysis of the institutional and legislative framework; description of the existing sanitation situations in the cities; establishing the existing businesses opportunities in the sanitation sector; past and current interventions by different stakeholders; and evaluation of existing opportunities for financing in the sanitation sector.
The study was carried out in Enugu (Enugu State), Kano (Kano State) and Warri (Delta State), spotlighting urban sanitation in these cities and providing a fairly nationally representative report of the sanitation situation in the country. Commissioned by WaterAid under the leadership of the Country Director, Chichi Okoye, and carried out by Mangrove & Partners under the coordination of the Principal Investigator, Timeyin Uwejamomere.
Making a presentation, Mr Alaba Kelani, the Research Coordinator for Warri, identified the unwillingness and inability of households to pay evacuators for sustainable sanitation management. He equally pointed out the absence of official sites, forcing the evacuators to dispose of waste in unofficial sites.
On her part, Mrs. Titilola Bright-Oridami, the Research Coordinator for Kano, pointed out that sanitation in Kano is basically private sector driven. The North Central region is responsible for 53.9% of open defecation in Nigeria, with Kano State owning 10.3% with a daily production of 503, 206 litres of faecal sludge, whereas only 17% safely disposed of.
As a recommendation, Mrs. Bright-Oridami posited that government should provide funds, land and other contributions towards an enabling environment. She also pointed out the need to train and build the capacity of actors to international standards.
In Enugu, the poor input and reluctance by designated MDAs saddled with sanitation responsibility have caused the greatest harm to efforts in addressing Faecal Sludge Management. The Research Coordinator for Enugu, Mr. Lookman Oshodi, called for increased awareness about the problems and structural set up to integrate more active participation by local governments.
At the close of the workshop, key recommendations were drawn. While one underlined the need to set up sanitation fund to promote Faecal Sludge Management (FSM) enterprises, another stressed the need for a national policy harmonisation emphasising the roles of local governments through strong monitoring and evaluation. Participants also called for active participation of private sectors and civil society groups.
By 'Seyifunmi Adebote