The Resilience Water Accelerator (RWA), an international a multi-sector partnership, has been urged to create conditions for investments in the water sector, to give Lagos State greater security in the provision of water and sanitation for its citizens.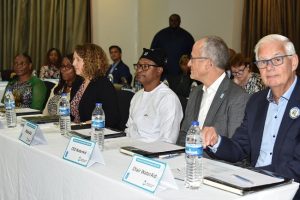 Tim Wainwright, Chief Executive Officer of WaterAid, gave the charge during a roundtable with Chief Executive Officers of select Private Sector Players in Lagos on Wednesday, November 8, 2023.
Wainwright said this is necessary because "the way climate change affects mankind in relation to water is that 90% of disasters are water related and yet only 3% of climate financing currently focuses on water and in an environment where two third businesses are complaining of facing major water risks and 40% of them are saying could be materialised in the next one to three years, this will not only affects investments, it is a big issue in terms of climate change".
"We also need action on resilience to the shocks that are already with us and are coming soon as well as reduction in greenhouse emission and, in order to do this, we need investments from the private sector," he maintained.
In her submission, Evelyn Mere, Country Director, WaterAid Nigeria, is of the opinion that the Lagos State Government needs to create an enabling environment that will be favourable and conducive for private sectors to thrive in.
"To start with, government should approve policies and as the policy developed, we need consultations in which government needs to sign as soon as possible that will serve as a confidence booster for the private sectors that there is clarity on PPP model on institutional arrangement on regulations and that gives the private sector confidence to invest in the state.
"Lagos presents the biggest market for water supply, sanitation and hygiene product in West Africa, that is a gold mine waiting to be tapped, the private sector needs to do the research, collect the data and engage the government for the framework, for them to be able to use all that information and the financial clout to derive the profit and ensure services are delivered in a sustainable manner.
"The private sector is a domain for innovation, investment and efficiency, that coming together with the government and the citizens will make Lagos State really transmit the opportunity in the state and water sector to profit, sustainable services and a resilience Lagos that the world can learn from.
"Water is an economic goal, you need to take an investment to make it potable and useable, those investment needs to be paid back through tariffs and if that is not done, services are not sustainable and if we don't use water sensibly climate change is upon all of us so we need to be much more efficient with how we use water, that responsibilities starts with the citizens and then the government and private sector," she stressed.
In his remarks, Tokunbo Wahab, the Lagos State Commissioner for Environment, suggested that the state government must activate and resuscitate the Lagos State Water Corporation (LSWC) because "nobody will come and invest in LSWC with our data and the mandate to me by Governor Babajide Sanwoolu is to get it to work.
"As LSWC, if you tell me, you shun out 20 million litres of water in a day, I want to know those homes that are getting the water, this might be difficult because there is no data. So, block your valves, track your water, have proper data and let us see and let us see if we can get investors to invest," he advised.
"It is a big worry for the environment that every home in Lagos dug its boreholes which impacts negatively on the environment so, as an individual, I am going to support this by putting the weight of the state and the authority of the Governor behind this programme. And to reassure the organisers of this programme that it is not going to be just talk, we shall work and at the end of the day, we want to see how we can get the Lagos State Water Corporation to kick-start a new mission of getting water to virtually all our homes.
"I also believe people should pay no matter how small for water. The mandate is clear, get the water properly on data, enumerate your customers, see where the leakages are, do a staff audit and show to the world if you are marketable or not," he remarked.
Asked how we can create a business model in the water sector, the Lagos State Commissioner for Environment said; "The starting point is water supply is not going to be the responsibility of the government any longer. Government also needs to rejig the model where they strictly provide water as a social service, it is beyond that now. So, to make it attractive, the government must play a rethinking and business model simultaneously.
"One getting your data right, in Lagos 22 million people are growing daily and, going by the available data, the Lagos State Water Corporation is not supplying up to 500,000 households. Out of these less than 35,000 are metered so nobody is going to invest in that because it is a total failure. So, let us rethink the model as a government and that means no more free riding on that infrastructure, though we are going to subsidise it but anybody that wants to enjoy it should pay for it.
"Government should also measure by getting the data right. We have Adiyan 1 and 2 and we have Iju Water Works, with the state budget for 2024, there is no way the government can fund Adiyan 2 to completion. In my opinion, the government must open up that place in a way that the investors will see the long-term benefit of coming to put their money in it, that is the only way we can get potable water to most homes in Lagos State on long term.
"On the short term, let the water works be realistic, with 51 water works across the state, government should be realistic going forward and make it very active to private investors so they can come on board. It will be very difficult to get data in areas like Ayobo-Ipaja but Victoria Island or Lekki will be easy to capture in terms of metering and data collection," he admitted.
The roundtable discussion witnessed stakeholders from both private and public sectors both within and outside Nigeria.
The Resilient Water Accelerator (RWA), launched by the former Prince of Wales, is a multi-sector partnership which brings together governments, businesses, private financiers, and civil society with the aim of boosting the resilience of 50 million climate vulnerable people living in water-stressed areas by 2030.
By Ajibola Adedoye