It is a bright morning in Sejo Village, a coastal community in Lagos, Nigeria, where fishing is the number one occupation. The aroma of roasted fish fills the air and the cold breeze from the lagoon can be felt. While standing on the old and dangerously-looking wooden jetty, surrounded by shacks – constructed with wood and metal roofing sheets – in the horizon of the lagoon is Victoria Island, an affluent area.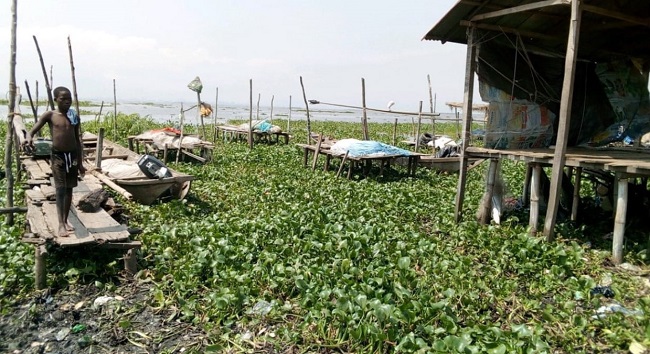 On the shore of the Lagoon, boats lay idle and nearby, able-bodied men sat as they discuss loudly in Egun dialect. At this time, on a normal day, most of these men would be returning from overnight fishing trips and buyers would wait on the rickety jetty to carry out transactions. The problem, they say, is Water Hyacinth.
"The water hyacinth is affecting us," says Hoyeton Junior, a young fisherman. "We are in fresh water now, nobody goes anywhere, the plant makes it hard for us to go out."
Water Hyacinth (Eichhornia Crassipes), a free-floating aquatic plant that has broad, thick and oval shaped leaves and blue-purple flowers. It is reported to have made its way to Nigeria in 1984 via the Badagry Creeks.
"Moving our boats into the Lagoon is stressful," states Kunnu Robert, another fisherman whose frustration could be felt as he spoke in Egun, the local dialect. "When the plant gets plenty on the water, It destroys boat engines and our paddles get broken. We get our income from fishing and because of the plant, life has been difficult."
The plant has invaded most of Nigeria's waterways that spans 10,000 kilometres. The Ijaw Youth Council, recently complained that the plant had invaded over 70 communities in Delta and Edo states alone. It is reputed to have the highest growth of any plant as it can double in as little as 12 days.
The plant, which is now a major problem in 53 countries globally, is not only detested by fishermen for stifling their livelihoods. It clogs water ways and irrigation canals, thereby causing flooding. It increases travel time for boat transporters and interferes with aquatic organisms' growth by absorbing oxygen and nutrients from the water. The water weed is known to encourage disease carrying vectors such as mosquitoes, snails and other organisms which cause malaria, schistosomiasis and encephalitis.
"Water hyacinth mat may provide cover for snakes and crocodiles," says Professor Ann Wilkie, who is of the Soil and Water Sciences Department of the University of Florida. "The plant also creates a prime habitat for mosquitoes and other vectors of diseases."
In addition to the negative environmental, health and socio-economic impact the plant poses, it is also difficult and expensive to control. In what has now become a subject of controversy, the Niger Delta Development Commission in Nigeria, budgeted as much as N2.5 billion to clear water hyacinth from the Nation's south-south region. The total cost of water hyacinth control in China is estimated to be more than $12.35 million each year.
The water weed is known to be controlled biologically, chemically and mechanically. But each control method has its own unique disadvantage, in addition to being expensive. For instance, the herbivores insects that are introduced to biologically control the plant, tend to migrate. There is the risk of pollution if the chemicals applied on the leaves get in the water. As machines remove the plant from the water bodies, small pieces of the weed that escape, float to new locations and start another colony.
These disadvantages, together with the plant's notoriety for rapid reproduction, make water hyacinth control financially unreasonable for countries, especially resource poor ones. Even when aquatic weed is removed by the authorities, it soon returns because of inconsistency in regulating them.
A Plant with Potential
The challenges confronting most developing and under-developed countries are numerous. Food production is increasingly becoming difficult, lack of access to clean, cheap and sustainable source of energy, degrading the environment and poverty.
Authorities have spent huge amounts of local and foreign funds trying to find solutions to these problems that have direct negative impact on citizens. Most of the solutions they came up with, ended up being unsustainable and eventually overwhelmed by the problems.
Many scientists affirmed that within the world's most invasive and detested aquatic weed, whose existence is a nightmare for people who depend on water resource, are sustainable and relatively cheap solutions to most of the problems confronting many poor communities in poor countries.
The utilisation of water hyacinth as a means of regulating the growth of the aquatic weed has been advocated. Professor Wilkie said that "utilising water hyacinth for the benefit of the society will not only help control the plant but will help defray the cost of controlling it."
People who know that water hyacinth has problem-solving potentials consider the plant a blessing in disguise.
Boosting Soil Nutrient
Africa's agricultural sector is the least productive in the world. In Africa, most farmers produce food on a small scale level and their productivity is limited by factors such as expensive farming input, climate change and poor soil. A continent of 1.4 billion people that depends on thirty-three million smallholder farms to produce 80 percent of its food on only forty percent of its total arable land, will unsurprisingly, have to import food.
While the African Development Bank, predicted that Africa's net food import would triple between now and 2025, the United Nations stated that if nothing is done to boost the continent's capabilities to produce more food, it may be able to produce only 13% of its food needs by 2050.
Some people believe that in a continent that has 60 percent of its arable land uncultivated and the only region of the world where youth population is increasing, effort to boost food production capabilities of Africans should begin by ensuring farming inputs are of high quality, cheap and available. One of such input is fertiliser.
"Getting chemical fertiliser by these poor resource farmers is a herculean task," says Dr. Adeshina Mobolade, an agriculturist at the Rufus Giwa Polytechnic, Ondo State, Nigeria. "it is not affordable, it is not even readily available when needed and the cost is even out of the reach of these farmers."
Crop yield per hectare in Africa is low compared to other regions of the world. Many blame low rate of fertiliser application. Fertiliser application is between 13 and 20kg per hectare, this is far below the recommended 100kg per hectare.
The high cost of chemical fertiliser makes it difficult for most African farmers to consistently apply it to their farmland. In Nigeria, chemical fertiliser is subsidized, but corruption makes it hard for farmers to get it at the subsidized rate. The situation becomes dire for farmers in the northeast of Nigeria where chemical fertiliser is not available even at high price because the country is battling insurgency in the region and the government had to ban the sale of fertiliser because it had become a key ingredient for bomb making by terrorists.
Confronted with these issues, Dr. Mobolade says "manure is the next solution available to many farmers." Some farmers either supplement or completely replace chemical fertiliser with manure. But the problem that has emanated from increased use of manure is supply shortage.
Now, scientists say water hyacinth has the potential to boost soil nutrient when converted to manure and could help ensure steady supply of manure.
"The aquatic plant contains high concentration of plant nutrient such as nitrogen, phosphorus, potassium, calcium and magnesium. They are germane to plant growth.
"So if you have a material that contains all these major nutrients required by plants, what stops us from utilising it in the form of either green manure or liquid fertiliser so that we'll incorporate it into our soil and it will boost our yield?
"Even from my research, the use of the water hyacinth compared significantly with poultry manure. Their impacts on the enrichment of soil and the yield of the plant were at par," Mr. Mobolade submits.
Baffled at the poor use of the aquatic plant despite its numerous benefits, Dr. Mobolade says that "by not harnessing the potentials of water weed, we are losing. Since 1984 when the plant was discovered in Nigeria, we still see it as a problem instead of utilising it for the benefit of the society."
Water Hyacinth as an Environment-friendly Raw Material
Industrialisation is important for the development of many African countries. The big question that keeps many industrialists on their toes is how to ensure consistency in the supply of raw materials. This question brings industrialists in a confrontation with the environmentalists who say the real question should be how to ensure that the raw materials sourcing do not destroy the environment.
The insatiable need for raw materials as feedstock for industries has brought the world to the point where the effect of climate change and global warming are fast unfolding before our eyes. Human activities all over the world are killing forests. According to the World Bank, between 1990 and 2016, the world lost 1.3 million square kilometers of forests – equivalent of 1,000 football fields of forests every hour. Roughly 80,000 to 160,000 trees are cut down each day around the world with a significant percentage used in the paper industry, according to the 2015 Global Forest Resource Assessment.
"Felling of trees all over the world for whatever purpose has caused problems of deforestation and desertification," says Dr. Nelly Ndukwe, an industrial chemist at Mountain Top University who has researched the conversion of water hyacinth to paper. "Every society needs reliable and sustainable raw materials for its economic advancement. So there is a global trend of looking for alternative or non-wood bio materials for the pulp and paper industry."
Globally, there are attempts to convert the enormous waste materials that are generated to useful products. Converting water hyacinth to pulp and paper is one of the effort and Dr. Ndukwe is certain the aquatic weed has constituents that are essential ingredients for paper production.
"Water hyacinth can be classified under ligno cellulotic biomass. This means it contains cellulose, lignin and also the extractives. The entire paper making process is to extract the cellulose without destroying their strength properties," she explains.
Some operators in the paper industry do not share the optimism of scientists as regards the use of water hyacinth to make paper. For them, paper made with the aquatic plant may not be as strong as that made with wood. But Dr. Ndukwe says that other biowastes can be blended with the aquatic weed.
"There is what we call reformation. This basically involves mixing other biowastes – such as saw dust and agricultural wastes – with the water hyacinth in order to increase the strength properties of the paper," she argues.
Paper is an important part of daily human lives. Increase in population will likely raise the demand for paper. Recycling papers has its limitations because fibres derived from trees lose their strength after six recycle trips and trees would have to be cut down. For scientists, utilising biowastes for paper production would reduce dependence on trees for paper making and the rate at which forests are destroyed will significantly reduce.
Meeting Energy Need
Experts have observed that Africa needs to ensure reliable energy infrastructure in order to empower it growing population, support its industrialisation ambition and boost its economic productivity.
Africa is not generating enough energy. For instance, in sub-Saharan Africa, six out of 10 people have no access to electricity and about 890 million people cook with traditional fuel. The energy generation capacity of Africa – with the exclusion of South African – is 28 Gigawatts.
The continent's energy poverty becomes more confounding when its renewable energy wealth is analysed. According to the United Nations Environment Programme, Africa has almost unlimited solar potential, abundant hydro, wind and geothermal energy sources.
However, those without access to electricity turn to environment and health destructive energy source – fossil fuel. Across Africa, while some people cut down trees to make cooking fire, others rely on generator to supplement poor power supply and governments rejoice at the discovery of crude oil and natural gas reserves.
A bioenergy expert in Nigeria, Dr. Haruna Saidu, who developed interest in bioenergy during his study trip to Malaysia, is of the opinion that "the global trend now is to reduce dependence on fossil based energy that has destructive impact on the environment and human health by adopting bioenergy – a clean source of energy."
"It does not come with high production of Sulphur dioxide; cost of production is generally not expensive and does not pollute the environment.
"From biological materials, different forms of bioenergy can be derived. Biogas, bioethanol, biodiesel and charcoal briquettes can be used to help meet the ever-growing demand for energy," he adds.
"Biomass can be converted to energy using a range of technologies," says Professor Wilkie, a bioenergy and sustainable development expert at the University of Florida. "The type of biological material such as agricultural crops, animal waste, food waste, wood or aquatic plant would determine the type or amount of bioenergy that can be produced and the type of technology that can be used to produce it.
"I would suggest trying to promote bioenergy production at the local level where cost can be minimised by utilising locally available feedstock to reduce transportation and disposal of waste," she states.
Bioenergy production, although advantageous in many ways, it raises questions such as availability and sustainability of feedstock and how expensive it is when compared with fossil-based energy. Both scientists agreed that it is not sustainable to use food crops for bioenergy generation, they recommended the use of water hyacinth as a feedstock.
"Because of its extremely high rate of development, water hyacinth is an excellent source of biomass, so it can serve as a feedstock for bioenergy production," Professor Wilkie says.
Referring to Nigeria's government plan to give bioenergy generation a boost by using sugarcane, cassava and oil palm, Mr. Saidu says that "using food crops for bioenergy production puts humans at risk of food shortage." He believes "because it is unsustainable, that is why the country has not been able to move beyond injection of money to real bioenergy production."
Many argue that high cost of bioenergy discourages most people from using it. Dr. Saidu argued that "considering the high level of efficiency of bioenergy, it should be more expensive than fossil-based fuel, but the government should subsidise it." On the other hand, Professor Wilkie maintains that "if the true cost of fossil-based fuel in terms of climate change and environmental degradation were considered, then bioenergy should not be too expensive."
Achieving Economic Empowerment with Water Hyacinth
Out of scientists' laboratories are stories of how some people have built award winning businesses whose major raw material is water hyacinth – a plant notorious for not only creating health and environmental challenges but also unleashing economic poverty on coastal communities.
Solving One of the Causes of Farmers and Herders Clashes with Water Hyacinth
It is estimated that about 17,000 hectares of the Lake Victoria is covered by water hyacinth. Jack Oyugi, a Kenyan entrepreneur, combined biotechnology and green chemistry to find a sustainable and cost effective livestock feed and at the same time, reduce the population of the invasive weed. He started Biofit Feeds Limited.
"Animal feeds made with Water hyacinth is a natural local plant and it is organic compared to synthetic feeds sold in the market," Emmanuel Imafidon, the company's representative. "We make feeds for different types of animals by using the aquatic plant. It is a blessing in disguise. It does not compete with human food and it helps control crisis as regards animal feed."
The African Union estimated that there are 268 million pastoralists in Africa living on about 43 percent of the continent's total land mass. Most countries in Africa deal with violent clashes between herders and farmers. In Nigeria, for instance, these clashes have left over 10,000 people dead and many displaced. To end the violence, many have called on governments to develop creative solutions. Mr. Imafidon believes that converting water hyacinth to animal feeds is part of the creative solutions.
"It will really resolve the conflict if the herders adopt feeds made with water hyacinth. The aquatic plant is available throughout the year unlike the grasses the cattles are fed with," he argued.
New Skill and Livelihood with Water Hyacinth
Since 2009, Achenyo Idachaba Obaro has been using water hyacinth to make decorative art objects. A former employee of an oil exploration multinational firm quit her job and set up Mitimeth in Ibadan, a city in the southwest of Nigeria. For her, finding a way to utilise water hyacinth is a way to improve the economic conditions of people and it touches on five of the sustainable development goals.
"What can we do to change the situation around whereby you actually take this water hyacinth and do something positive with it and of course in the process, create opportunities for people whose livelihoods has been negatively affected by the infestation," she says
"Fishing is the main occupation of people living in coastal areas. When the aquatic plant invades the water and grounds their means of livelihood, there is nothing else to do. They often resign to fate because they do not know what to do with the weed. Mitimeth uses the 'unwanted' plant to teach them new skills," Obaro adds.
Mitimeth partners public and private institutions to teach people how to use the aquatic weed to make handcrafted designs and lifestyle products.
"For us to come in and help people see things through a different set of lenses is rewarding as well as fulfilling not just for us who are facilitating and transferring the knowledge, but for the beneficiaries as well, because they are part of the creative process, solution and they create livelihood for themselves," she says.
Water hyacinth can be a problem, but scientists and even entrepreneurs have shown that within the aquatic plant lies potential solutions to some challenges confronting poor countries in agriculture, energy, raw materials for industries, environment protection and socio-economic empowerment. Though the plant may not be a silver bullet, some people believe that it provides a good start to confronting challenges boldly.
"The poverty the invasion of the plant has caused now affects other aspects of our lives, such as health and education," notes Emile Menagbo, a resident of Sejo Village who used to be a fisherman but now teaches at a secondary school.
"The good things the water hyacinth can do is not known by many people. It is a problem to them and so they want it removed so that fishing can begin. If the government can help them utilise the weed, maybe they and their children can enjoy a better life now and be sure of a better future," he adds.
By Adeola Oladipupo, Lagos