The Hope Spring Water Charity Foundation is partnering with Sustainable Waste Africa Initiative (SAWI) and Media for Community Change (MFCC) in Abuja to sensitise women and other stakeholders on the need to involve the marginalised people when making plans for water, sanitation and hygiene (WASH).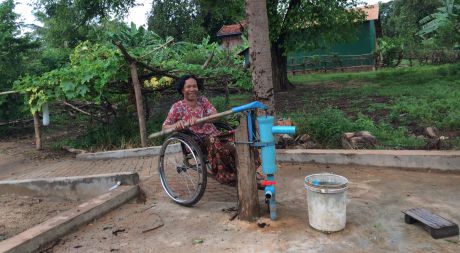 The event will hold on Friday, March 22, 2019 to commemorate the year's World Water Day, which is aimed at highlighting the importance of water around the world using a variety of events.
The theme for 2019 World Water Day is "Leave No One Behind", and it is geared towards encouraging people and organisations to consider the marginalised groups such as People with Disability (PWD), the elderly, women and children and other groups that are often overlooked or discriminated against when planning WASH initiatives.
Programme coordinator for the event, Adesuwa Obasuyi, said in a statement: "Hope Spring Water Charity Foundation has taken it upon itself to mark the World Water Day 2019 by embarking on a Road/Market Walk to amplify the voice of world's poorest and most marginalised groups in a quest for inclusive development in the WASH sector as any crisis in this sector has a huge impact on human development.
"Hope Spring Water Charity Foundation will build upon the successes of her previous projects to pass across the key message that access to water is a fundamental human right, and no one should be left behind. The walk further aims to highlight water related challenges Nigerians face such as water scarcity, water pollution, inadequate water supply and poor sanitation and hygiene as well as increase commitment from politicians/government to improve the water situation and make it accessible to everyone."
Hope Spring Water's Country Director, Temple Oraeki, stated that the campaign couldn't have come at a better time.
His words: "Following recent signing of the disability bill into law by the Federal Government, the sensitisation walk will serve as a call to action for the government to lead by example in non-discrimination of PWD by providing inclusive WASH facilities across Nigeria."
He called on other NGOs, CSOs, the private sector and other stakeholders in the WASH sector to join the campaign to amplify the voice of the marginalised people and raise awareness on the problems that such people face in getting access to water.
The group lists some of it recent projects to include the drilling of boreholes in local communities within Abuja and the "WASH Run" that brought together over 500 persons across the FCT and Lagos. It was carried out in partnership with WaterAid Nigeria, Action Against Hunger, Sustainable Africa Waste Initiative, AimCare Nigeria, Media for Community Change, and Federal Ministry of Water Resources, to spotlight the challenges of water poverty in Nigeria.