Ghana on Friday, March 22, 2019 joined the international community to celebrate World Water Day on the theme: "Leaving no one behind." The thought-provoking theme is an indirect reflection on why people do not have access to safe water and sanitation.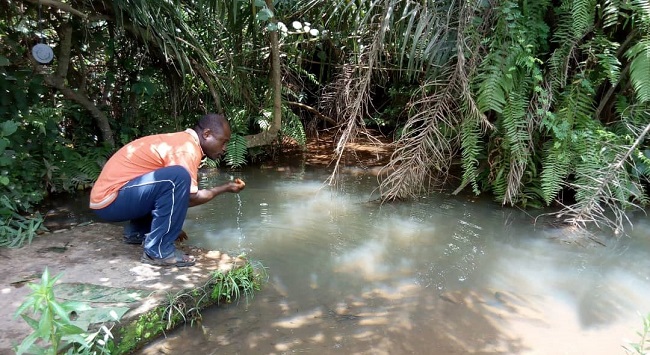 At the time of the celebration, little Ewura Adwoa had just started kindergarten at the Kpone Katamanso Municpal Assembly Primary School. It is the only school at Gonteng in the Greater Accra Region, roughly about an hour and a half drive from Accra, all things being normal. At the present time, she has no worries and appears to be a very contented child, looking forward to progressive schooling and growing up.
But the fact that Awura Adwoa resides with her parents at Gonteng, is a major problem. It is one of the many Ghanaian communities "left behind" in terms of secured access to safe drinking water and sanitation, which are basic requirements for the growth and development of a child and society at large.
Nestled in the undulating Akwapem highlands, Gonteng is located between Aburi and Adamorobe, both in the Eastern region. The community has three sources of water – two mechanised boreholes, one provided by an American Philanthropist is situated on the school's premises. The other borehole, which has been abandoned by the community, is sited about 10 metres from the school and was constructed earlier by the Tema Municipal Assembly. The third source of water comprises the Odorto River and four others.
Gonteng's water and sanitation problems
With two mechanised boreholes, Gonteng should have no problems accessing safe water. But that is not the case, since water availability does not guarantee accessibility, especially when the water cannot be drank or used for any domestic chores. Samuel Taylor Coleridge captures the scenario so well – "… water, water, everywhere, nor any drop to drink," in his poem: "The Rime of the Ancient Mariner."
The Gonteng community members say the water from the second borehole "is not good to drink because it is not sweet, we can't use it to bath because it stops the soap from lathering, and we can't also wash our clothes with it. This water is just not good for us."
The first borehole constructed to function through a process that mimics the natural water filtration system has been abandoned, due to a problem they have been unable to solve, according to Boye Armah, Chairman of the Water and Sanitation Management Committee.
But a Quality Assurance Officer of the Ghana Water Company Limited, Mark Ayertey, says the problem is not a big issue that should stop them from accessing water and that "it can be easily fixed." This was after he inspected the facility with a team of journalists on Monday March 11, during a tour of the community. The purpose was for the journalists to ascertain the community's water access status as part of activities marking this year's national celebration of World Water Day.
For now, the people of Gonteng have resorted to fetching water from the Odorto River. And that constitutes a major problem. River sourced water is no longer as safe as it was many years ago, when population was small and the impact of activities was minimal; people were law abiding – respecting traditional norms and customs that protected water bodies; open defecation was practiced in a "nice" and unharmful manner; and the use of agro-chemicals in farming was uncommon. Thus, the sources of water pollution were highly limited, and one could safely drink surface water without any problems.
But not so nowadays, when people no longer care about their actions. So, the community is aware that the river water might be polluted. The Reagent, John Akrong Laryea, said, "At times we see lots of rubbish in the water as the river flows from Aburi and other upstream communities," and with a gesture of helplessness, added, "for now that is our only source of usable water."
Again, the community is faced with another deadly problem – apart from the school that has a toilet whose roof was ripped off in a rainstorm last year, the community has no sanitary facilities at both the household and communal levels. This means that open defecation is the norm there, practiced by all and sundry except for the few school children, who use the school's facility when classes are in session.
Gonteng is therefore afflicted by the intertwined problems of lack of access to safe water, use of insufficient water and improper sanitation.
Potential effects of the situation on the people
According to UNICEF, unsafe water, inadequate sanitation and lack of hygiene not only affect the health, safety, and quality of life of children, they also claim the lives of an estimated 1.5 million children under the age of five every year, from related diseases. Consuming contaminated water can result in water-borne diseases including viral hepatitis, typhoid, cholera, dysentery and other diarrhea diseases. And without adequate quantities of water for personal hygiene, skin and eye infections such as trachoma spread easily in a household or community.
While, open defecation is deemed the riskiest of all sanitation practices, posing the greatest danger to human health with fatal consequences – particularly for young children. The risk lies in the fact that human contact with human excreta facilitates the process of infectious diseases transmission, including many of those transmitted via contaminated water such as cholera and typhoid.
Experts say one gram of human faeces contains over 10 million germs and once faeces is exposed, coming into contact with it is very easy. Our hands easily pick up germs from various points including when we clean ourselves after using the toilet, during playing or working, from objects such as doorknobs and stair railings as well as from handshakes.
Another effect of insanitary conditions, and which is rather subtle and terrible is that it affects children under five leading to stunting – a condition that impairs physical growth and intellectual abilities in children. This happens, when the process of absorption of nutrients by the body is distorted, as a result of water and sanitation related infections, according to experts.
Therefore, it is highly probable that while Gonteng community members might not be suffering from any infectious diseases as they claim, the children could be suffering from stunting. "The Gonteng situation," says WaterAid Ghana's Country Director, Dr. Mohammed Abdul-Nashiru, "is a disaster waiting to happen as long as they continue to drink from open sourced water."
He urged the Ministry of Sanitation and Water Resources as well as the Metropolitan, Municipal and District Assemblies to identify all communities in such predicament and strategically target them for immediate attention. "This will ensure that they are reached in the national quest to serve the unserved and underserved, so that no one is left behind in accessing safe water and sanitation," Dr. Abdul-Nashiru, added.
Addressing the problems
Providing access to clean water, sanitation and hygiene are paramount to ensuring the health and general well-being of the people of Gonteng and all other communities. According to UNICEF, provision of clean water and sanitation can drastically reduce the global annual total number of 272 million missed school days and enable children to focus on their studies.
Attesting to this, World Vision Ghana notes that "when there is sustainable access to clean water, children enjoy good health and are more likely to attend school, while parents put aside their worries about water-related diseases." In a press statement issued to commemorate World Water Day, the organisation said, "Sustainable access to clean water changes everything, because, when people gain access to clean water, they are better able to practice good hygiene and sanitation."
The statement identified low level of prioritisation and investment in water, sanitation and hygiene; water quality challenges particularly at the household level; and inequalities in drinking water supply, as the reasons for people being left behind in safe water access.
It therefore urged government to, among other proposals, increase the sector's budgetary allocation and explore viable alternative financing and water supply mechanisms, which will ensure that no one is left behind. It called on government to take immediate steps to address water quality issues and save children from preventable diseases and deaths. The statement also recommended the prioritisation of the needs of the poor and vulnerable in future financial arrangements, so that everybody everywhere will have access to sustainable safe water.
The expectation is that these measures will be adopted to complement on-going initiatives such as Ghana Water Company Limited's "Water Safety Plan," aimed to prevent contamination of water from source to treatment and distribution. This can contribute to securing the future of Ewura Adwoa and other children, since their schooling will not be disturbed and their development unimpeded.
By Ama Kudom-Agyemang