The Association of Waste Managers of Nigeria (AWAMN) on Thursday, December 23, 2021 called on the Lagos State Government to pay more attention to dumpsites in the state as they were affecting the process of waste management.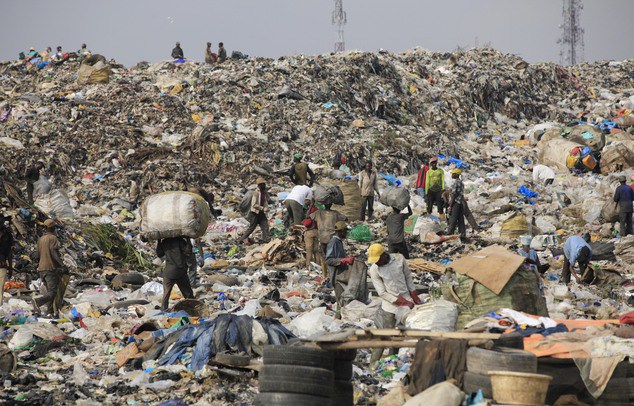 The president of the association, Mr David Oriyomi, who made the call in an interview in Lagos, said the dumpsites were filled and constituted an impediment to waste management.
Oriyomi said if the disposal sites were good and accessible, it would be easier for waste managers and that they would be able to offload waste and go back to pick more refuse from the streets.
"It will translate to a cleaner environment for everybody. So that is why the dumpsite is very key, and our dumpsites are getting filled up.
"I implore the government to look deeply into the replacement of these dumpsites or to make sure that the issue of recycling, where we are going to reduce the waste is further considered," he said.
The president said the association had written to the Governor of Lagos State, Mr Babajide Sanwo-Olu, concerning the issue, which he referred to the Ministry of Environment for proper harmonisation.
Speaking on the groundbreaking for the association's national secretariat, Oriyomi said the planned three-storey building signified unity and better service delivery by members of the association.
He recounted how waste managers were congregating under a tree, to renting an apartment from Oshopey Plaza at Ikeja, before moving to Mushin.
"When we started, most of us were renting cars, then we graduated to a situation where we were renting trucks, to a situation where we started to own used trucks and where we started buying brand new compacting trucks. So it has been that journey along that way.
"Now, we have laid the foundation of our national secretariat and it serves as the mother of all waste management secretariats in Nigeria.
"It is where all waste operators, all waste management experts will converge to formulate policy for the betterment of the environment and waste management in the state and also in the country," Oriyomi said.
The Publicity Secretary of AWAMN, Mr Olugbenga Adebola, said the secretariat would put a face to the association and would be a resource centre for waste management issues.
"We are going to have a training centre there. It is a step in the right direction because it is going to enhance our productivity. It is going to enhance our performance," Adebayo said.
He said in spite of the patronage by residents, payment was still an issue.
He, therefore, urged residents to ensure that they paid for the evacuation of waste by the PSP operators, as waste management was not cheap.
"Now, there is a major synergy between us and the state government, and that is why in the last few months, the Lagos State government has approved additional 24 Magisterial Courts that are going to begin to try environmental defaulters.
"Anybody who engages in any environmental infractions should know that they are going to be tried, so also the people who refuse to pay for waste disposal.
"We are hoping that by next year, 2022, that we are entering, things are going to move better, with regards to waste management.
"I just want to encourage and say to the residents that waste management is not cheap, waste management is not free, please, pay for services rendered," he said.
By Florence Onuegbu