The Global Initiative for Food Security and Ecosystem Preservation (GIFSEP), an NGO, has called on Nigerians to vote a presidential candidate that will care and understand environmental issues.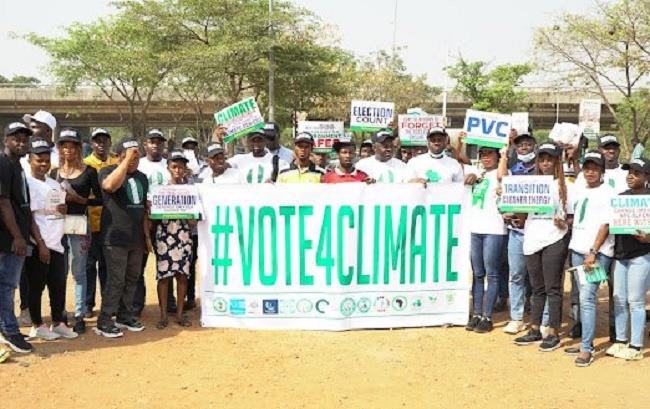 Mr David Terungwa, Executive Director/Team Lead for Climate Action Campaign, gave the advice on Thursday, January 19, 2023, at a Vote for Climate Campaign Walk, organised by GIFSEP, in Abuja.
Terungwa said the purpose of the walk was to sensitise the public to the need to collect their Permenent Voter Cards (PVCs) and ensure they voted during the Feb. 25, election.
"We are calling on all citizens to collect their PVCs, look beyond empty campaign promises, and other forms of inducements, vote for candidate that understands climate change issues and have a clear climate action plan.
"We are calling Nigerians to vote for climate, a special presidential candidate for us. Climate is an important candidate because it affects all of us.
"It will be a dangerous mistake if we elect candidates who are climate denials.
"There is the need to vote for candidate that cares about the environmental issues.
"So far, the campaign is having little talks about climate change, knowing the importance of climate change to our lives, economy, food, security, gender, water and to everything.
"Climate change is a real electoral issue and voting a candidate who is a climate change denial will take the country backwards," he said.
Terungwa said that at Niger Delta regions, there were devastation going on in oil companies and coal disasters.
"The Northern areas are being faced with land degradation, thereby affecting the farmlands in the areas," he said.
He said that the organisation had stakeholders across the country, sensitising the public to the need to collect their PVCs and ensure they voted.
He said that stakeholders, both national and international, were having various discussions and deliberations on how to address climate change challenges.
According to him, there is the need for green economy, not just in Nigeria but across the world; there is also need for transition from fossil fuels to renewable energy as it affects the world at large.
"It is not just enough having the discussions and deliberations; it is also important to ensure that such deliberations are implemented effectively.
"We are seeking candidates who will implement some of these discussions, deliberations and agreements already on ground," he said.
He said the organisation was working with different people in different communities, with traditional rulers and community leaders on climate related issues.
"We are also working with the media and also online on the need for enlightening the people to vote for a candidate who will take care of the environment," he said.
The executive director said that Nigerians were being faced by serious climate change.
He alleged that floods had caused the death of over 600 Nigerians, displaced millions of people, washed away hundreds of farms and farmlands, and damaged critical infrastructure across the country.
"No one is immune to climate change impact. Our country is very vulnerable to climate change," he said.
By Vivian Emoni