Over 250 US mayors have committed to procure 100% renewable energy for their cities by 2035, thereby providing a significant boost to climate action.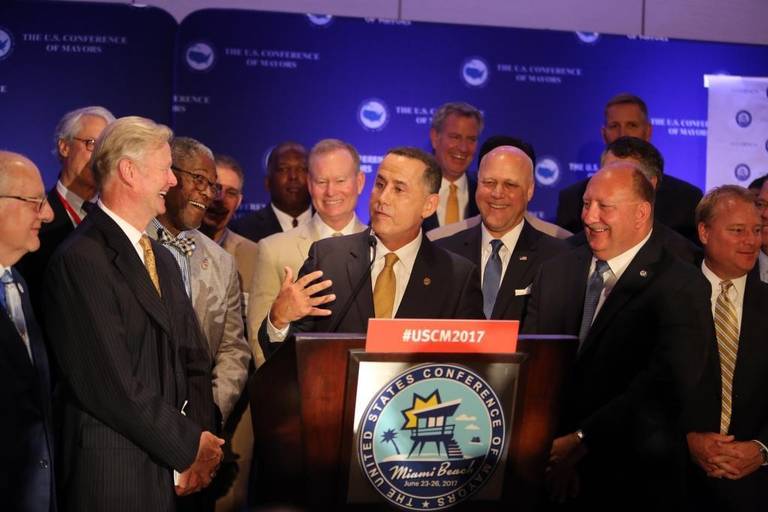 Interest in renewable energies is said to be running high in cities, and enacting clean energy policies at the local level is essential to achieve the central goal of the Paris Climate Change Agreement, which is to avoid the worst impacts of climate change by holding the global average temperature to as close as possible to 1.5 degrees Celsius. According to experts, this can only happen if the bulk of existing fossil fuels is left in the ground and the world rapidly transitions to low carbon.
"By approving this historic measure, we are showing the world that cities and mayors can and will lead the transition away from fossil fuels to 100% clean, renewable energy," said Columbia (South Carolina) Mayor, Steve Benjamin.
The city leaders made the commitment in a resolution at the 85th US Conference of Mayors (USCM), meeting in Fontainbleau, Florida, where they launched the "Ready for 100" campaign to support the utilisation of more clean power. The meeting held from Friday, June 23 to Monday, June 26.
According to an analysis by the environmental group Sierra Club, if the 100% energy targets were achieved by 2025, the total electric sector carbon pollution reductions would "fill anywhere from 87% to 110% of the remaining reductions the United States would need to achieve in order to meet the goals of the Paris Agreement."
The conference of more than 250 US mayors also resolved to support vehicle electrification, energy efficiency grants and city-driven plans to reverse climate change. The resolutions are statements of intent for city planning and work with federal and state governments.
In addition to cleaner air and water, the shift can also fuel jobs growth. San Diego Mayor, Kevin Faulconer, said his city is shifting to clean energy "not only because it supports clean air and water, but because it supports our 21st century economy."
The resolution shows how governments at different levels are redoubling efforts on climate change.