As Egypt continues to exert all efforts for enhancing living conditions of its inhabitants, and in line with the Egyptian development vision 2030 and its urban development targets, the Ministry of Housing – represented in the Informal Settlement Development Fund – together with the United Nations Human Settlements Programme (UN-Habitat) in Egypt are initiating a new cooperation entitled "Participatory Citywide Urban Upgrading in Egypt".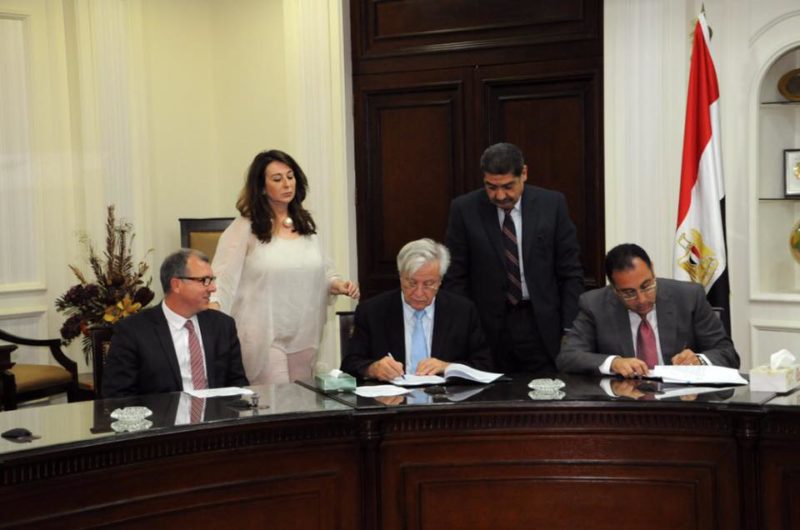 During his visit to Cairo on Sunday, May 21 2017, Dr. Joan Clos, the Under-Secretary General of the United Nations and the Executive Director of UN-Habitat, signed the new cooperation project with Dr. Mostafa Madbouly, Minister of Housing, Utilities And Urban Development; Eng. Khaled Sedeek, Executive Director of the Informal Settlement Development Fund; Ambassador Saeed Mohammed Al-Said Hindam, Assistant Foreign Minister and Director of the Department of International Cooperation for Development; and Mrs. Randa Abou al-Hosn, United Nations Development Programme country director.
The project will bring the specialised experience of UN-Habitat to the Egyptian context; supporting the planning and implementation of strategies and programmes that increase access to adequate housing, improve living conditions of informal dwellers and curb the growth of new informal areas. In this process, a number of participatory planning tools and guidelines will be tested, shared and applied.
Additionally, the project will endorse the establishment of a knowledge platform aiming for full participation and involvement of stakeholders from local target communities, community-based organisations (CBOs) and non-governmental organisations (NGOs), academia, private sector, national and international development agencies active in the urban sector.
The project, it was gathered, will be implemented in five years, targeting priority defined informal and unplanned areas in Egypt in support to the country's vision to address and resolve various socio-economic and physical issues resulting from the spreading of unsafe, informal and unplanned areas.