Against the backdrop of the frequent collapse of the national grid, a Professor of Electrical Engineering at the University of Nigeria, Emenike Ejiogu, has called on the Nigerian government to liberalise the generation and distribution of electricity through the gasification technology.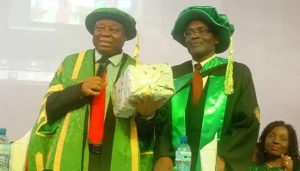 Prof Ejiogu made the proposition on Thursday, September 21, 2023, when he delivered the 190th Inaugural Lecture of the University of Nigeria, Nsukka, titled: "My Engineering Odyssey: Energy Security, Energy Sustainability and Bringing Power to the People".
He said that the gasification technology, which converts municipal and agricultural organic wastes to energy, presents a viable option to give Nigerians clean and affordable energy.
Ejiogu, who doubles as Dean, Faculty of Engineering and Director, Africa Centre of Excellence for Sustainable Power and Energy Development (ACE-SPED), said that the gasification technology has the potential to inject over 6000MW of electricity into the Nigerian economy within a short period of time.
He said that a study carried out by his team to assess the waste to energy generation potential of Uyo and its environs showed that the city had enough waste to generate about 20MW of electric power. He argued that a replication of similar potentials in 300 localities in Nigeria would ensure a rapid injection of 6000MW of electricity into the economy.
"With 6000MW of electric energy available by distributed generation all over Nigeria, we would really have given power to the people," Ejiogu said.
He argued that the waste-to-energy generation system presents a triple advantage to Nigeria as it could provide electricity, clean up the environment, and create many waste management value chain jobs.
The don said that the time was ripe for Nigeria to utilise available technologies to harness its energy potentials and decentralise power generation to the people instead of holding on to the epileptic national grid system which throws the country into darkness whenever it collapses.
He said that his team has been experimenting with the gasification technology to provide electricity at his residence, the Faculty of Engineering and the administrative office of the University of Nigeria, Nsukka.
"I can tell you that it is one of the low-hanging technologies; it is four times cheaper than the solar energy," he said.
The Professor said that his research group has also designed a bioreactor that could transform waste vegetable oils into clean biodiesel at a competitive cost of N500 per litre.