The United Nation's Children's Fund (UNICEF), the UN's children's rights and emergency relief organisation, has warned that climate change is a dangerous and disruptive force for many children around the world and is particularly impacting the most vulnerable.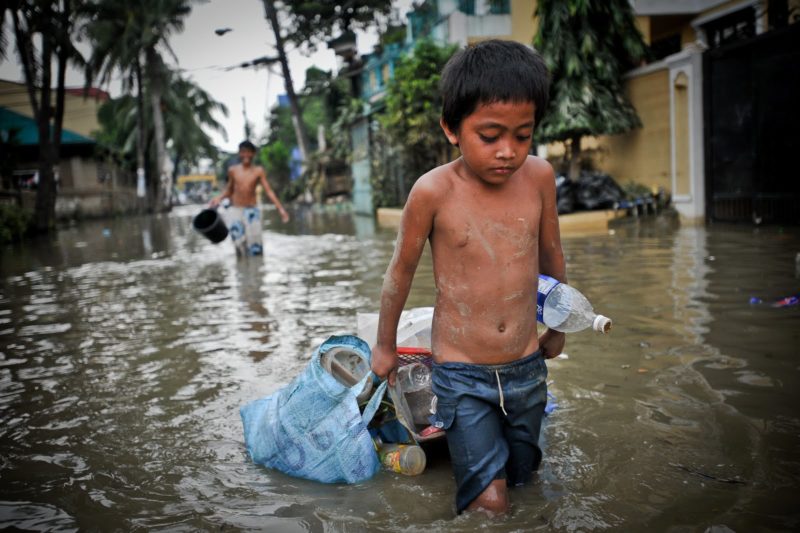 In its 2016 annual report, the organisation says that poor and disadvantaged children were disproportionately affected by humanitarian disasters last year – including particularly damaging climate change-related disasters in Africa, Asia and the Pacific.
UNICEF Executive Director Anthony Lake said: "The effects of climate change – diseases, droughts and floods that destroy food sources and livelihoods – further exacerbated risks to children and deepened deprivation for millions. Crushing poverty and widening disparities in health, education and protection undermined the lives and futures of millions more."
The report highlights how severe tropical cyclone Pam barreled through the Pacific island state of Vanuatu in March of last year, demolishing schools, health care facilities and water supplies, and traumatising children and their families.
Floods, landslides and other natural disasters combined with unrest in Myanmar created a critical situation in 2015, displacing hundreds of thousands of children from their homes.
The report also sets out how, during the UN Climate Change Conference in Paris at the end of last year (COP21), UNICEF campaigned for accelerated climate action.
During COP21, UNICEF promoted the message that the disruptions caused by rises in overall global average temperature will not only lead to more floods and droughts, but also to more food insecurity, lost agricultural income, forced migration and other hardships for the countries and communities – and children – least equipped to cope with them.
In a report used by UNICEF to advocate for meaningful climate action commitments by governments in Paris ("Unless We Act Now – the Impact of Climate Change on Children"), the organisation showed areas that are projected to be most impacted by rising temperatures under different mitigation models and the amount of children that live in these high-impact areas.
The maps use data predictions from the 5th Assessment Report of the Intergovernmental Panel for Climate Change (IPCC). The map on the left shows a "business as usual" model of no mitigation policies and with nearly 1.5 billion children affected as a result.
The second scenario projects a likely increase of 2.4 degrees Celsius, slightly above the 2-degree absolute limit set by the Paris Agreement. The third scenario models a 1.6-degree Celsius increase, consistent with the 1.5-degree ideal limit agreed at COP21. This still shows 150 million children severely affected in high-impact areas.
Last year, UNICEF also mobilised celebrities to push for climate action. Goodwill Ambassador Katy Perry starred in a UNICEF video that was shown at the Paris conference.
The video featured Perry in a special "weather report" highlighting the impact of climate change on children and calling for urgent action to change the forecast for the planet's future.