By the close of Friday October 18, 2019, the 2019 Climate Chance Summit taking place at the International Conference Centre, Accra in Ghana will end with participants identifying innovative initiatives for climate actions across Africa. One of the key thematic areas that an innovative initiative will be expected from is adaptation and water in Africa.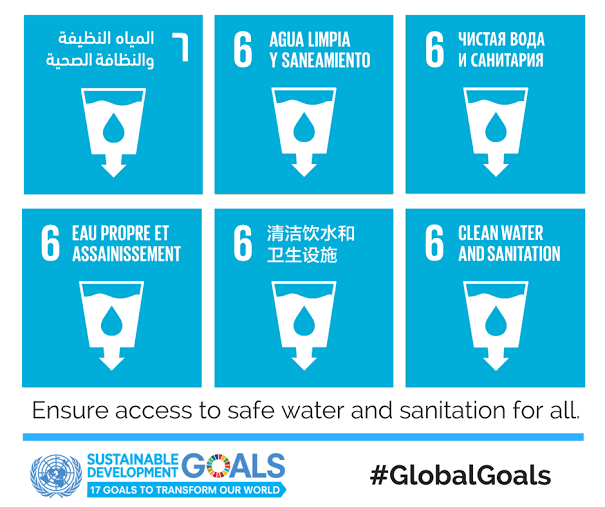 The Summit holds at a time when water insecurity and climate change are two of the most critical crises the world is facing and will face over the decades. Scientists say the water cycle is already affected by global warming, threatening societies, energy and food security as well as economic growth and the attainment of the Sustainable Development Goals (SDGs).
For the Africa region, the impacts of climate change are strictly connected to water, as manifested through floods and droughts. Water security has, therefore, a crosscutting importance and is key for climate change adaptation, mitigation and resilience.
So, it is important for African governments to prioritise water as central to all other sectors of development and invest sufficient resources in the provision of clean water and sanitation in accordance with Sustainable Development Goal 6 (SDG 6).
In line with this, the United Nations Educational Scientific and Cultural Organisation (UNESCO) has urged African leaders to acknowledge and invest in stronger links between the SDG 6 and the other water-related SDGs.
"This will serve as an efficient and effective strategy for lifting millions of people from poverty and achieving the African Water Vision 2025 (AWV), the 2030 Agenda and the African Union Agenda 2063," says the UNESCO Representative in Ghana, Abdourahamane Diallo.
"Without access to clean water, our girl-child will continue to travel longer distances in search of water instead of being in school. Therefore, our dream of attaining equitable and quality education for all and gender equality, which are Goals 4 and 5 respectively, will not become a reality," he added.
Mr. Diallo was addressing climate, water, agriculture and sanitation experts who had gathered under the auspice of UNESCO to discuss how water can contribute to climate change adaptation and how partnerships across the various thematic areas can be strengthened. This was at an event organized alongside the on-going Climate Chance Summit.
He noted that the current issues with climate change and its impact on water resources have arisen in the course of meeting national and individual aspirations and needs.
"In the 21st Century, our aspirations and needs have resulted in various demographic dynamics that are mostly not sustainable and at the same time negatively impact on our climate and subsequently our water resources. With each passing day, we are evermore faced with the challenge of declining water quality and increasing uncertainty of water availability due to climate change."
The Deputy Minister for Sanitation and Water Resources, Patrick Yaw Boamah, said government attaches urgency to the issues of water and sanitation and has therefore invested about $1 billion over the past two years to provide quality drinking water to over two million Ghanaians.
He recounted: "Parliament has approved $272 million dollars for the Tamale Water Expansion Project to serve more than 880 thousand people in Tamale, Yendi, Yapei, Damongo and their environs… securing of $40 million from the Indian Exim Bank for the Yendi Water Project and a $45 million facility from the African Development Bank to improve water and sanitation within the Greater Accra region."
Mr. Boamah added: "We recently approved $200 million for sanitation and water for the Ministries of Local Government; Works and Housing; Inner City and Zongo Development; and Sanitation and Water Resources to check flooding."
Resource persons including the Climate Change Advisor to Ethiopia's Minister for Water, Irrigation and Energy, Ms. Yodit Balcha; West African representative of the International Water Management Institute, Dr. Funke Cofie; Director of Water Research Institute of the Council for Scientific and Industrial Research (WRI CSIR), Dr. Mike Yaw Osei-Atweneboana; and Ms. Adwoa Paintsil of the Water Resources Commission, presented initiatives that their institutions have been implementing to tackle climate change impacts in the water and food production.
Notable among the initiatives was Ethiopia's example of deliberately devising a long-term strategy to address the impacts of drought in their country. As a country that had suffered three separate protracted devastating droughts within 50 years, the people decided to make the issue a national priority to ensure that agriculture moved from rain-dependent to irrigation. This ensured that food production or water availability was no longer disrupted by drought. This strategy has become a national document that all ruling parties must adhere to.
The Facilitator for the session, Dr. Stephen Maxwell Donkor, said that Ghana needs to learn from Ethiopia to safeguard the ware sector. He said the country may have lots of water resources, "but not all of it is usable because water quality is decreasing, quantity is decreasing, population is increasing and therefore demand is also increasing," adding, "this is the underlying factor of water shortages in our countries."
In an interview, Dr. Donkor described the current attitude of Ghanaians towards the water sector as a mistake and warned that the situation will eventually backfire. "We're making a big mistake, we are cutting down the trees, soil is being eroded, dams are being silted up, and it's a question of time when we're going to pay three to four times what we are paying now for water."
He called for the adoption of a long-term water development plan that must transcend political parties' agenda. "Ghana should have a long term water development plan, which should survive all ruling governments whether NPP or NDC. Because now it's not a question of power, it's a question of survival of the whole country."
Dr. Donkor said it took Ethiopia 20 years to get to this point and noted that "they had their differences but also had something in common – their survival, which has resulted in a long-term plan from the national to regional, district and neighborhoods levels."
He explained how it works: "So the plan is there and when a government comes, they tell you there are so many things to do. So, as a leader you can choose the part you want to focus on, so you don't have to spend money designing a new thing again, we need that in Ghana."
Dr. Donkor who is an independent consultant stressed that "the issue is not about water as a commodity, but it is about development in Ghana and Africa." His comment highlighted the need for an innovative initiative in dealing with Africa's water as abounding evidence indicate that climate change is impacting on the continent's water resources.
Scientists have predicted that water is the primary medium through which Africans will experience climate change impacts and that by 2020, which is just next year, about 250 million Africans will be exposed to increased water stress.
Again, African scientists have concluded that the continent's water resources will face and in fact are already facing a multitude of challenges as a result of climate change. The challenges include intense droughts and floods, the drying up of rivers and lakes that have sustained life for centuries, water associated wars and huge increases in the numbers of "water refugees."
This state of affairs prompted the African Ministers Council on Water (AMCOW) to issue the 2008 Sharm El-Sheikh, Egypt Declaration on water and sanitation, committing countries to put in place adaptation measures to improve the resilience of countries to the increasing threat of climate change and variability to water resources. This served as the basis for the development of the African Water Vision.
By Ama Kudom-Agyemang