Because mankind has reached the planet's limits and grown at the expense of nature, there is an urgent need to transform the way he lives.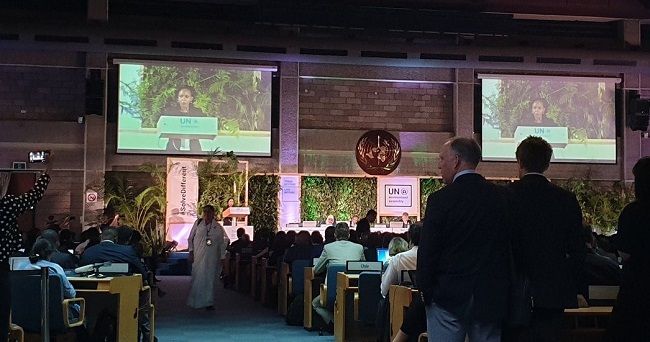 Acting Executive Director of UN Environment, Joyce Msuya, who made this submission at the opening plenary of the Fourth UN Environment Assembly in Nairobi on Monday, March 11, 2019, stated that the world should urgently act by moving speedily to a low carbon, green economy that, by 2050, reduces fossil fuel use by 80%.
Similarly, she urges the world to be kinder to the environment in how it produces food by reducing the environmental impact of food production by two-thirds.
Also, Msuya underlined the need to achieve a near-zero waste economy by 2050, saying that "circularity must be the driving force of the future we want".
According to her, compelling science has laid out the urgency with which the world must act.
Her words: "Last year, the Intergovernmental Panel on Climate Change released a report saying that we must quickly and drastically reduce our climate-warming emissions. A few weeks later, UN Environment's Emissions Gap Report concluded that, in order to avoid a rise of more than 1.5°C in global temperatures, we need to step up climate action five times."
Welcoming participants to the conference, she acknowledged the fact that "there are many examples of people, governments, enterprises and civil society that are not willing to wait to change our collective future".
"In Cameroon, farmers use solar-powered driers to dry cassava crop. This means they can store what they produce for longer and get a better price in the market. In the Philippines, a textiles startup collects waste and transforms them into footwear and fashion accessories.
"And in Sri Lanka, affordable electric conversion kits aim to transform the iconic tuk tuk. So, we're not starting from scratch. These innovations challenge the very basis of how we treat our planet. We can no longer grow now and clean up later. We have reached the planet's limits and we have the power to do so," Msuya said.
Minister of Environment for Estonia and President of UNEA-4, Siim Kissler, disclosed that his vision is to scale-up the efforts to overcome common environmental- and health-related challenges in a balanced and integrated manner through identifying and developing innovative solutions.
In the light of these challenges, there is an urgent need to act on sustainable and efficient resource management; international environmental data and engagement of civil society, citizens, private sector and academia, he added.
His words: "Two billion people worldwide lack access to solid waste collection services. Some 64 million people are directly affected by uncontrolled dumping and open burning at dumpsites. Eight million tons of plastics enter the ocean every year. In the draft ministerial declaration, I am asking Member States to define ambitious national targets for reducing waste generation, increasing the reuse of products and recycling of waste and to significantly reduce single-use plastic products by 2030.
"The world needs openly accessible data, information, analysis, knowledge and science to better inform and guide what needs to be done to achieve sustainability across all environmental dimensions. With the ministerial declaration, I am asking UNEP to develop a global environmental data strategy by 2025 and Member States to improve national environmental monitoring systems and technologies. Not only are data filling knowledge gaps, data can also be a source of economic benefits which cannot be left unnoticed.
"Finally, our efforts must benefit people. An outcome from this Assembly must speak to each country and inspire citizens to become more aware of the challenges and solutions to the health of our planet and embark on more sustainable lifestyles. We need to find innovative solutions for environmental challenges through different approaches to sustainable consumption and production, inspiring nations, private sector players and individuals.
"In conclusion, this Environment Assembly embodies the notion that challenges are best addressed and opportunities realised when the community of nations and citizens of the world join forces to promote economic prosperity, social equity, and environmental sustainability in a holistic manner."