The United Nations Development Programme-Global Environment Facility (UNDP-GEF) Small Grants Programme (SGP) in Nigeria is supporting the Global Initiative for Food Security and Ecosystem Preservation (GIFSEP), a non-profit organisation focused on building climate resilience, to launch 100 waste recycling stations across secondary schools in Abuja, Nigeria's Federal Capital Territory (FCT).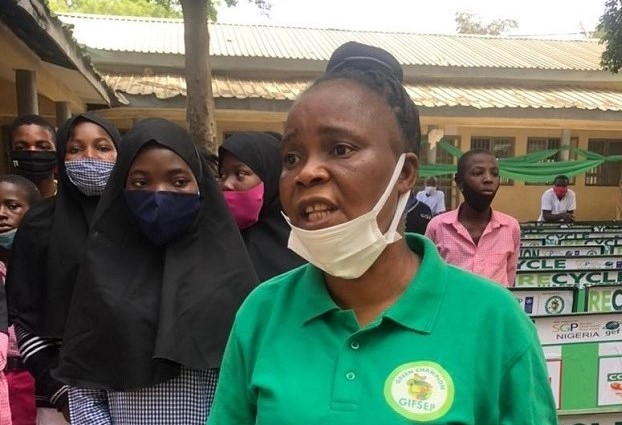 Speaking at the launch of the event which took place on Thursday, February 18, 2021 at the Government Science and Technical College, Garki, Abuja, Joseph Ibrahim, the Programme Manager of GIFSEP, explained: "We are here to commission waste recycling stations which would be given to 25 schools across Abuja. This is part of our response to addressing climate change with waste management as one component.
"These 100 recycling stations will be distributed around FCT to 25 schools, so each school would have, at least, three waste stations. We will further train each school on sorting waste, recycling and how some items can be upcycled."
Expressing her delight, Mrs. Orisadipe Mercy, the Eco Club Matron, said that she considered the Government Science and Technical College, Garki, Abuja lucky to be one of the schools that benefited from the training organised by GIFSEP in 2017.
"The students have since picked up interest and we have enjoyed the support of our school management. GIFSEP has supported us with infrastructures – waste sorting stations and structuring the landfill. We organised waste management training seminars, now the students use waste to make plastic chairs, cobweb cleaner, flower vase, floor interlocks, and other useable products."
Michael Terungwa, Executive Director of GIFSEP, said: "This is important for us because Nigeria has a waste management problem, so involving school students from this tender age will shape their knowledge about being environmentally responsible as they grow."
Describing the project as a continuation of a UNDP-GEF Small Grant Programme that began in 2017, Ronke Olubamise, the National Coordinator of the Programme in Nigeria, said: "This is the second phase of GIFSEP's waste recycling project which is an expansion of what started in a few schools three years ago. We are supporting GIFSEP's ambition to create climate champions across secondary schools in Abuja.
"The idea is to catch students young; adults are difficult to bend but students are still learning so as they grow and take bigger roles in the society, they understand the need to take care of natural resources. Ultimately, the become useful to themselves, the society and the environment too."
The UNDP-GEF Small Grants Programme has supported over 170 projects impacting 200 communities across 29 states in Nigeria: with focus on biodiversity preservation, forestry management, climate change, land degradation, organic pollutant (chemicals), waste management and international waters.
By 'Seyifunmi Adebote