A group of women and youths in a community in Abuja has received training in the fabrication of energy-efficient fuel wood stoves under the Access to Clean Energy partnership involving the United Nations Development Programme (UNDP) and the Energy Commission of Nigeria (ECN).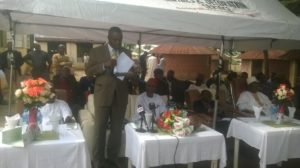 Country Representative of UNDP, Dr. Pa Lamin Beyai, while formally opening the forum a week ago, said that energy access has a critical role in sustainable economic development. According to him, energy is essential to meeting basic human needs.
Food production, running water, heat, light and transport, Dr. Beyai added, are all dependent on energy access. "Poor access to energy has severe impacts on health, quality of life, education and economic productivity," he stressed.
The two-week hands-on training of women and the youth on locally made metal and clay-based energy efficient wood cook stoves ended over the weekend at the Ushafa community in Bwari Local Government Area of Abuja (FCT).
At the launch of the training two weeks ago were the Minister of Science and Technology, Dr. Ogbonnaya Onu; the Director General of the Energy Commission of Nigeria (ECN), Professor Eli Jidere Bala; the Chief of Ushafa, the trainees, among other important personalities.
Dr. Beyai noted that the training aims to popularise renewable energy technology, and that it was "designed to help secure multiple environmental and socio-economic benefits, including reduced greenhouse gas (GHG) emission from reduced fuel wood consumption, enhanced carbon storage and sequestration, and improve rural livelihood and opportunity for local development."
He said renewable, clean energy, climate change, gender equality are key ingredients to the attainment of Sustainable Development Goals (SDGs) 2030, which call for collective action towards a more environmentally sustainable pathway.
His words: "When successfully completed, this training will be useful towards the attainment of three Sustainable Development Goals: Goal 5 to Achieve gender equality and empower all women and girls; Goal 7 to Ensure access to affordable, reliable, sustainable and modern energy for all; and, Goal 8 to Promote sustained, inclusive and sustainable economic growth, full and productive employment and decent work for all."
He described the training as a way of empowering the beneficiaries with skills that would result in the improvement in quality of lives.
"This is a giant and promising step in building the capacity of the youth and women of Ushafa Community and, in the process, conserve energy and preserve the environment. We would like to congratulate the Energy Commission of Nigeria for their relentless scientific research in exploring the various sources of renewable energy for Nigeria.
"I cannot overemphasise the importance of this training, which is directed at women and the youth in the pottery and welding trades. It is a significant step in building the local capacity of the people of this community in the design, fabrication, and installation of energy-efficient clay and metal–based wood cook-stoves. In addition to the usual pots, the training will also introduce small-scale production of the new design," Beyai said.
He noted that young people, especially women in the rural communities, usually have limited opportunities for employment. "It is our hope that this training will partly alleviate that by increasing your individual and collective economic and social values."
He urged all participants to make the best use of the opportunity provided by the training. "For the people of Ushafa Community, we recognise and commend your collective interest and willingness to participate in the training, and wish you all the best of luck in this noble endeavour."
He lauded Minister for Science and Technology and the Director General of Energy Commission of Nigeria with whom he said the UNDP enjoys a very strong relationship.  "We assure you of our collaboration in the actualisation of national development priorities and the SDGs."
Minister of Science and Technology, Dr. Ogbonnaya Onu, said it was important for rural communities to benefit from the government in various ways.
He added: "The time has come for the Energy Commission of Nigeria to work with other agencies within the Federal Ministry of Science and Technology to ensure that Nigeria plays her role and utilise renewable energy efficiently. The contribution of renewable energy to the energy mix in the country is something that has to improve.
"We want a situation where we can use our coal in energy and power generation. Many countries depend on their coal and our coal has very low sulphur content. So, we believe that the Energy Commission of Nigeria will help us to do more research to see that when we use coal it does not hurt our environment. We believe that our energy needs are very important in the direction that the nation is going; we need to industrialise, we need to produce more than we are doing now. So far, we are essentially a consumer nation and this is not good for our country. We need to produce and we cannot continue to depend on only few sources of energy in the power generation capacity of our nation and I believe that the Energy Commission of Nigeria will play this very important role to make sure that we as a nation will be able to meet our own energy needs.
"President Muhammadu Buhari is very interested in making sure that the services of government will reach all Nigerians, whether those who live in urban or rural areas. This is why I am particularly very happy that in the great city of Ushafa, I will not call it village, we are interested in making sure that we move Nigeria out of poverty."
He said the government expects that at the end of the training, the participants would lead the way in the efficient use of energy, adding that they were also expected to take environment-friendly decisions.
The minister said he was convinced that all the participants would benefit maximally from the hands-on training.
Chief Executive Officer of the ECN, Prof. Jidere Bala, said the improved wood stoves technologies have many advantages over the traditional three-stove open fire stoves.
He listed the merits to include: lower operating cost, in terms of time and money, since less biomass fuel would be used arising from higher efficiencies; enhances opportunity for education for the girl-child; reduces quantity of fuelwood required and thus lesser time required in fetching firewood; provision of a chimney means re-direction of combustion emissions away from the operator and thus significantly reduces health risks to women and children; higher efficiencies means reduced greenhouse gas (GHG) and toxic emissions in the atmosphere; the technology involved in the fabrication of these improved woodstoves is simple and rural people can easily fabricate them; reduces deforestation with its attendant environmental consequences.
Bala said the choice of Ushafa Pottery Centre was based on the fact that the Centre already has local expertise and skills as well facilities for pottery, which UNDP and ECN wanted to harness and to enhance the existing capacity to include the fabrication of eco-friendly fuelwood cookstoves, with the participation of private sector for wider jobs creation and economic empowerment of rural women and youth within Bwari LGA for a start. The training involved 50 youths and women in total, with 25 for a start.
Access to modern energy services, he said, was a challenge in Nigeria, particularly for rural dwellers.  Most rural communities in the country are characterised by limited access to modern energy services with majority of the population heavily relying on traditional, rudimentary and inefficient renewable energy conversion devices like open-to-sun drying method and the traditional three – stone open fire woodstove for meeting their drying, heating and needs. These rudimentary and inefficient technologies for cooking with fuel-wood leads to continuous felling of trees, desert encroachment and soil erosion, thus, making it unsustainable. In addition, the amount of diseases associated with the use of biomass fuels for cooking, heating and for lighting have been on the increase with resultant deaths, especially among women and children.
Quoting statistics, Bala said in Nigeria, fuelwood cook stoves accounted for more than 80% of the household energy supply with attendant large consumption of fuelwood. "Therefore policy intervention that will enhance the dissemination of improved cooking stoves will not only reduce the volume of fuelwood consumed but also will reduce levels of emissions harmful to human beings and the environment.
He said: "Consequently, governments have been working towards addressing rural energy access. In the late 1970, the Federal Government established two Energy Research Centres in University of Nigeria, Nsukka and Usman Danfodiyo University, Sokoto, respectively, which were later transferred to the ECN in 1989, to focus on research and development of renewable energy and its technologies. These Centres have amongst other achievements, successfully developed designs of improved woodstoves, namely, the all-clay and the steel and clay types.
"The all-clay design (SERC) has an all-clay structural body. It may have a wire mesh, metallic strips or grit as structural re-enforcements. In the all-clay design, the clay body not only carries the load of the pot it also serves as a thermal insulator that minimises heat losses.  Though cheaper, it has a lower load carrying capacity and a shorter life. The steel and clay design has a structural frame and clay thermal insulation. In the steel and clay design, the steel frame carries the load, while the clay provides the thermal insulation. The load carrying capacity and the life span are higher, however, it is a bit more expensive. The private sector has improved on these basic designs and some are now available in the markets."