Acting Executive Director of the UN Environment, Joyce Msuya, on Tuesday, January 22, 2019 commended Kenya for developing a homegrown dhow. from plastic waste.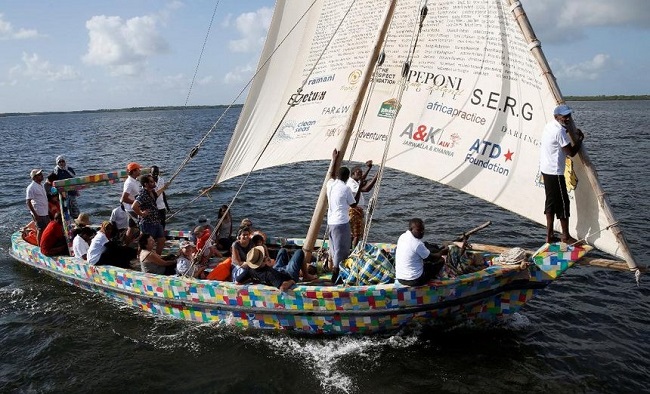 The dhow is the generic name of a number of traditional sailing vessels with one or more masts with settee or sometimes lateen sails, used in the Red Sea and Indian Ocean region.
Msuya said this at the unveiling of the world's first dhow made from plastic waste in Nairobi.
Msuya said the innovation demonstrated that African countries could take the lead in environmental conservation.
"This is a sign that community-driven initiatives can as well offer a solution to long term problems that the world is going through," Msuya said.
She noted that the initiative showcased progress that Kenya had made since banning the use of plastic carrier bags in 2017.
Msuya said currently, some eight million tonnes of plastic waste flows into the oceans globally every year while only less than nine per cent is recycled.
She called on African governments that are yet to take drastic actions to move with speed to do so, adding that Sub-Saharan Africa currently generates about 170 million tonnes of waste and 12 per cent of them being plastics.
Koleka Mqulwana, South Africa High Commissioner to Kenya and Acting Dean of Africa Diplomatic Corps, urged African governments to develop strategies that could lead to durable solution to plastic waste choking large water bodies.
"We have to help create awareness to help inform communities to take plastic pollution seriously and help remove plastics from the oceans where they have outnumbered fish," said Mqulwana.
She emphasised that African countries must move beyond sustainable programmes and begin to deal with the waste right from the source.
"Single use plastics are no longer useful in Africa and have to be eradicated forthwith," Mqulwana noted, calling for the inclusion of private sector in the fight against the use of plastic bags in Africa.
The envoy also urged governments to develop initiatives to benefit communities by helping reduce poverty.
"We have to empower communities to relate with ocean by coming up with innovative ideas," said Mqulwana.
She requested environmental experts to start simplifying the technical terminology to ensure all citizens understand what they mean to enable them to take necessary actions against plastic bags.
Dipesh Pabari, co-founder of the dhow, said it was created to help solve plastic pollution in the world.
The dhow serves as a call for communities living along the oceans to rise up and help clean up the oceans, said Pabari.
He said that the nine-metre sailing dhow that is made from 10 tonnes of discarded plastics has been built by a team calling for plastic revolution to stem the flow of plastic waste dumped into the world's ocean.
Pabari said that the dhow has unique components such as life jackets and a radio.
Flipflopi, the world's first 100 per cent recycled plastic dhow, will be embarking on its 500 kilometre maiden voyage from Lamu, Kenya to Stone Town in Tanzania's Zanzibar this week, visiting schools, communities and government officials.
The expedition that is supported by the UN Environment's CleanSeas programme is being used to share solutions and change mindsets along its route before it arrives in time for the upcoming Sauti za Busara music festival in Zanzibar.