In the light of energy and related variables that are posing challenges to industrial development in the country, the United Nations Industrial Development Organisation (UNIDO) has taken up an initiative to address the unsavoury situation.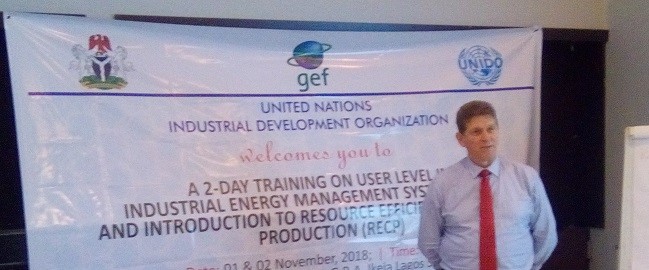 The project, which will effectively commence next year, entails the development of energy management systems as well as resource efficiency and cleaner production for Nigerian industries.
Prior to project commencement, UNIDO has started building an expert base for the initiative, which the UN body is undertaking in conjunction with the Global Environment Facility (GEF) and the Federal Government.
The project is titled: "Improving Nigeria's Industrial Energy Performance (IEP) and Resource Efficiency and Cleaner Production (RECP) through programmatic approaches and the promotion of innovative clean technology solutions."
At a workshop in Lagos from November 1 to 2, 2018, participants were trained on the two major components of the project: "Energy management systems" and "Promoting resource efficiency in small and medium sized enterprises – PRE-SME."
On the first day, Alf Hartzenburg, a UNIDO consultant, took the audience through the rudiments of energy management systems (EnMS), which he described as ways by which individuals or organisations propose to manage their consumption of energy.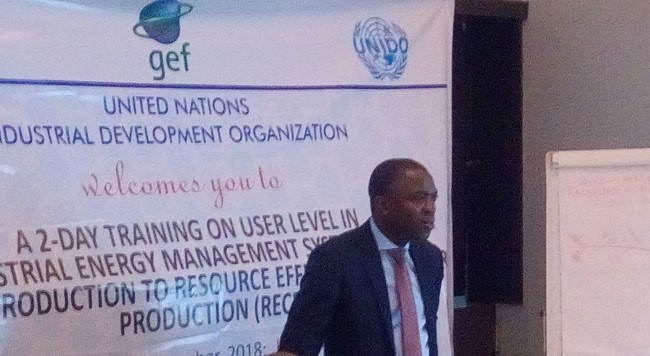 According to him, EnMS can be achieved by: behaviour change among all employess and management, objective use of data to show performance, technical improvement, as well as low cost operation and maintenance of existing equipment.
On the second day, Jesse Ojobor, UNIDO RECP expert, explored issues related to promoting resource efficiency, which he described as the maximising of the supply of money, materials, staff, and other assets that can be drawn on by a person or organisation to function effectively, with minimum wasted resource expenses.
He describes it as process optimisation to limit consumption of energy, water and materials and output of waste products.
Commenting on the initiative, the UNIDO Regional Office Hub Environment Expert, Oluyomi Banjo, said: "This is a project that we will be implementing, and it will officially start next year. It entails the development of energy management systems for Nigerian industries, which will contain industrial energy efficiency, energy optimisation initiatives; and the project will be looking at issues related to resource efficiency and cleaner productions for Nigerian industries.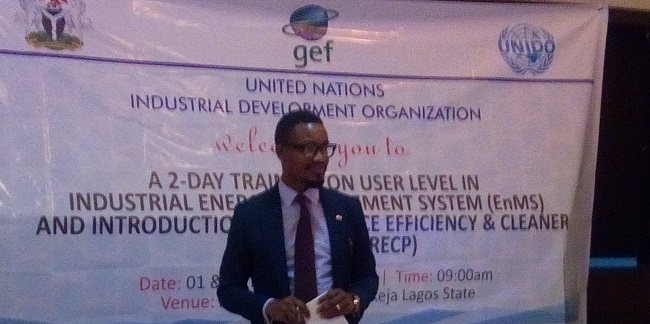 "In the course of the project, we will be developing an expert base, wherein we will be training Nigerian individuals and training policymakers. It is very important that Nigeria develops an expert base, and these are the experts that will go into the industries and these experts also have the tendency of developing their own businesses.
"This has been done in many countries and it is time for Nigeria to also benefit from such services, and individuals will also benefit by capacities being built and making an income for themselves."
On what informed the project, Banjo added: "UNIDO has been implementing industrial energy efficiency projects in over 18 countries and these projects have been effective and very successful. Also, we've been implementing resource efficiency and cleaner production projects, and we have established National Cleaner Production Centres in more than 60 countries.
"Some of these countries have recorded savings, which have gone into their operations as profit, some have gone as dividends to shareholders, while some of the savings have been reinvested into the company. So, these industries are in most cases able to prove to their management and to their shareholders that this initiative is not only making their operations better, but is also saving cost, expenses on operations and is also improving the quality of production because, at the end of the day, there are also standards issues associated with this.
"We have been discussing with the Nigerian government about this for quite some time. Now, the government has finally recognised that this is good for the Nigeria, and that the country should also benefit from it."