The United Nations (UN) has called for African countries' solidarity, leadership, commitment and action in achieving the Sustainable Development Goals (SDGs) by 2030.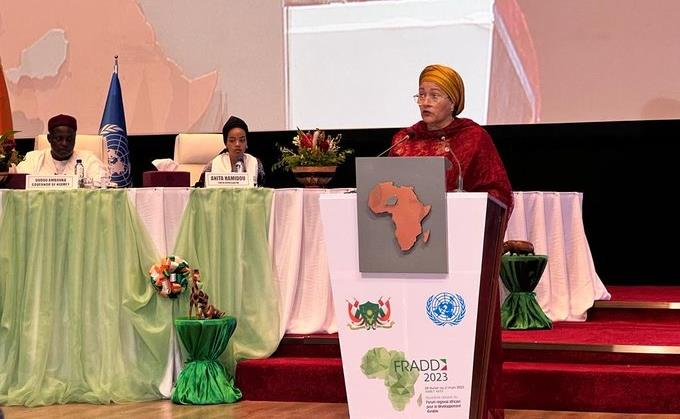 UN's Deputy Secretary-General, Amina Mohammed, said this at the Ninth Session of the Africa Regional Forum on Sustainable Development in Niamey, Niger, on Tuesday, February 28, 2023.
Mohammed said African countries were far from achieving the SDGs and Agenda 2063
"At the midpoint of the Sustainable Development Goals and Agenda 2063, we are far from where we need to be.
"But now is not a time for despair. On the contrary, now is a time for solidarity, leadership, commitment and action."
The deputy secretary-general, however, said Africa could change its course through African-led solutions, and rise to the challenge of Agenda 2063 and the SDGs.
She also said intra-African trade was rising in the region through the Africa Continental Free Trade Agreement.
She said African Heads of State had also endorsed an action plan on sustainable industrialisation and economic diversification.
"We must ensure that the emerging green and digital economies better serve Africa's people and natural environment.
"Africa's energy transformation is at the heart of these efforts.
"Meanwhile, the Great Green Wall initiative has the potential to deliver both climate resilience and sustainable livelihoods for vulnerable populations.
"The proposed 'Great Blue Wall' can secure similar benefits from effective management of the continent's marine and freshwater ecosystems."
Mohammed also said the SDGs must re-energise the national SDG promise, deliver tangible progress in the area of SDG financing, and reinvigorate the concept of partnership.
"World leaders must set out clear ambitions to reduce poverty and inequality by 2027 and 2030.
"They must put forward concrete plans to drive critical SDG transformations and make real our commitment to leave no one behind.
"We need a breakthrough on access to finance for African countries to upscale urgently required investments.
"Engage with young people, civil society and the global public as co-creators in our efforts to transform the world by 2030."
She said the UN system would work with governments and other partners to advance on these areas in coming months.
"You can count on our full support and collaboration."
Furthermore, she said the 2030 Agenda and Agenda 2063 represented Africa's road to peace and prosperity.
"And 2023 is the year we decide whether or not we will travel that road."
Also speaking, President Mohamed Bazoum of Niger said he hoped the conclusions of the forum would constitute "a new start for new actions and for a real implementation of the follow-up of the SDGs"
Mohamed said Africa faced several challenges but it was up to Africans to transform the continent into opportunities to promote sustainable development.
"Achieving real progress in the implementation of the United Nations Agenda 2030 and the African Union's Agenda 2063 necessarily involves efforts that will focus on promoting a just world, based on equitable and inclusive rights."
The forum on sustainable development ends on March 2.
By Temitope Ponle