The Head of Abia State Task Force on Waste Management, Mr Ogbonnia Okereke, says Umuahia and Aba generate about 270 truckloads of domestic and commercial waste daily.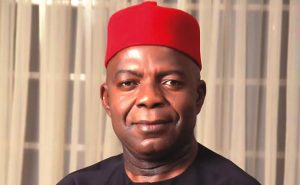 Okereke said this on Friday, June 30, 2023, during an interaction session with newsmen in Umuahia.
According to him, Aba generates 200 truckloads, while Umuahia generates between 60 and 70 truckloads daily.
He said that the task force had as of Wednesday evacuated about 2,997 truckloads of waste abandoned on the streets of Umuahia and Aba.
He said that about 2,000 truckloads of decomposing waste littered the streets of the two cities as at the end of Okezie Ikpeazu's administration on May 28.
Okereke said that the Abia State Environmental Protection Agency (ASEPA) had 11 buckets but that only six were being "managed" for the enormous job the task force had at hand.
He said that the state needed about 200 buckets, which should be distributed to Aba (100), Umuahia (50) and other towns (50)
He said that Ariaria International Market axis alone needed about 10 buckets.
Okereke also said that the agency had only four functional trucks and that three were deployed in Aba because of the volume of waste generated in the city, while Umuahia had only one malfunctioning truck.
He said that the state needed about 20 trucks to ensure effective refuse evacuation in the two major cities.
The task force boss further said that Abia had only four "fairly manageable" compactor trucks against 20 needed for greater efficiency.
He expressed disappointment at the rate State Government properties were looted in the twilight of the last administration.
Okereke said that one compactor truck was recently recovered from somebody's residence, adding that the suspect was arrested and presently cooling off in police net.
He said that ASEPA was underfunded, grossly ill-equipped and in comatose with staff morale at its lowest ebb, hence the agency could not discharge its task.
He said: "Before now, ASEPA had become a wing of political party and almost ineffective.
"The place was filled with disgruntled staff, with a lot of ad hoc staff that are inadequately paid.
"For over five years, ASEPA has not received any new equipment, according to our findings."
Okereke said that efforts were being made to retool the agency and change the orientation of the staff members.
He, however, said that the State Government was thinking of a more permanent measure for effective waste disposal through Public Private Partnership initiative.
"To that effect, Aba and Umuahia have been divided into six zones for a more efficient waste evacuation system to be undertaken by private firms with proven competence and capacity," he said.
Okereke said that government had placed advertisements for private concerns that met the requisite conditions to bid.
He warned residents against indiscriminate dumping of refuse, saying that wastes should be bagged and disposed inside buckets placed at designated spots.
The task force boss also warned against the dumping of hot charcoal or any other material capable of igniting fire in the refuse buckets, saying that some waste could be combustible.
He said that the task force had introduced night evacuation of refuse and that residents had between 5p.m. and 9p.m. to drop their refuse.
Okereke said that the essence was to ensure that with the night operation, residents would wake up in the morning to behold a clean city.
He said that the refuse disposal enforcement team would be strengthened and become effective from July 1.
Okereke said that defaulters of the extant guidelines would be arrested and arraigned before a Mobile Court and made to face appropriate sanctions, when convicted.
He said that the task force, set up via Executive Order by Gov. Alex Otti, was intensifying efforts "to restore Abia as the cleanest state in the country."
Okereke said that the major challenge facing the task force was getting the understanding and cooperation of the residents.
"They need to bag their waste and stop dumping them at unauthorised places.
"We need a new culture and attitude toward keeping our environment clean for our health.
"We need to be our own watchdogs to be able to stop other people, when we see them dumping refuse at inappropriate spots.
"This is people-based government so our people should support and help to enforce the good policies of the Otti's administration," Okereke said.
He further encouraged residents to develop the interest in paying their sanitation fees.
He said, "If people can pay for electricity, I do not see why they should not pay sanitation fees".
He appealed to major stakeholders, including market associations, corporate bodies, eatries and supermakets, which generate the most refuse to support the task of waste disposal.
"They can assist by buying and donating refuse buckets to be placed in their neighbourhoods," Okereke said.
Otti declared a state of emergency on the state of refuse in Umuahia and Aba in his inaugural speech on May 29.
By Leonard Okachie